Smoked Roast Beef made with a Top Sirloin Roast is delicious and also more affordable than cuts like Prime Rib or Tenderloin. Add a simple herbed seasoning and a kiss of smoke flavor and you have an amazing smoked beef roast great for a special occasion or holiday, or use for the most amazing roast beef sandwiches.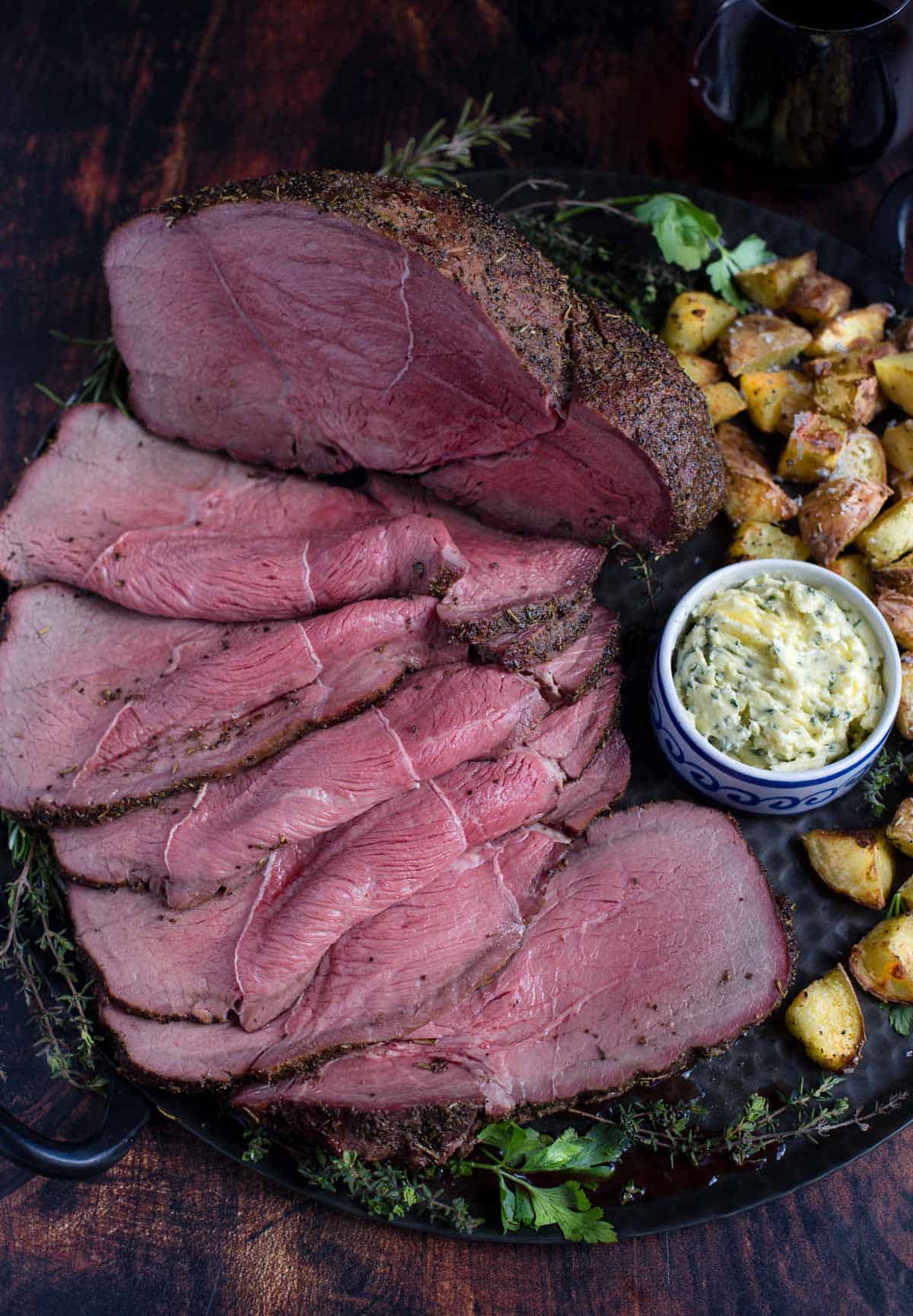 This smoked roast beef recipe is also a great method for tender meats that are historically tough when cooked hot and fast like a Sirloin Roast.
Smoked Roast Beef Recipe Highlights
Smoking adds a great flavor to any large beef roast, especially the less common roasts like sirloin and round.
Cooking at low temperature keeps the meat tender, which is a great cooking option for leaner cuts of beef like top or bottom round sirloin roasts.
It is a great base to make your own roast beef sandwiches.
Jump to:
Best Cuts for Smoked Roast Beef
This recipe is using a top sirloin roast. It is an affordable cut of beef with great flavor and tenderness if cooked low and slow. The goal for any beef roast is to have flavor and still get a tender bite. For leaner cuts, this recipe achieves that combination.
Other roast options*:
Top Sirloin Roast – What were using for this recipe. We like it because it's lean, creating tender meat, full of beefy flavor, and affordable.
Top Sirloin Petite Roast – A smaller cut that comes from the Top Sirloin Roast.
Bottom Round Roast – Also lean, but with great flavor.
Eye of Round Roast – Smaller cut that is the most common cut you will see for deli roast beef.
* Adjust the cooking time based on the size of the roast. The smaller the roast, the faster it will smoke. Always cook to temperature and not time using a good instant read thermometer.
Preparation
A sirloin roast is typically going to be trimmed up already. If there is any silver skin or small fat pockets, use a sharp butcher knife to remove. Otherwise it's ready to be seasoned and cook.
Seasoning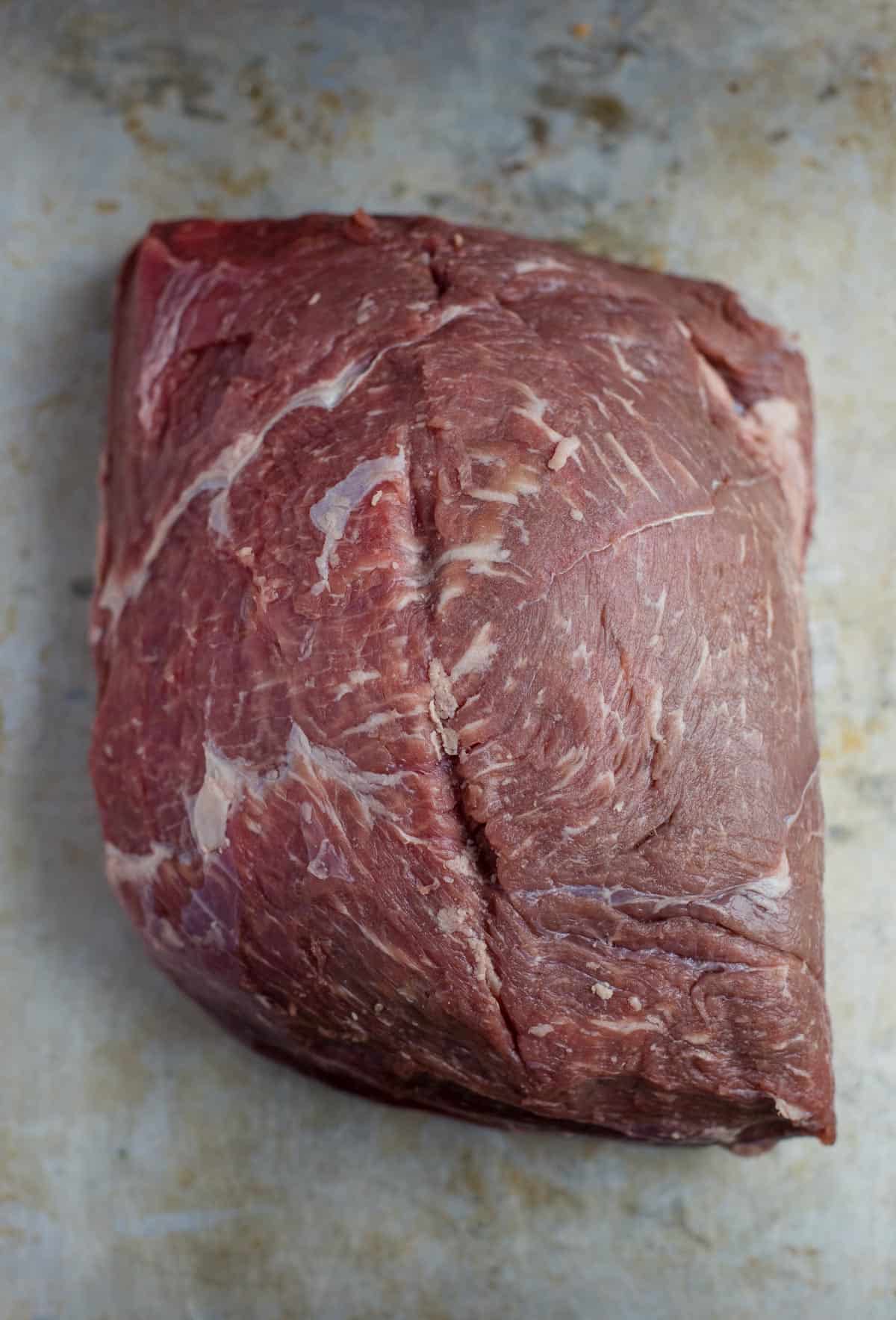 Use a light coating of olive oil as a binder to help the seasoning stick to the roast. We use a modified version of our beef seasoning starting with a base of good kosher salt and coarse black pepper. From there we layer in granulated garlic, dried rosemary, ground sage, and ground thyme. Mix together and liberally apply to the roast.
Smoking a Top Sirloin Beef Roast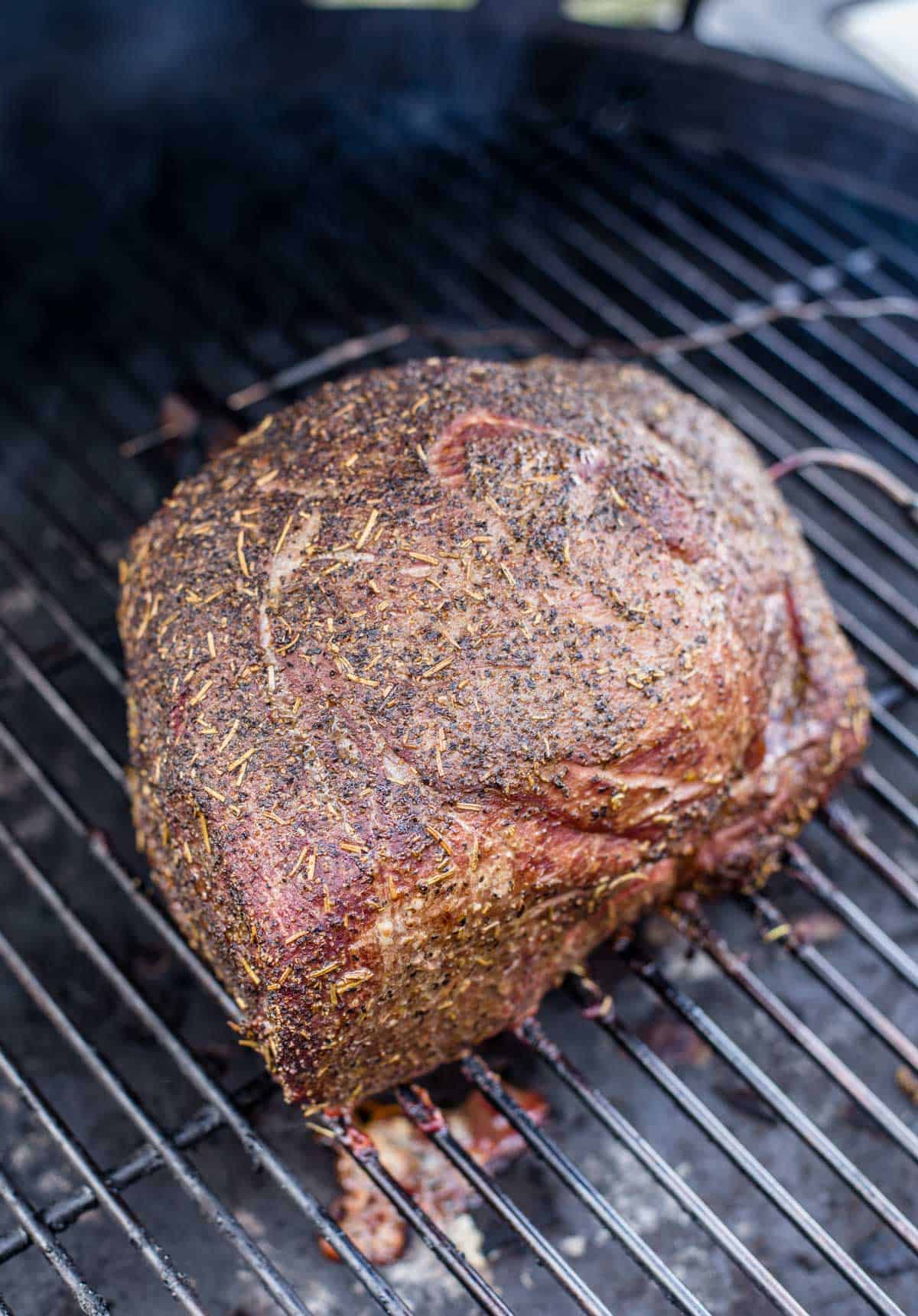 The basic process is to smoke the roast at 275 degrees Fahrenheit until the internal temperature of the smoked beef roast reaches your desired internal temperature.
Prepare Smoker: Prepare the smoker to the target temperature of 275 degrees F using lump charcoal and wood. We love oak or fruit wood, but pecan works well too. Mesquite will bring the heaviest amount of smoke flavor.
Smoke Meat: Place the seasoned roast on the smoker and insert a good Bluetooth thermometer like the Thermoworks Smoke Unit. Close the lid and monitor the temperature. Smoke until the internal temperature reaches your desired doneness. We like rare at 120 degrees F. Use the chart below for your desired temperature.
Remove and Rest: Remove the smoked roast beef once it hits your desired finishing temperature. Use a second instant read thermometer, like the Thermoworks Thermapen One, to make sure the internal temp across the center of the cut is consistent. Let rest loosely covered in foil. Carry over cooking will increase the internal temperature an additional 5 to 7 degrees F.
Slice: Using a good slicer knife, cut the roast against the grains and serve. We love adding compound butter to the top and letting it melt as you eat it.
The slow increase in temperature allows the cells to slowly break down and the intramuscular fat to render. While you can use this method for things like Smoked Prime Rib or Tenderloin, those cuts tend to have higher marbling and the expense makes them unrealistic to use for roast beef sandwiches (unless you have a lot left over).
We have tested smoking roasts at 225 and 250 and there is very little difference in flavor. The biggest difference will be the time required to cook (225 will take longer). If you want more of the bark on the outside, then 225 is a good option, but plan an additional 20% increase in the cook time.
Beef Temperature Ranges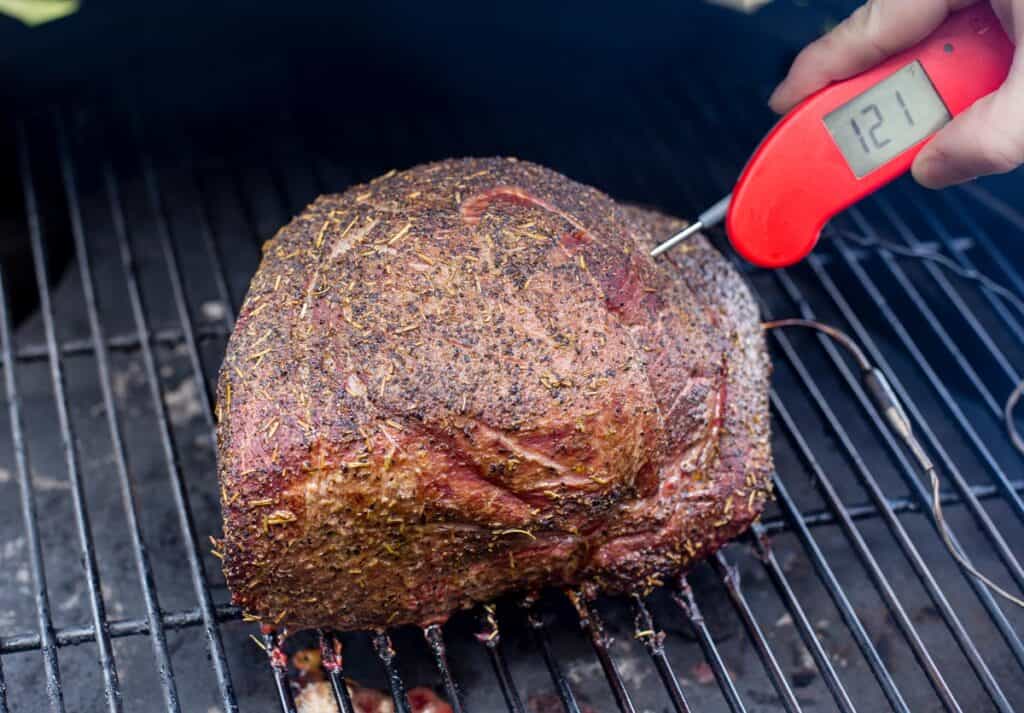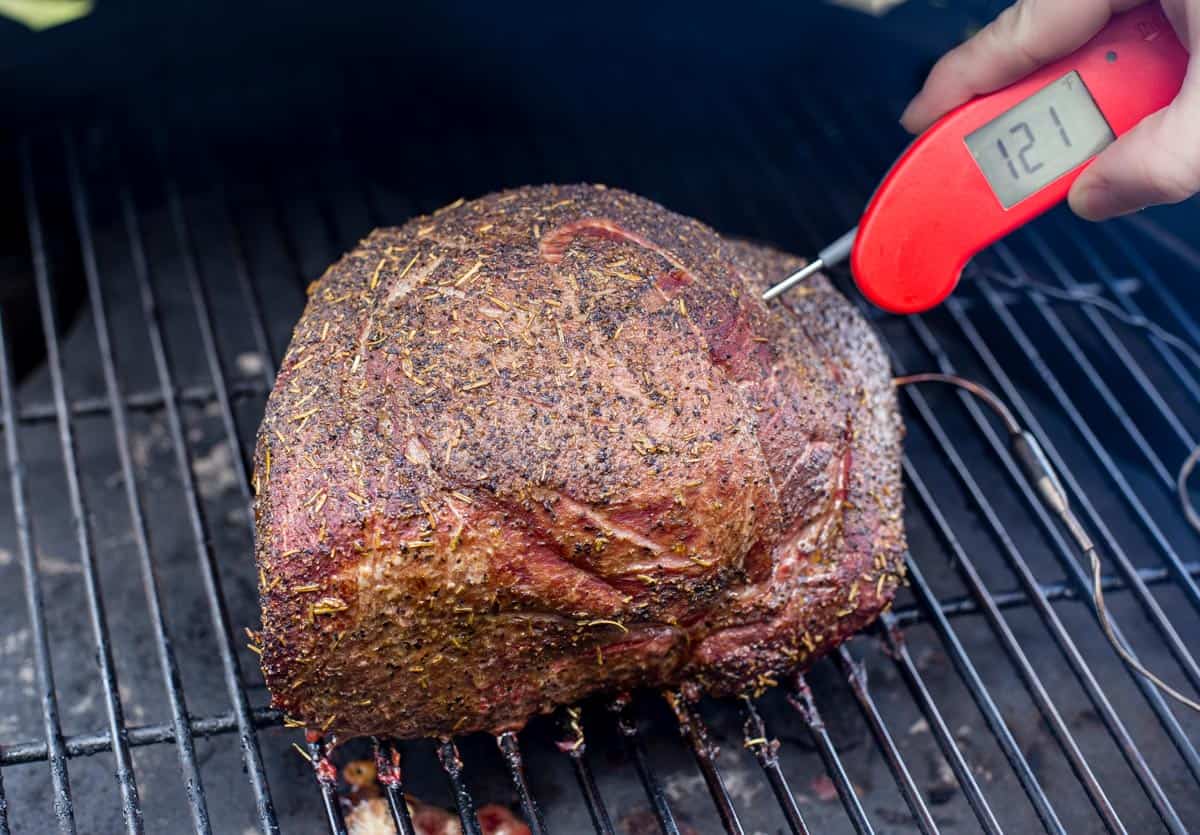 Rare: 120-130 degrees F
Medium Rare: 130-140 degrees F
Medium: 140-150 degrees F
Medium Well: 150-160 degrees F
Well Done: 160 degrees F (and not recommended)
Slicing
Slice the smoked beef roast against (perpendicular to) the grain in pencil thin slices after it rests. This allows for a good portion, but also easy to cut through. The end pieces will always have cooked to a higher temperature than the inner pieces, which is great for a crowd that likes their beef cooked to higher internal temperature.
Get 10% off any Dalstrong Knife order using this link, like the Shogun 12-inch slicer which we use.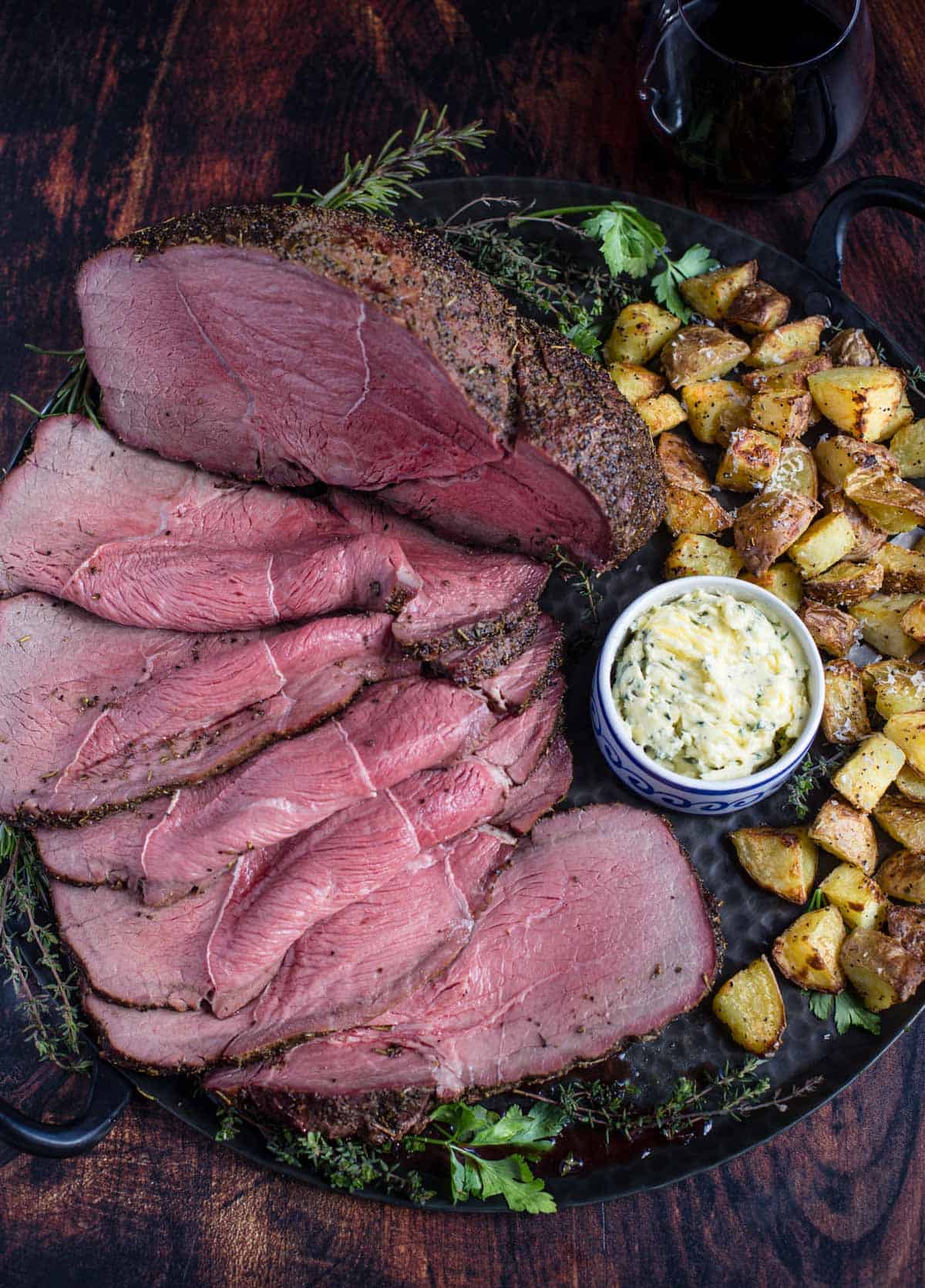 What To Serve with Smoked Beef Roast
We love Smoked Beef Roast with our favorite sides:
Other Beef Roast Recipes
Wine Pairings
This smoked beef roast is lean, but also beefy in flavor. The smoky element adds a nice dimension as well. Look for a less tannic red that is still fruit forward with good acidity, like Syrah or a good Zinfandel. It's also great with a Carménère, a grape commonly seen in France and Chile, and also in small amounts in Eastern Washington.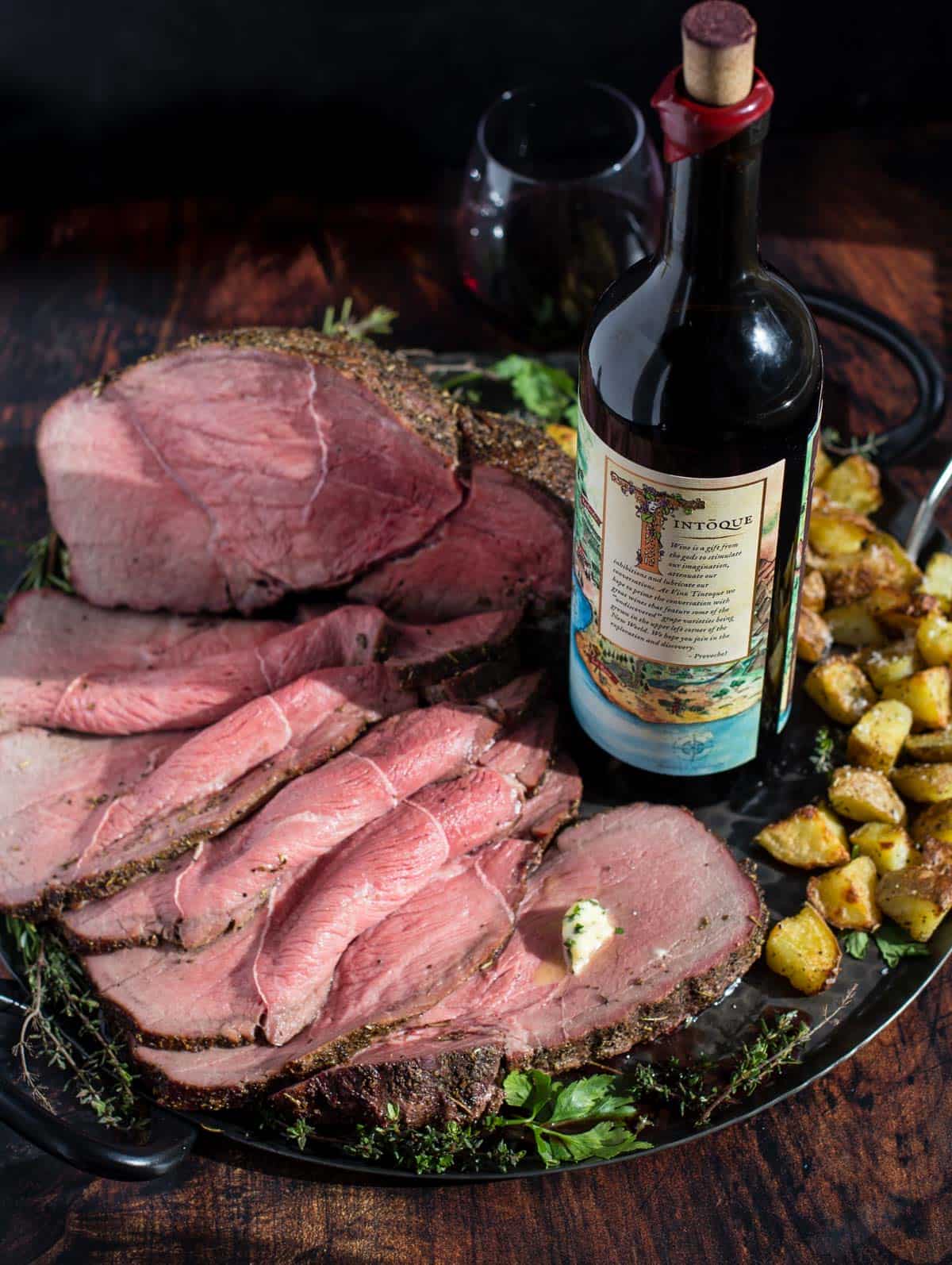 You can also shop wines from our online wine marketplace (take advantage of shipping specials).
This post may contain affiliate links. This means if you click on the link, we may receive a small commission if you purchase through the link. We partner with brands we know and love and use and it helps keep the blog going!
---