Smoked Sausage Soup with Lentils and Vegetables has a deep smokey and savory flavor, it is completely soul-soothing and the perfect soup for a cold and rainy afternoon.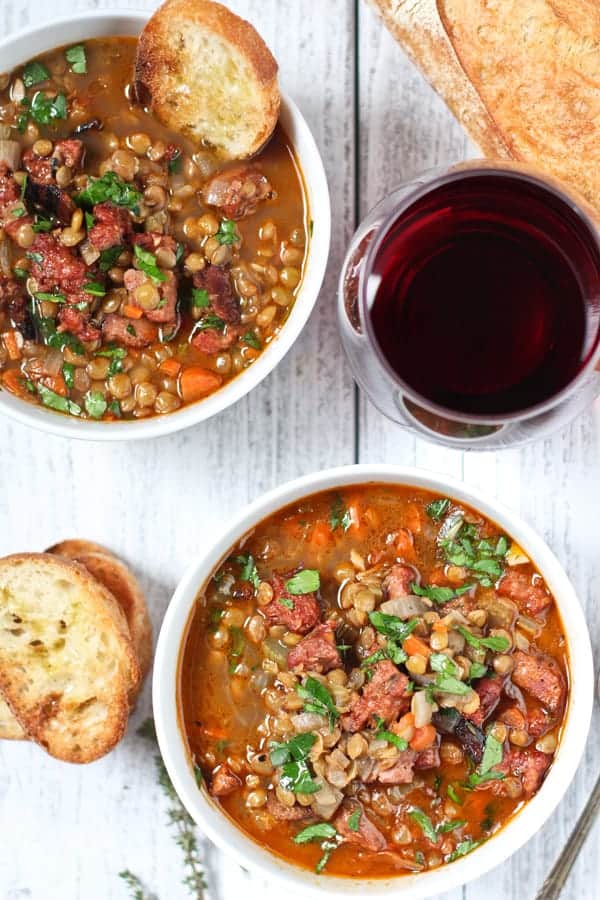 A Tried & True Soup Recipe To Feed A Crowd
A couple of weeks ago our team at Ember and Vine catered the largest event we've cooked for to date – WillaKenzie Estate's "Pigs 'n' Pinot" Party.
When we were meeting with the event coordinator she had just one simple request on behalf of the owner. We needed a lentil dish. Without hesitation Sean and I both spouted out, "Ohh lentil soup! With smoked sausage! And bacon!!!"
It was a "Pigs" and Pinot party after all.
After several trials (there really can be no "error" when you're working with amazing ingredients, like the best quality pork in the state. True story), we created a recipe that would be perfect for the event, and one that would be easy for others to replicate.
During the event, our E&V team member and super awesome friend, Katy, made, oh, about twenty batches of this soup. This is now a tried and true recipe with over 500 people who can attest to its amazingness. By the way, thank you Katy for being a soup-making superstar!
I think part of the success of this soup that afternoon (other than its smoky, meaty, savory deliciousness), was the downpour of rain all day. By the time guests arrived they were dripping wet and chilled the bone. We had exactly what they needed — a warm comforting soup.
Isn't that what everyone really needs on a cold and wet Pacific Northwest fall afternoon? I think so. Throw in a snuggie, some UGG boots, and a roaring fire and I'm golden!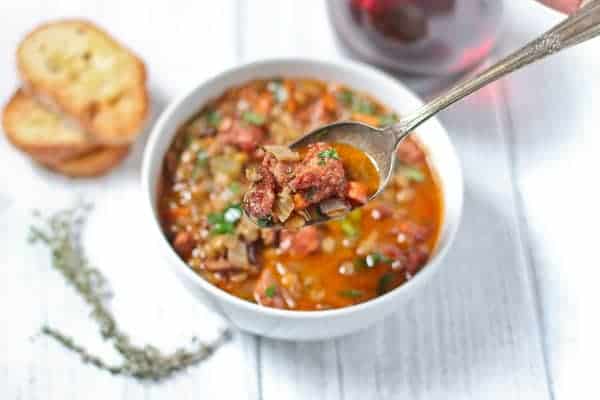 What Sausage to Use in Smoked Sausage Soup
This Sausage Soup Recipe is actually quite simple, and contains ingredients you likely already have in your pantry and fridge.
The only caveat? In order for this dish to really stand out and make peoples jaws drop, or get those soft oozy eyes, you know the kind when someone has tasted something magical, is that you've gotta use good quality sausage!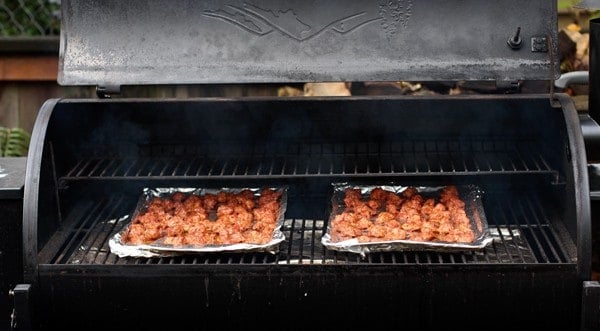 For our event we had Executive Chef Adam Ruplinger, the same guy who makes those drool-worthy Chorizo Verde Sausages (that goes great with our Smoked Tomatillo Salsa), make us some bulk sausage. His divine sausage recipe started with Carlton Farms pork and he worked his magic to come up with some outstanding flavors for the event.
Now, if you can't use Chef Adam's sausage, don't fret. There are several sources for high quality bulk sausage. We recently made a batch over the weekend using Italian style bulk sausage (sausage not in a casing) from a local specialty grocery store. It turned out fantastic.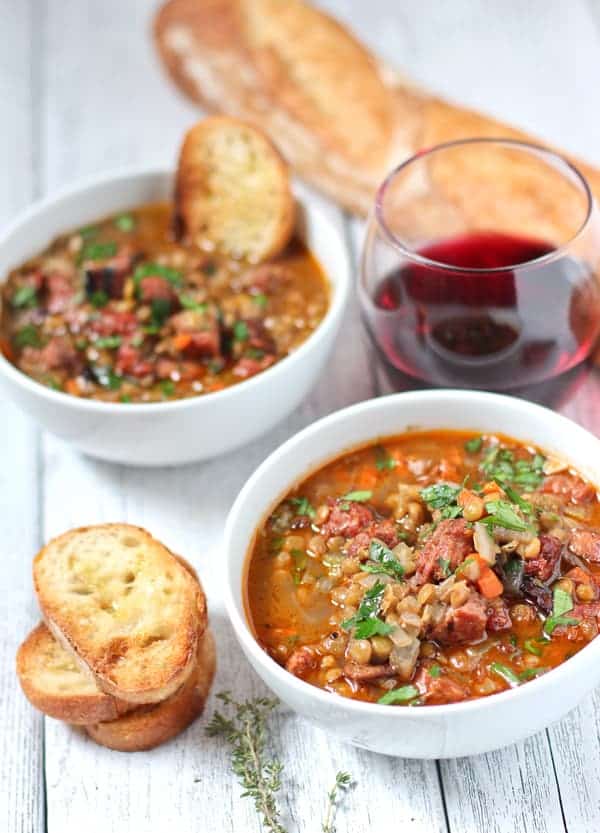 Now this is a meat-heavy soup, so if you're not looking for so much heartiness feel free to cut down the sausage a bit. But we (Sean and the boys especially) love the portions. It makes for a hearty dish perfect for a cold night by the fire. It's also a great match for Pinot Noir. In fact we made it using the 2012 WillaKenzie Estate 'Pierre Leon' Pinot Noir in mind.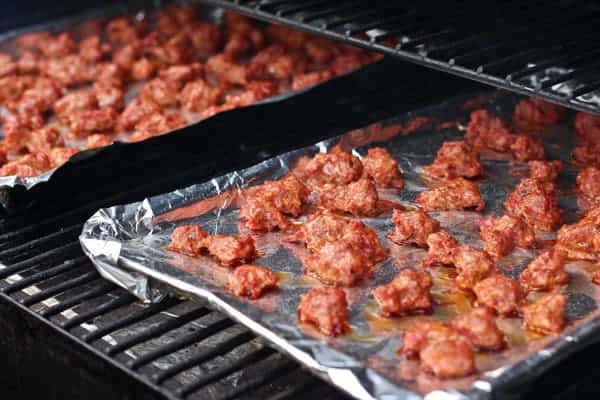 this photo shows 2 lbs of sausage (good for a double batch)
Secret Ingredient for Over-the-Top Smoked Sausage Soup
I guess our secret will be out now, but, to get super flavorful Smoked Sausage Soup (besides the quality sausage), you want to start with bacon! It layers in the perfect salty & smoky bacon flavor that pairs perfectly with the smoked sausage. We don't use a lot of the rendered bacon fat, so the soup will not be greasy. Just nice & flavorful!
The other "secret, not-so-secret" ingredient is wine (wouldn't you guess that our two secret ingredients are bacon and wine, fitting!). By adding a little wine to the broth you get a nice deep flavor that sets this Sausage Soup recipe apart from any other Classic Sausage & Lentil soup.
How to Smoked Sausage for Smoked Sausage Soup
Start by smoking up your sausage. We break it down into small pieces (quarter size), and smoke it at 275 degrees for 60-90 minutes. Check after about 60 minutes, it should have a nice dark color and still be moist.  If you cut open a piece of the sausage it should not be pink inside.
As the sausage finishes up on the smoker you can prep your ingredients for the soup, because once the sausage is done, this soup recipes comes together pretty quickly.
That's really it! Enjoy!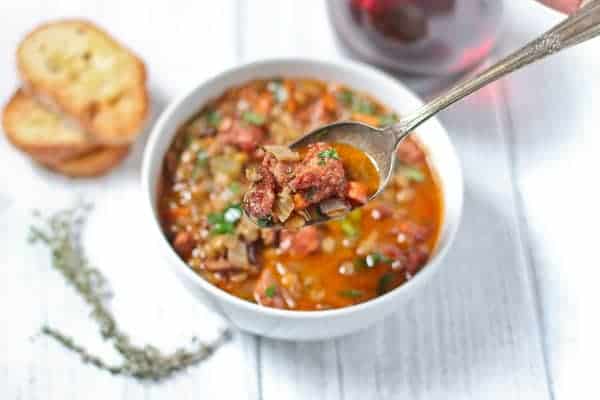 Smoked Sausage and Lentil Soup
Smoked Sausage Soup with Lentil and Vegetables is a hearty and flavorful soup that is perfect for a cold winter night or a rainy fall night.
Print
Rate
Ingredients
1

pound

Italian style bulk sausage

not in casings, broken up into quarter sized pieces

1

tablespoon

olive oil

3

slices

of bacon

diced

½

large yellow onion

diced (about 1 cup)

1

carrot

diced (about ¼ cup)

1

celery stick

diced

2

cloves

garlic

diced

½

cup

red wine

1

tablespoon

tomato paste

15

sprigs of thyme

wrapped in kitchen string

1

bay leaf

6

cups

chicken stock

1

cup

green lentils

Salt and Pepper to taste
Instructions
To Smoked the Sausage:
Preheat smoker to 275 degrees Fahrenheit

Place sausage spread out on a large foil-lined cookie sheet in small clumps

Smoke for 60-90 minutes and remove. Look for a darker color on the exterior while still moist.
To Make the Lentil Soup:
In large stock pot on medium heat, add olive oil and bacon. Cook bacon until crispy, about six minutes. Remove, set aside. Discard most of the bacon fat, but leave a little in the pot (about 1 tablespoon worth).

Add the onions into the pot over medium heat for four to five minutes. Then add carrots and celery. Cook an additional five minutes or until carrots are soft.

Add garlic and cook an additional two minutes.

Add red wine and tomato paste and stir frequently, for about three minutes (wine should be simmering and texture may thicken due to paste).

Add sprigs of thyme, bay leaf, stock, sausage, bacon and lentils. Stir together.

Bring to a boil and then reduce to a simmer for approximately 25 minutes covered, or until lentils are tender, but still slightly al dente. Stir occasionally. (Add more stock if you find the liquid level get too low as needed) Even if the sausage was slightly undercooked, the time in the simmer will finish it off and impart a beautiful smoky flavor to the broth.

Salt and Pepper to taste, serve in your favorite soup bowl with crusty bread.
Wine Pairing for Smoked Sausage Soup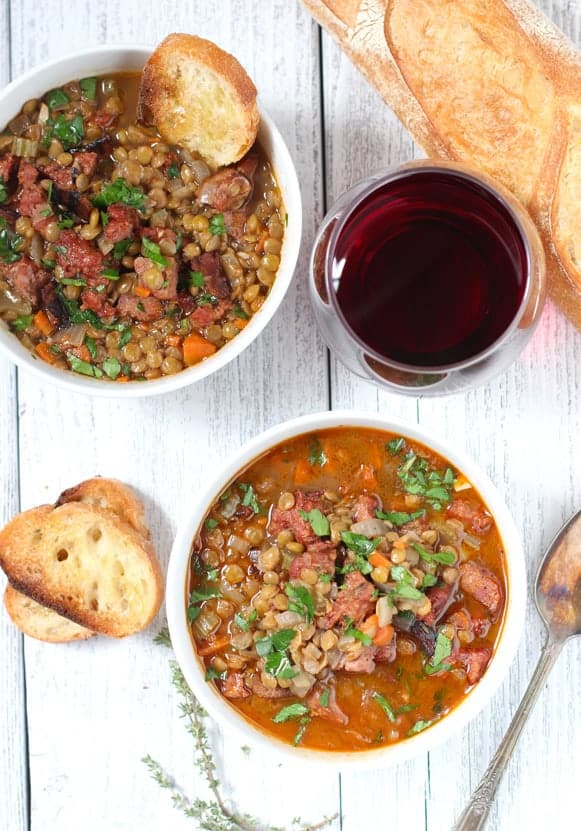 As I mentioned earlier, we wrote this recipe to pair specifically with the 2012 WillaKenzie Estate 'Pierre Leon' Pinot Noir. That wine had a nice richness to it, with some spice notes, making it a great match for the hearty soup with slightly spicy sausage. But we also recently tried it with a fruity 2013 Beaujolais Villages from Louis Jadot ($14) and it stood up quite well. The tangy red berry fruit from the Beaujolais balanced out the spice from the sausage. Both are nice matches. Just don't choose a wine that's too delicate or the soup will overpower it. And steer clear of powerhouse red wines (like Cabernet Sauvignon or new world Syrahs) or anything too high in tannins, as they would clash with the flavorful broth.
---
More Soup Ideas?
---
For more recipes and food and wine pairing ideas, check out the recipe index.
If you like this recipe we'd truly appreciate it if you would give this recipe a star review! And if you share any of your pics on Instagram use the hashtag #vindulge. We LOVE to see it when you cook our recipes.
---