Whether you call it the Crock-Pot or the slow cooker, this magical appliance is a favorite among busy families throughout the country. It's as easy as setting it and forgetting it. By the time you get home from a long day of work the house smells like heaven and your delicious dish is ready to go.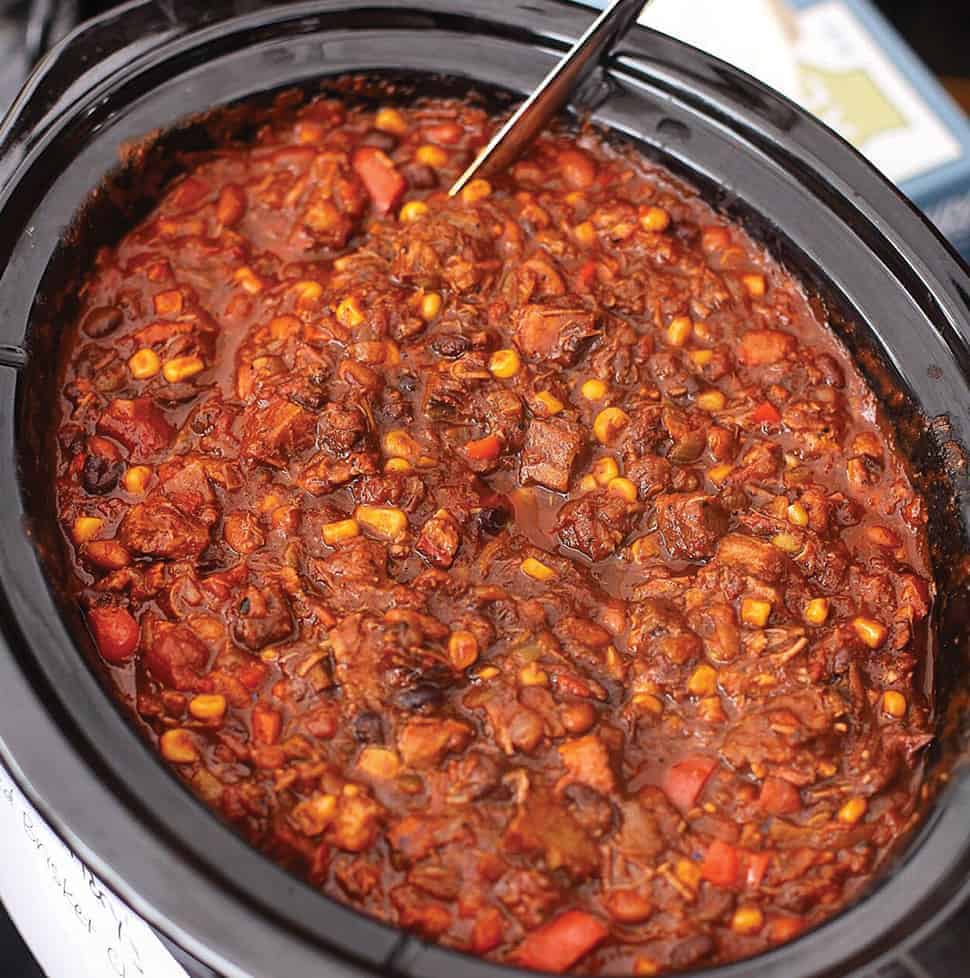 Yes please! It's really the perfect way to get a hearty and wholesome meal on the table during a busy weeknight, amiright? …. Yet I've realized I use my Crock-Pot only on the very rare occasion. But that's about to change my friends!
Slow Cooker Recipes
One of my missions this year is to get MUCH more use out of my Crock-Pot (can I get a high-five?!). My poor lonely appliance just sits in the dark depths of my kitchen cabinet most of the year begging for some love and attention. "Put food in me," it begs (true story). So lately I've been researching some fun and easy recipes to try out to make the most of my slow cooker. Please chime in with your favorites!!
Slow Cooker Beef Recipe
I'm loving the rich, intense, and melt-in-your-mouth looking texture of these Slow Cooker Braised Short Ribs. I also just found this amazing recipe for Crockpot Braised Beef Ragu with Polenta, published by one of my favorite food blogs, Pinch of Yum (seriously, how good does that look?).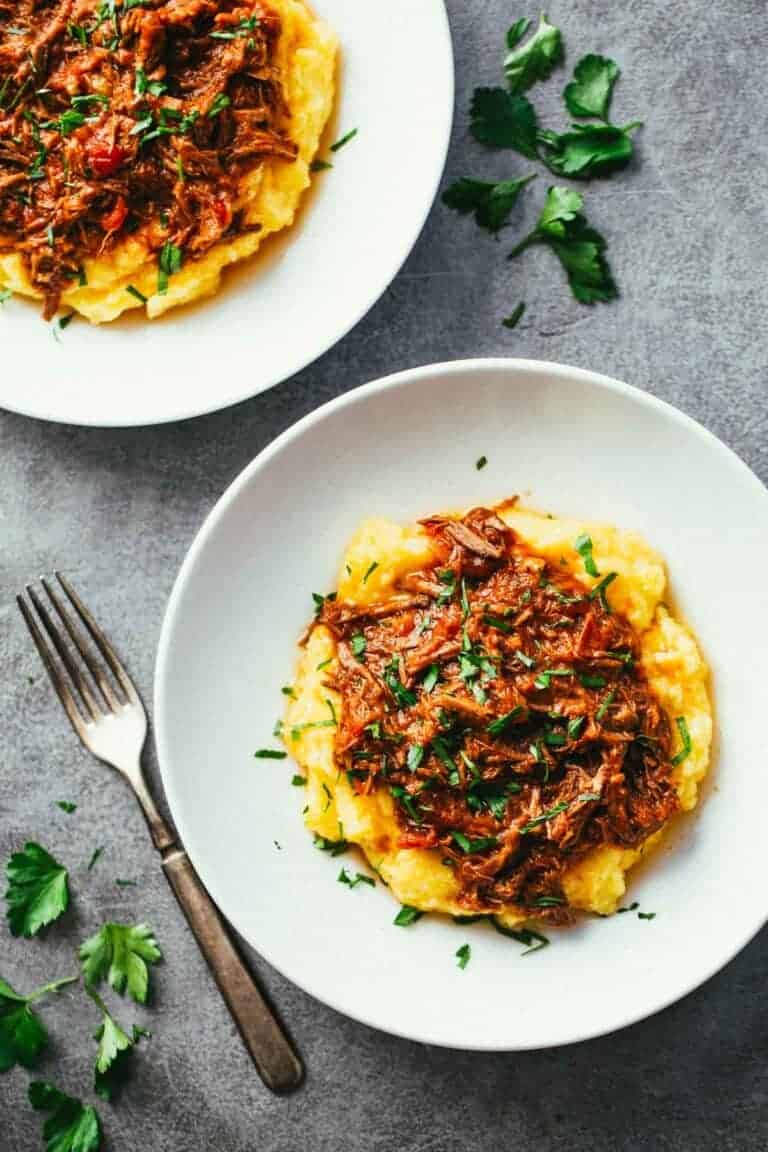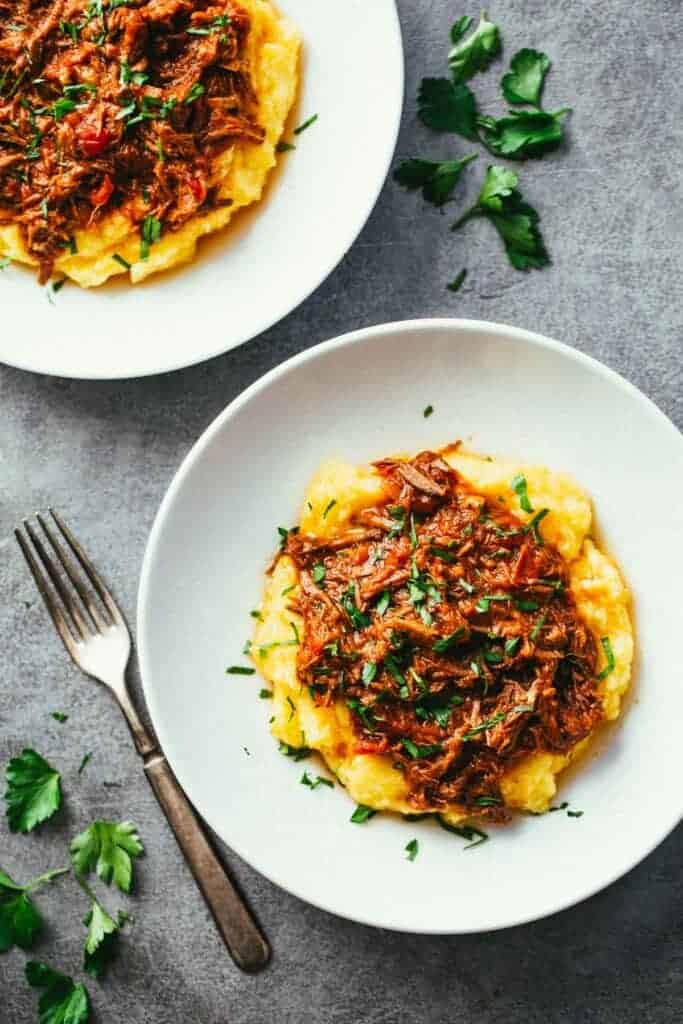 Comforting and soul-soothing, both of these slow cooked beef dishes will pair well with a rich and fruity red wine with medium tannins, like Merlot (and Merlot blends) and Washington state Cabernet Sauvignon.
Gundlach Bundschu Mountain Cuvée 2012 (Sonoma Valley, CA) ~ $20 (find)
McKinley Springs Cabernet Sauvignon 2010 (Horse Heaven Hills, WA) ~ $24 (find)
Slow Cooker Pork Recipe
Y'all know we're smokin' year round here when it comes to barbecue (and pork butt especially), but every once in a while it just feels damn good to let someone else do all the work (I'm talkin' to you, Chef Crock-Pot)! That is where this amazing Slow Cooker Pulled Pork comes in!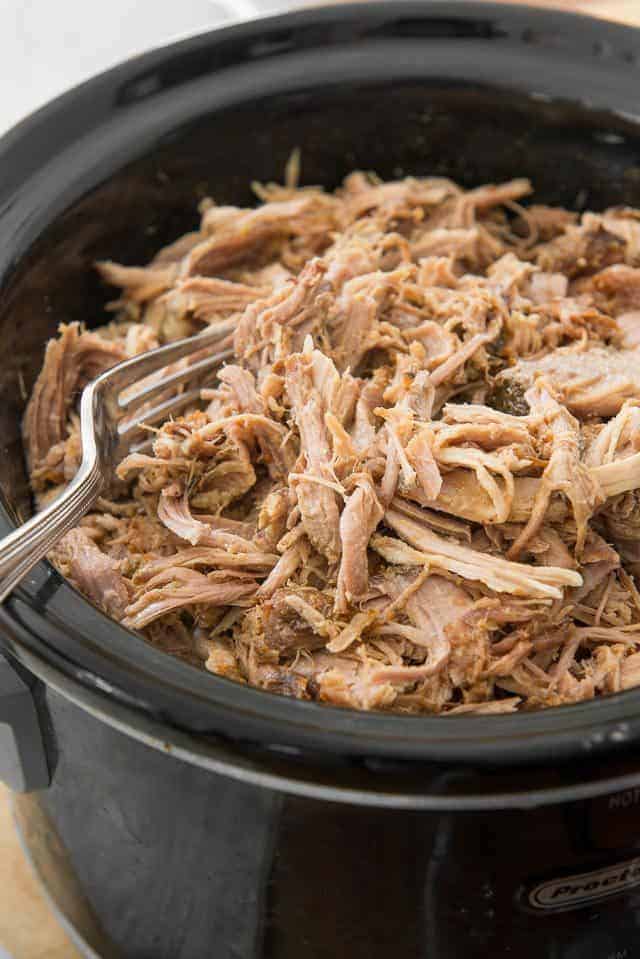 Pulled pork can pair well with a variety of wine styles depending on how it's prepared (see here), but with the intensity of the rich and sweet barbecue sauce found in this recipe it's a better match for fruity bold reds that will stand up to the sauce. This is where I think Zinfandel really shines. Try this:
Rodney Strong Knotty Vines Zinfandel 2012 (Sonoma County, CA) ~ $25 (find)
Slow Cooker Chili Recipe
Who can resist a bowl of chili in the wintertime (not me)? This healthy looking Slow Cooker Chicken Chili is layered with beans, tomatoes, corn, and loads of seasonings to jack up the flavors.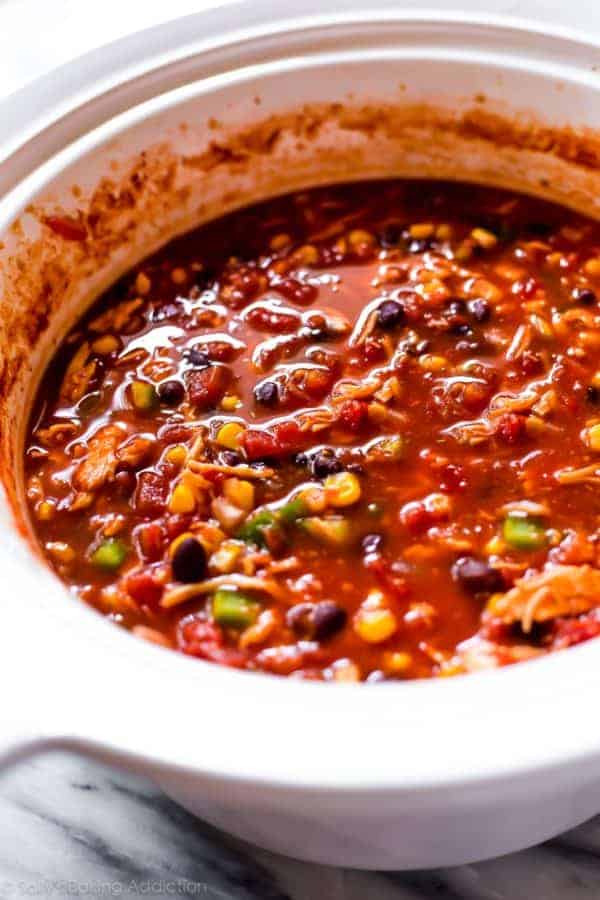 It's definitely not as rich and intense as a typical red chili and beef recipe, so you'll still want to look for a wine that can handle the spices and flavors, but you won't need a wine with too much richness. For something refreshing to offset any heat and spices from the chili, reach for the remaining bottles of rosé you might find on the shelves. Fruity, refreshing, and a good alternative to beer with chili. You should still be able to find these, even in the dead of winter.
Alternatively, if you do want a hearty beef chili that's rich and out of this world, try my Smoked Brisket Chili. OMG! Now, the instructions don't specify this to be made in a slow cooker, but I know it would work just fine by throwing all the ingredients in your machine and letting it do its thang for a few hours! My only thought is that it may need more liquids due to the slow cooking in the Crock-Pot to keep it from drying out (so feel free to add extra tomato sauce or even a smidge of beef broth if it looks like it's drying out, or more beer… I won't tell). Oh, and let me know how it goes!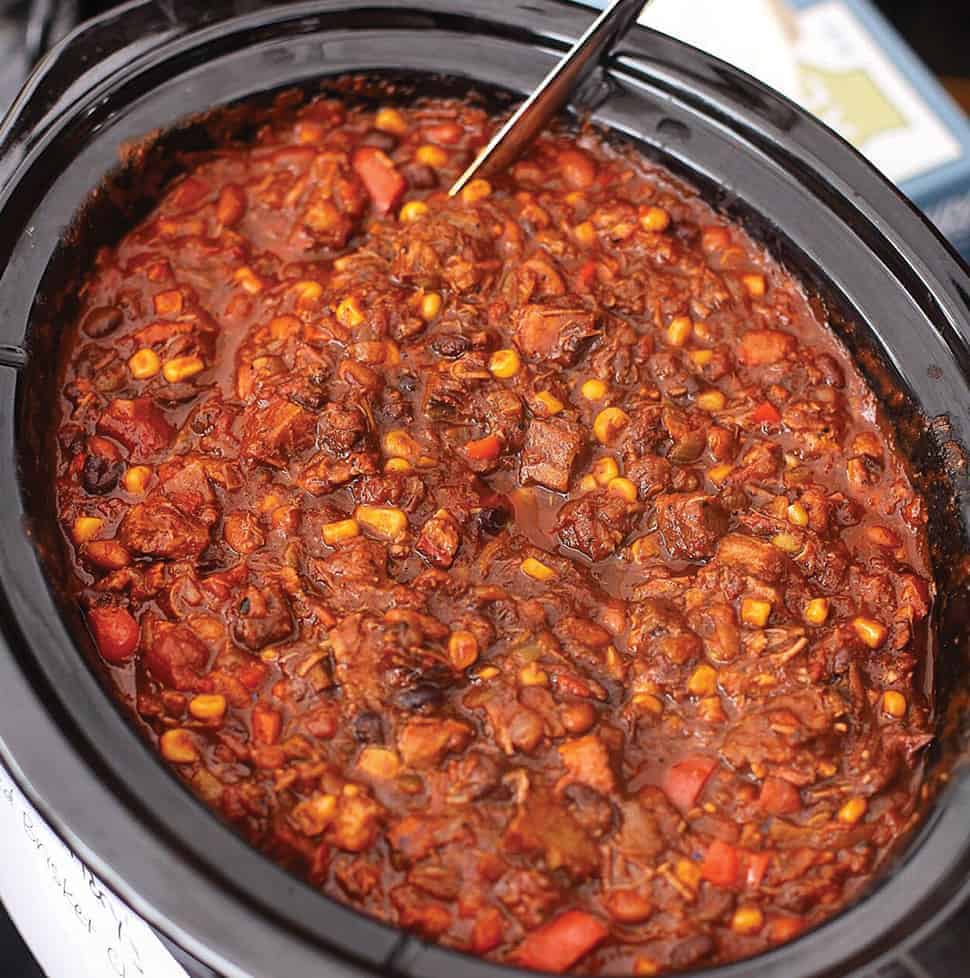 It's really the perfect use for any leftover brisket you may have laying around (a common dilemma in all households I suspect). Then, after you make the chili, feel free to serve the remains over some chips to make these brisket nachos. Yes, yes, yes!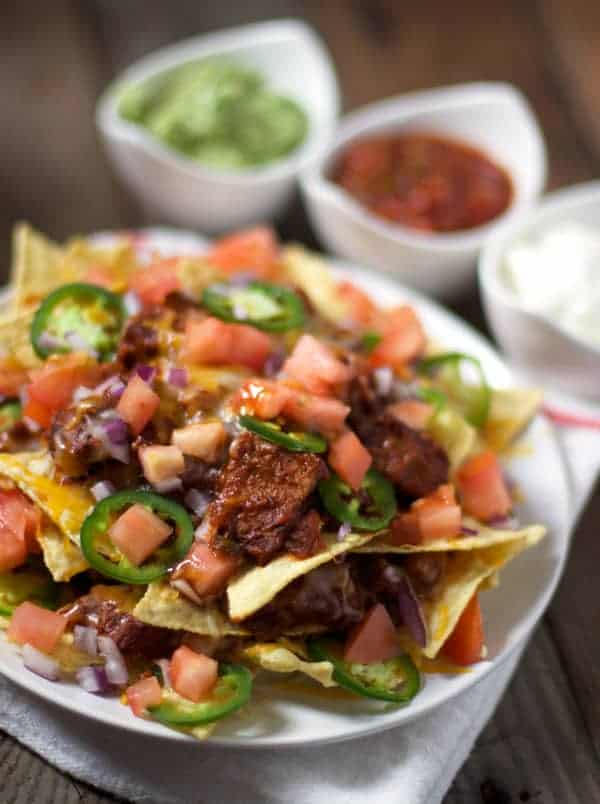 I'm still thinking rosé for the nachos. Yeah, I know, I'm the weirdo that drinks rosé with brisket (see here and here). But if you're not into the whole rosé -year-round mission, like me, then opt for a hearty red. Many will do the trick (Malbec, Cab, Merlot, Tempranillo… to name a few), but I often reach for Carmenere when I eat chili because the flavors meld well with peppers, tomatoes, rich meet, and the like. For a weeknight value try:
Concha y Toro Casillero del Diablo Reserva Carmenere 2012 (Central Valley, Chile) ~ $11