When I posted my previous article in this series a friend jokingly asked, "who ever has leftover brisket?" to which I responded, "when you're making a 7 lb brisket for only two people I should really hope you have at least some leftovers, otherwise I'd be slightly concerned for your well-being ;)" In our defense we did manage to shave around 2 lbs off before retiring the rest to the fridge for leftover use.
This is exactly what happened to us a few weeks ago, when hubby decided to smoke a rather large brisket for just the two of us. We made some serious headway that day, but were still left with enough leftovers for several more meals. The first round of leftovers was dedicated to our delicious and very pretty looking Brisket Bruchetta. This is what we came up with for round two of uses for leftover brisket – Pizza.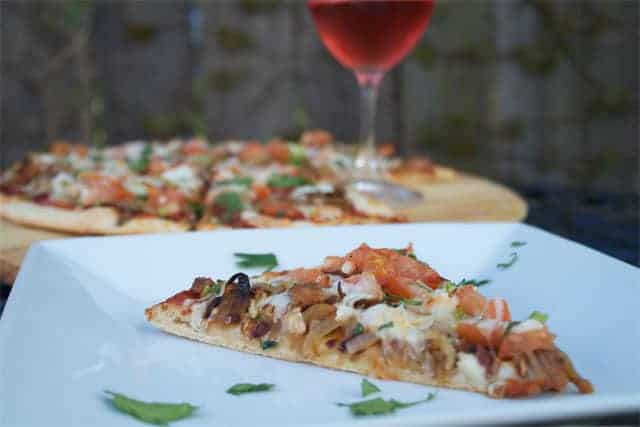 Pizza is a great use for leftover anything. Seriously, anything! Especially anything that has been barbecued!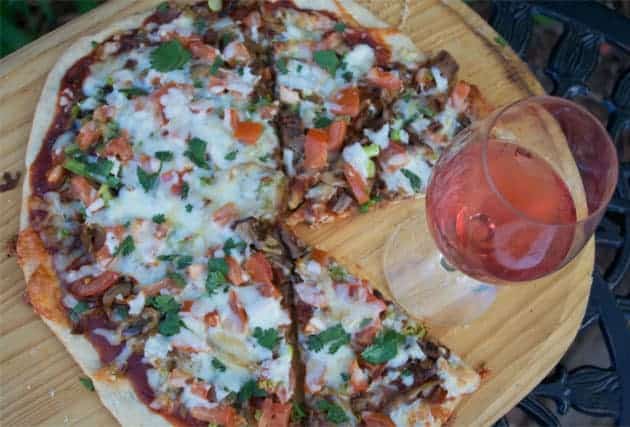 Leftover Brisket, recipe #2 — Smoked Brisket Pizza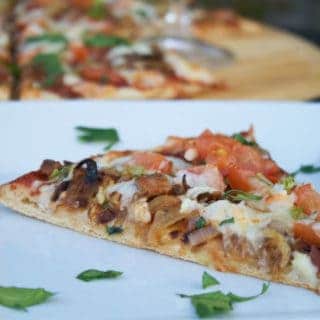 Ingredients
1

store bought or homemade pizza dough

1

tablespoon

cornmeal

just enough to cover board if you are using a pizza stone

1/2

cup

BBQ sauce

I use homemade

1/2

cup

pizza sauce

or tomato sauce

1

generous cup of leftover brisket meat

shredded (more if you want more of a meaty flavor)

½

red onion

sliced (for caramelizing)

3

green onions

diced (both white and green parts)

2

Roma tomatoes

diced

¾

cup

shredded mozzarella cheese

¾

cup

shredded smoked cheddar cheese

don't skimp on the "smoked" cheddar. The smoked element adds great flavor!

1

handful cilantro

chopped (more or less depending on your feelings about cilantro)

½

teaspoon

Maldon

aka finishing salt, it's not necessary but adds a really nice finishing flavor
Instructions
Pre-heat oven to 425 degrees, with pizza stone centered on the top rack.

In a skillet over medium heat, add ½ tablespoon butter and ½ tablespoon olive oil and cook onions until caramelized (approx 10 minutes).

In a separate small bowl, mix the BBQ sauce and pizza sauce together.

Stretch and roll out pizza dough to desired width. We have a 16" pizza stone, so we stretch the pizza to approx 14".

Place dough on pizza pan or board with a tablespoon of cornmeal (if you will be using your stone to cook the pizza. The cornmeal helps the pizza slide off onto the stone).

Layer your dough with the sauce, then layer on the leftover brisket, caramelized onions, green onions, tomatoes, and cheeses.

Bake approx 15 minutes or until sides look crisp and cheese is melted. After removing the pizza garnish with cilantro and a pinch of finishing salt.
Notes
I tend to like my dough very thin. If you do too I recommend par-baking your dough for exactly 1 minute. Just slide the dough (with no toppings on it yet) onto your stone for 1 minute, then take it out immediately. This will help firm up the dough, making it easy to slide off your paddle and onto your stone without disaster occurring. If you are using a pan, and not the stone, don't worry. I like to do ½ and ½ for the sauce sauce (BBQ sauce/traditional pizza sauce) because I find if you use all BBQ sauce, it tends to reduce and can burn easily, and also adds too much sweetness to the dish. Mixing with the pizza sauce adds a nice richness to the sauce without the BBQ sauce dominating the flavor of the meal. The tomatoes will also add some juiciness without too much added sweetness. The smoked cheddar and mozzarella blend also creates a really nice balance between ooey-gooey-cheesy goodness and smoky flavor. If you are a fan of cilantro, don't hesitate to add it. It really freshens and brightens up the dish!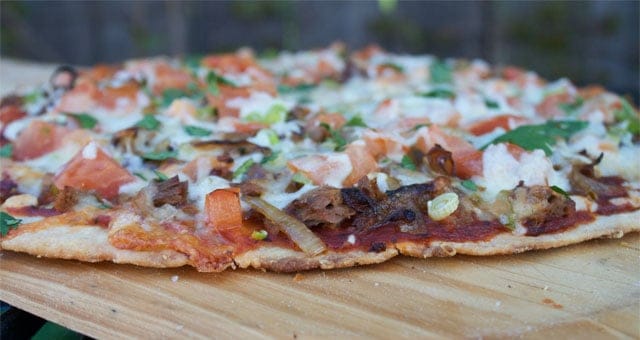 WINE PAIRING
Look to a wine with good acidity to balance out the sauce and tomatoes. Sangiovese is a nice choice with its high levels of acidity. Merlot, though typically not too high in acidity works remarkably well. Zinfandel can work, but make sure it's not a powerhouse Zin, otherwise it will overwhelm the flavors of pizza. When in doubt, a full-bodied rosé is refreshing option! Try the…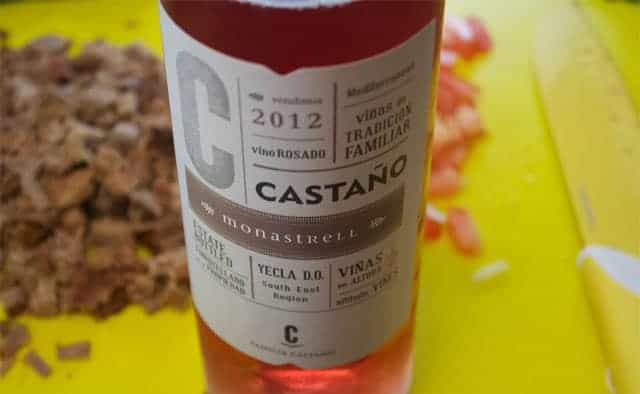 2012 Bodegas Castano Monastrell Rosado
Yecla, Spain
13% abv | $14 (purchased)
90% Monastrell (also known as Mourvedre in France), 5% Cabernet Sauvignon, 5% Syrah.
Hubby purchased this wine a couple weeks ago from one of our local wine shops, and we've since purchased an additional three bottles. I can't get enough of this lovely rosé. It's more full-bodied and richer on the palate than I tend to like on a rosé but it makes for a more suitable choice for richer dishes, like this pizza.
Dark pink in color this wine is rich in red berry fruit (cherry, strawberry and raspberry) but not candied fruit (which can be common in rosés and something I tend to dislike). The body is bigger than, say, a Provencal rosé, but is very smooth and still quite refreshing. Looking online I see it as low as $9. Definitely worth checking out of you are a fan of rosé. I'm sure I'll be getting more of this throughout the summer.
More uses for leftover brisket
~~~~~~~~~~~~~~~~~~
Want more barbecue recipes and tips? Check out the recipe index on the blog for recipes and wine pairing ideas. 
Or just enter your email to subscribe to new blog posts and recipes posted here on Vindulge, delivered directly to your inbox.