It's Friiiiiiiiidaaaay!!!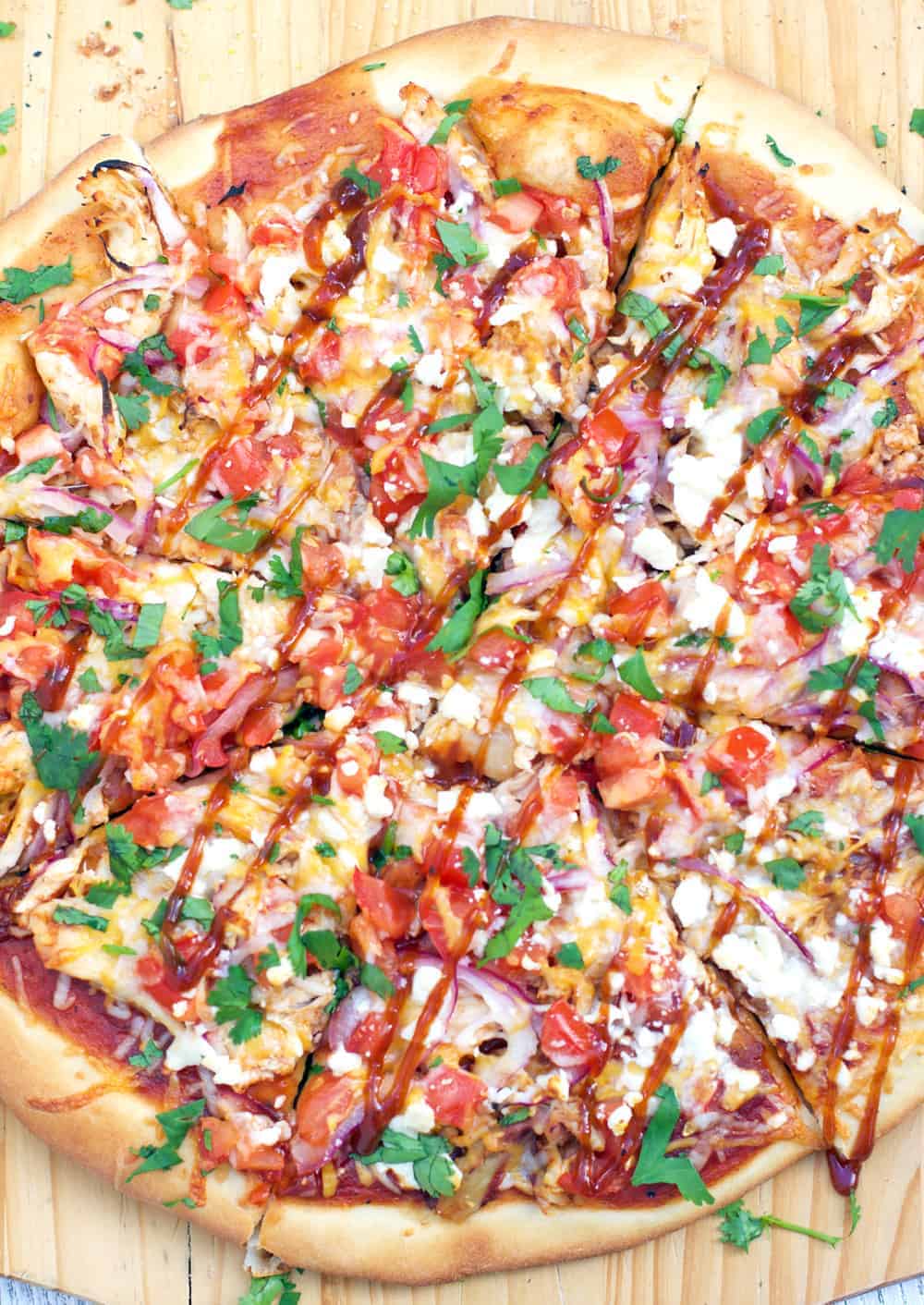 Around here that usually means two things: Bubbles and Pizza Night (and by bubbles I mean sparkling wine, and by Pizza Night I mean we eat pizza nearly every single Friday night).
Actually I lied, if the weather is warm it means three things — "Friday Night Lights" with our neighbors, which has nothing to do with football, but everything to do with tailgating in our driveways hanging out, drinking beer, while the kids run around outside.
Now once upon a time I had this darling idea that we would make our own pizzas from scratch every Friday. My fantasy even involved taking the kids to the store so they could pick out all of the pizza ingredients, and we would rotate who gets to decide the pizza of the night. All of the dough would also be from scratch of course. It would be a fair and democratic process and everyone would be happy. Sparkling wine would be flowing from the sky.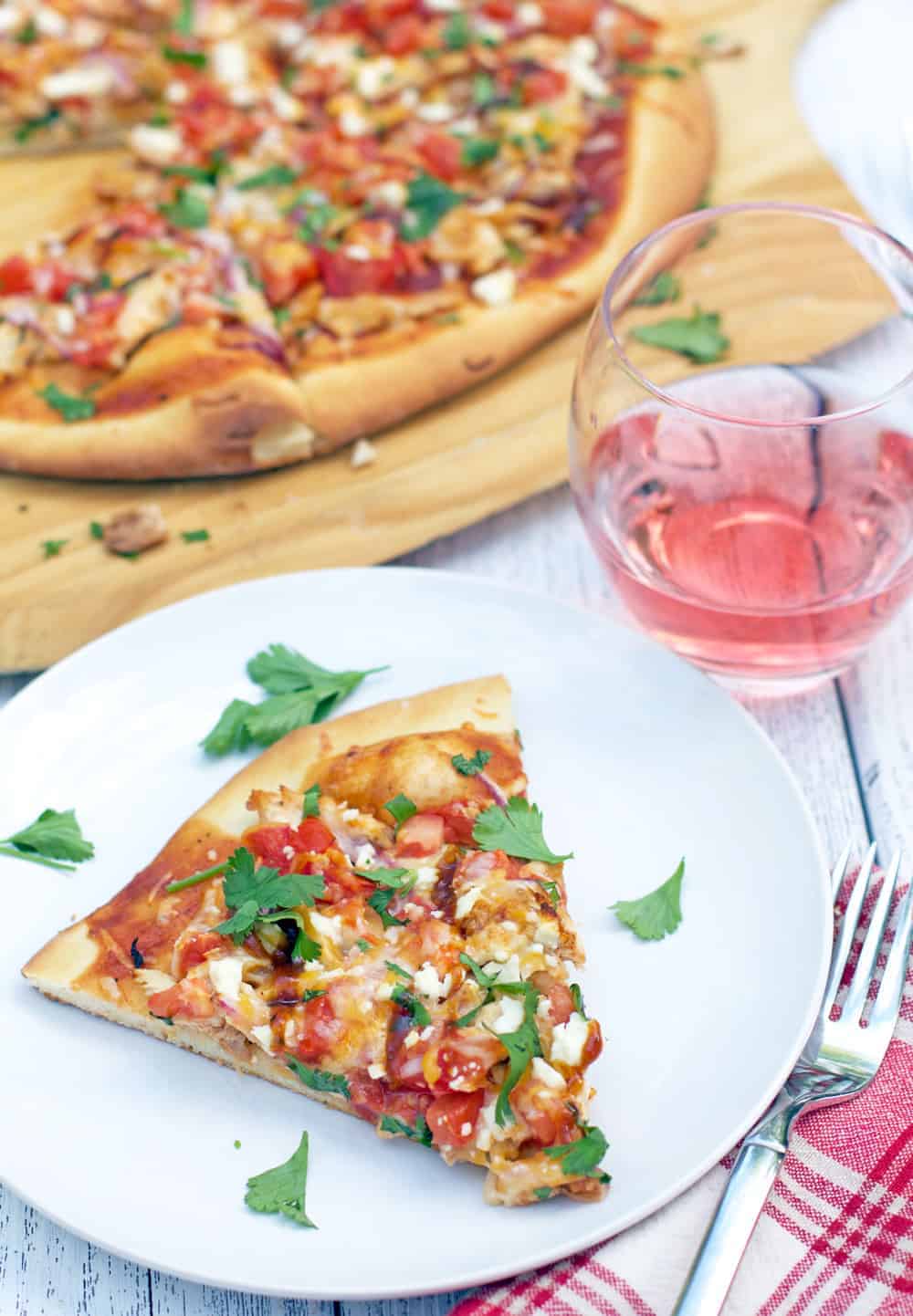 But that's definitely not how it usually goes. What usually happens is that Sean gets home from work, everyone is a little bit cranky and on edge, we all decide that we're exhausted from the week, and then we decide to load up in the car and head to our favorite local pizza joint and have someone else do all the work. In our defense, their pizza is addictive and hard to beat.
But we still do, on occasion, take charge of Pizza Night and when we do we go big. There are always a few favorites we make on regular rotation. BBQ Chicken Pizza is one of them. Whenever we have leftover smoked chicken lying around we usually end up making this pizza. And there's never a shortage of BBQ sauce in the fridge. So it's the perfect combination. This past week was the perfect example.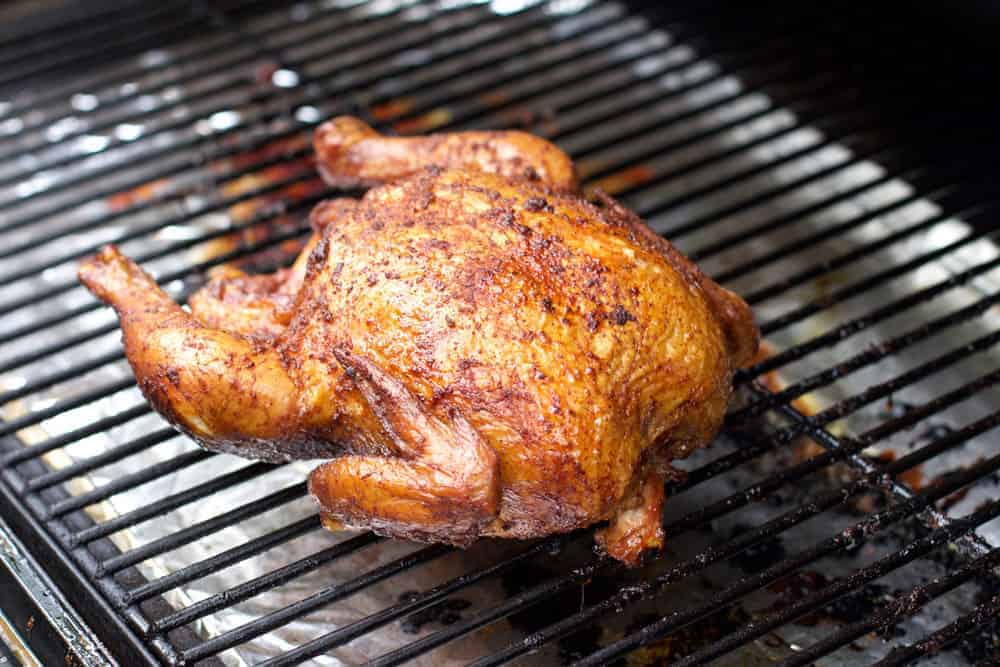 I was working on an article for Wine4.Me that involved smoking a whole roaster chicken (recipe coming soon), which left us with a bunch of leftovers. Perfect for BBQ Chicken Pizza!
I know I know I know I've shared a BBQ Chicken Pizza on the blog before (because we eat it a lot!). But I also wanted to stress that there's no right way to cook your pizza. We've cooked it on the grill, on the smoker, and like this one here, in the oven cooked on a pizza stone.
One day we'll be able to experiment on a real pizza oven. Our neighbors/good friends keep threatening to build one in their backyard (I'm talking to you, Katy!!!), and when they do we're going to invade.
Until then we'll have to settle with our current options.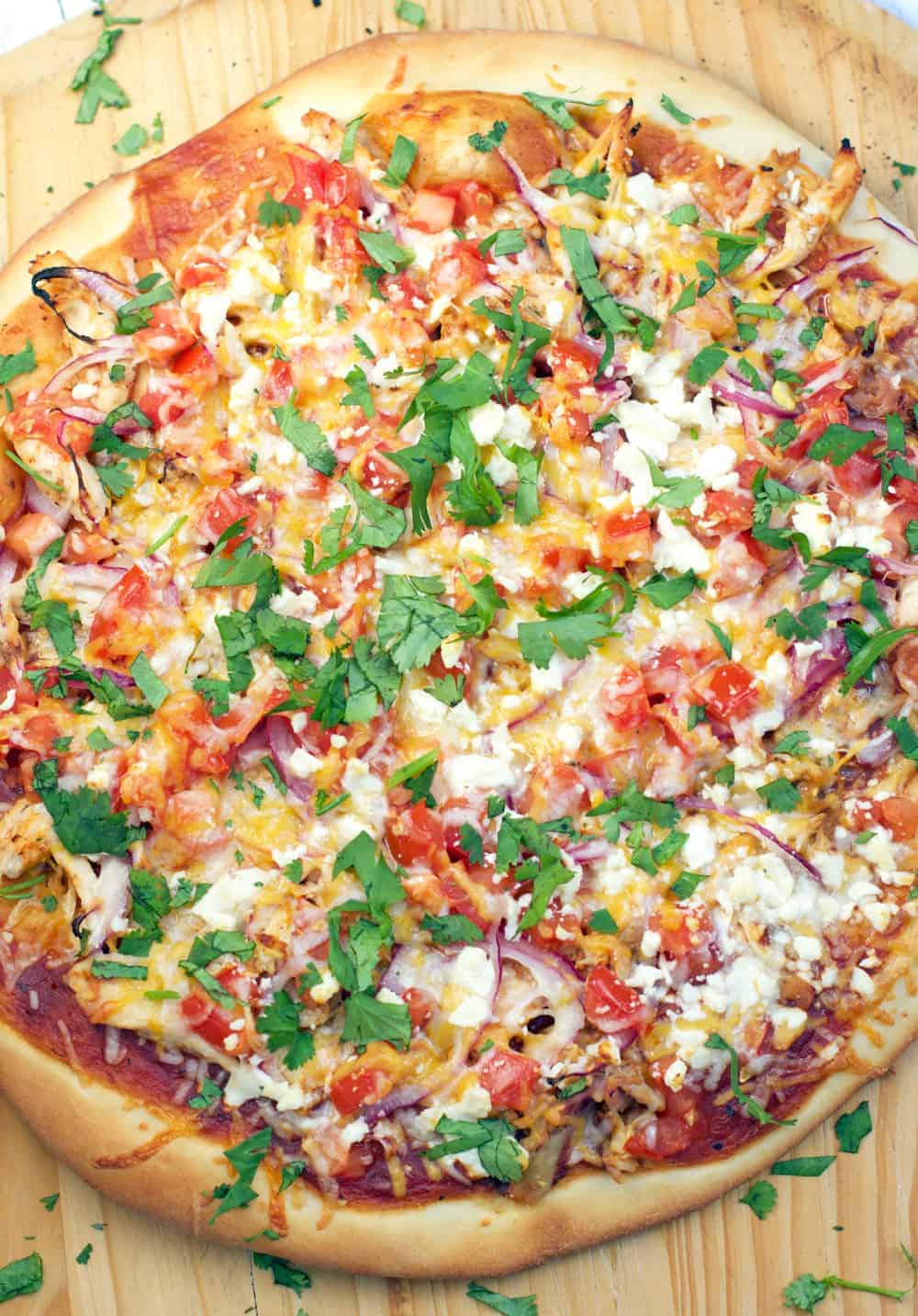 They key to the flavor here is that we start with smoked chicken (like the recipe you can find here). You can use chicken breasts and just shred them up after cooking. But we love using whole roaster chickens. They retain great moisture and smoke flavor. Plus once you cook a roaster chicken and shred it you can use the remains to make this smoked chicken stock!!!
If you don't have an actual smoked chicken another option would be to buy a pre-cooked roaster chicken from your supermarket, then toss the shredded meat in a couple tablespoons of your favorite BBQ sauce. It's not the same, but it will work in a pinch to get some of that BBQ flavor.
The toppings for our BBQ Chicken Pizza were inspired from a restaurant I worked at in college. They used a mix of cheeses, including cotija, scallions, and cilantro, onions, tomatoes. So good. Though we usually sub feta for the cotija. I love the sharpness and saltiness that the feta gives, but we also make it with mozzarella when we don't have feta on hand. The mozz works great too and provides a nice oozy cheesy texture and a much milder flavor than the feta. Choose whichever you prefer.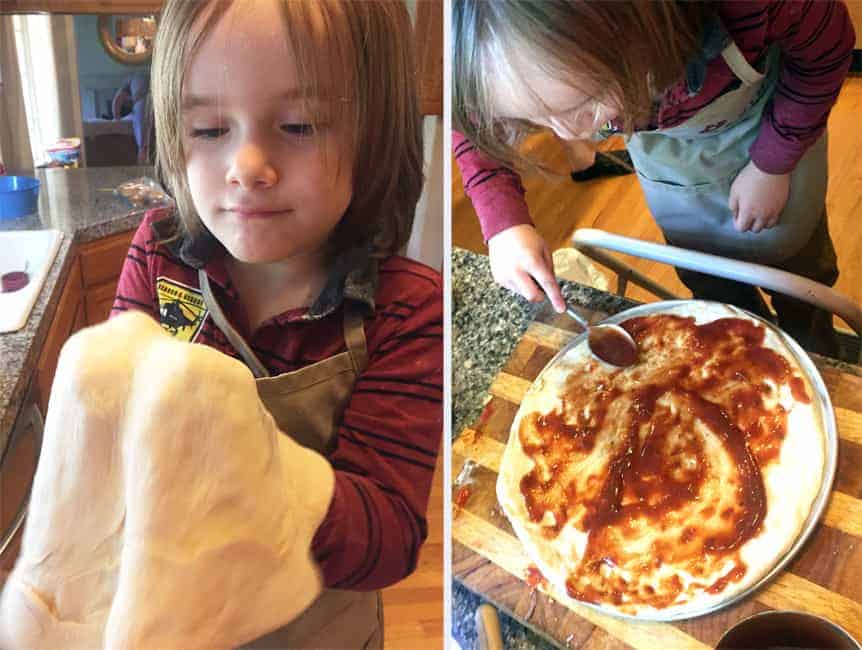 feel free to put the kids to work doing the hard stuff, like stretching the dough
I've also shared before that I'm not a fan of using 100% BBQ sauce as the base. I find most BBQ sauces have so much sugar in them that when you bake at a high heat the sauce starts to caramelize before the pizza is done cooking, and the end result is more like candy then a nice rich sauce. So I like to mix ½ BBQ sauce with ½ regular pizza sauce (or just regular tomato sauce). It provides a richness and saucy texture that I'm going for, but you still get the BBQ flavor. We use the same ½ and ½ sauce technique with this killer Buffalo Chicken Pizza. Mmmmm.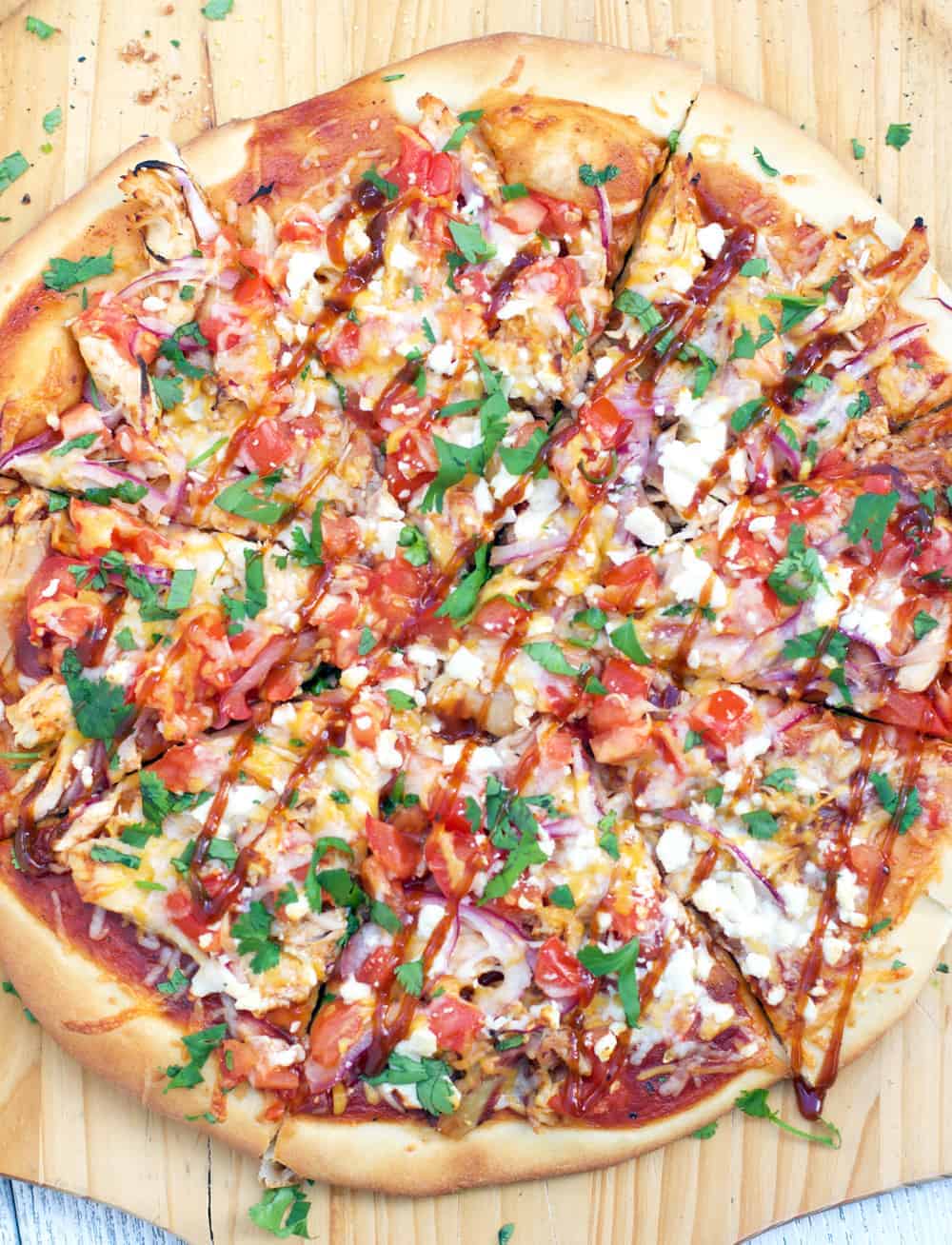 Hot damn I love pizza night.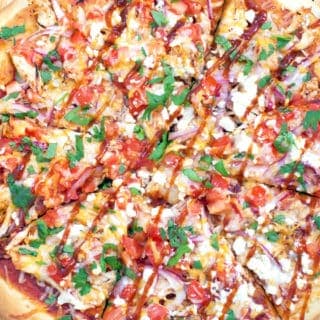 BBQ Chicken Pizza
An easy Smoked BBQ Chicken Pizza, made with real smoked chicken, bbq sauce and pizza sauce, a combination of delicious cheeses, onions, tomatoes, and topped with fresh cilantro. Perfect for Pizza Night!!!
Print
Rate
Ingredients
Pizza dough

your favorite homemade or store-bought dough (enough for one 12" pizza)

¼

cup

bbq sauce

your favorite homemade or store-bought

¼

cup

pizza sauce

or tomato sauce

1

cup

leftover smoked chicken

shredded, or the equivalent of other cuts of chicken, shredded

¼

medium red onion

sliced into thin strips (approx ½ cup)

1

medium tomato

diced (about ½ cup worth)

½

cup

shredded cheese

my favorite combo is ½ cheddar, ½ smoked cheddar, more or less depending on how cheesy you want your pizza

¼

cup

feta or mozzarella cheese

Diced cilantro

for garnish
Instructions
Preheat oven to 475 degrees (see notes for alternative methods), with a pizza stone in the center of the oven.

Slice and prep all of your ingredients in advance and mix the BBQ sauce and tomato sauce in a small bowl.

Roll out the pizza dough to about 12" circle onto a slide-able pizza peel (or onto a round pizza pan).

Layer the dough with the BBQ/pizza sauce mixture, shredded chicken, onion, tomato, and cheeses.

Slide the pizza onto the pizza stone, and cook until the crust is golden brown and toppings are bubbly (about 10-12 minutes).

Top pizza with fresh chopped cilantro, slice, and serve.
Notes
This pizza is also fantastic either grilled or cooked on the smoker. For instructions on how to grill pizzas or tips on cooking pizza in the smoker see this post: https://www.vindulge.com/2015/04/bbq-chicken-pizza-smoked-grilled/
Wine Pairing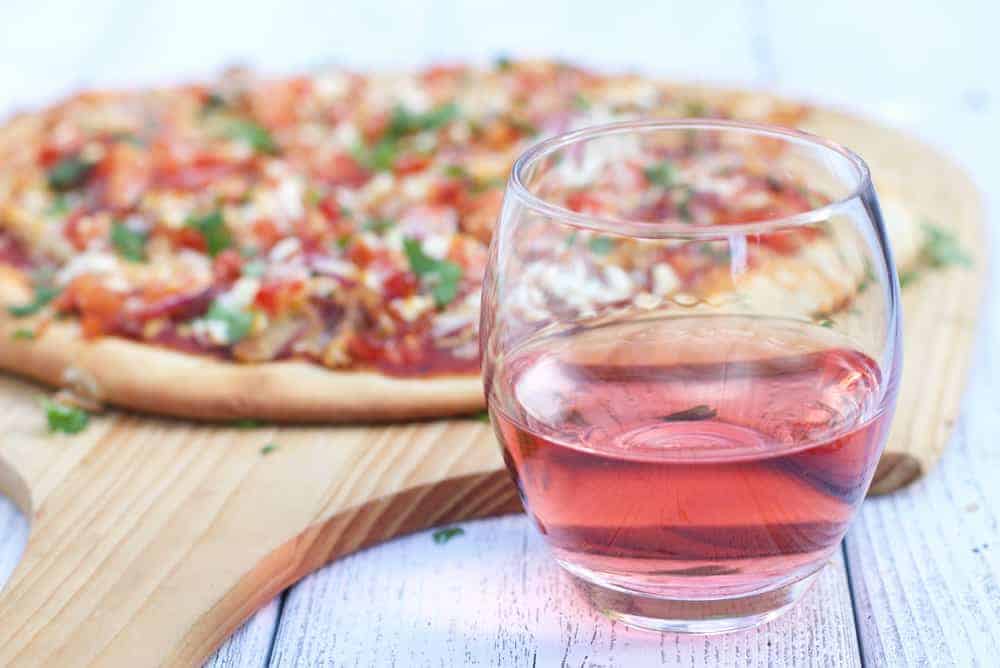 Now I mentioned that Friday nights are bubbly nights around here. That's usually our starter drink, our happy hour if you will. I don't usually drink bubbly with my pizza, though it's actually quite fantastic (especially a fruity rosé bubbly! Yum).
You honestly have lots of options here. You've got some smoky components from both the meat and the BBQ sauce, but you also have some sharp flavors from the onions and feta, and some herbal cilantro. If you go red this is where a low tannic fruity wine comes great, like Zinfandel, Syrah, or Grenache.
But for our most recent version we tried it with the latest release of the Charles & Charles Rosé from Columbia Valley (WA).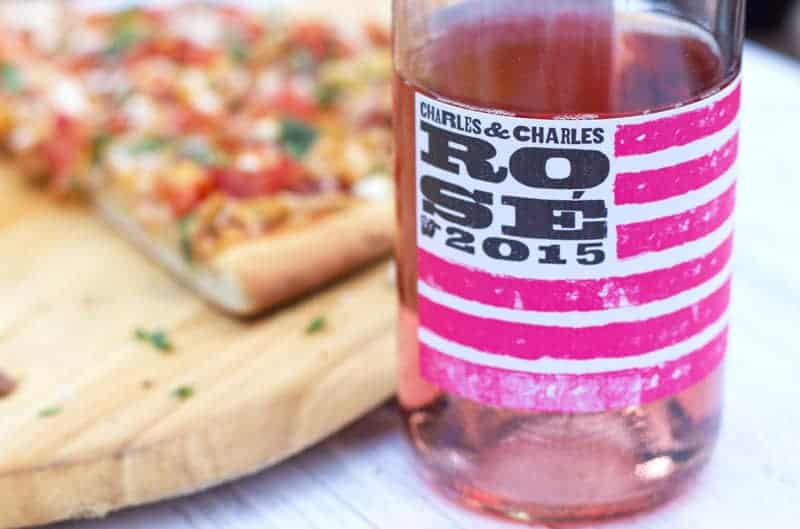 This has always been a summer favorite. It's a fantastic value (I bought this one for about $11 locally), and never disappoints. This one (the 2015) is full of bright pretty red berry flavors (some cherry and lots of ripe strawberry). It's not jammy or bubble-gum-y like a lot of similar style rosés. Instead it has just the right amount of fresh berries, a touch of rhubarb, and finishes dry and refreshing. It also went great with the pizza. The fruit balanced well with the sauce and everything just harmonized. I'm pretty sure this is my favorite vintage of the Charles & Charles Rosé to date! And at this price I think we're going to be stocking up for the summer.
The blend on this bad boy is Syrah (61%), Mourvedre (12%), Grenache (10%), Cabernet Sauvignon (7%), Cinsault (7%), Counoise (3%).
12.2% abv | $11 (purchased from my local New Seasons)
Do you do Friday Night Pizza Night? Please share! Do you make pizza at home or go out? What are your favorite pizza combinations? Or if you go out please share your favorite local pizza joint (wherever in the world you live!).  
---
More Pizza Recipes:
---
For more tasty recipes, BBQ tips and tricks, check out the Recipe Index.
Want more? If you liked what you read you can subscribe to Vindulge and have new posts delivered directly to your inbox.