Who's ready to talk about the difference between smoking and grilling a BBQ Chicken Pizza?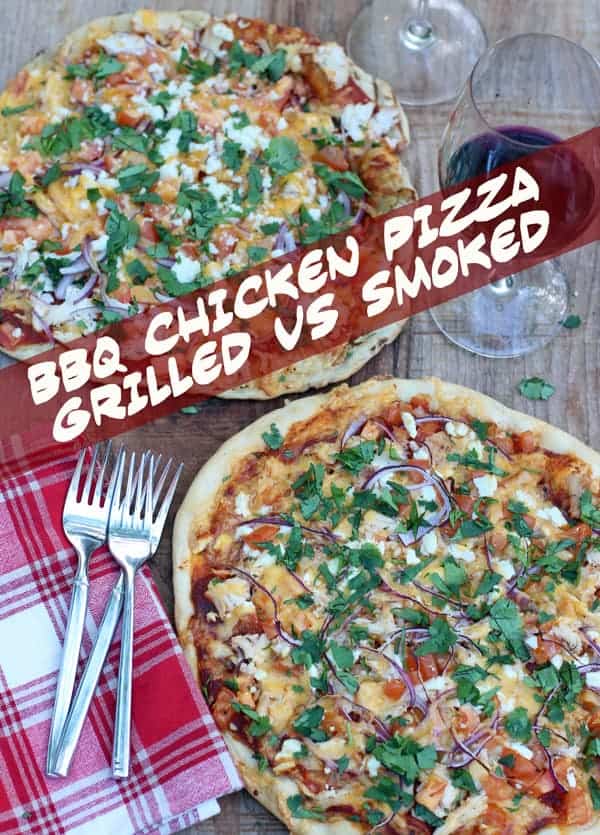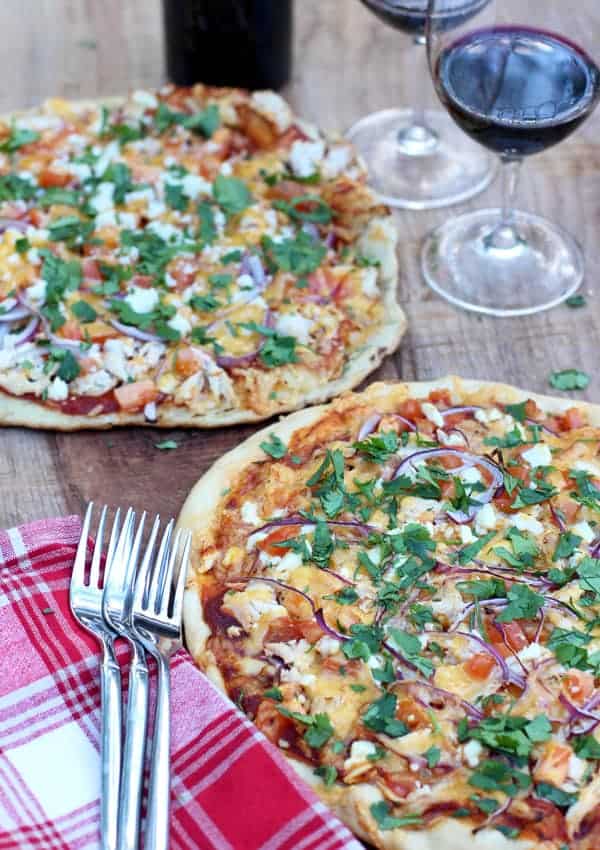 Grilling Pizza vs. Smoking Pizza
Grilling the pizza is hot and fast, and requires constant attention. Smoking pizza takes longer and at a much lower heat….so you get a very different texture to the crust, but different flavors infused. It's fun trying them side by side because you truly appreciate the texture and flavor differences between the two.
Who will prevail? Let's see…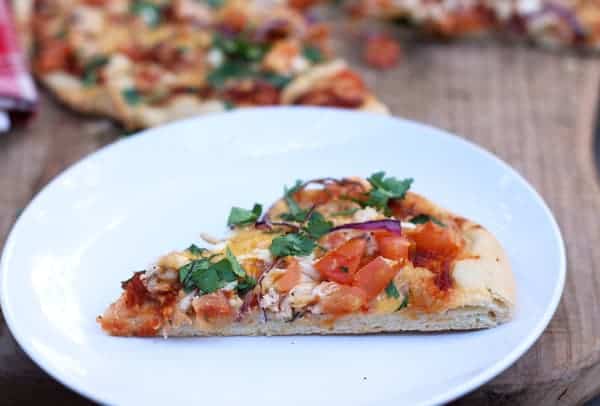 Grilled Pizza
Let's talk grilled pizza for a moment. For technique, it's all about the indirect cooking method over flamin' hot coals. To best prepare the pizza for success get your grill nice and hot, then roll out your dough and brush with some olive oil. Don't put your toppings on yet.

Then place the dough over direct heat for no more than 2 minutes, to par-bake, and then flip for just one minute (or less). This gives it stability for the ingredients you are about to put on top.

After you load up your dough with the toppings it's time to cook. Pay attention the next time you are at a wood fired pizza joint. You'll see their version of a pit master rotating the pie. One side of the oven is hotter, so you need to rotate the pie. The same concept exists here. You're going to put the pie on the indirect heat side of the cooker and then move it around as needed. One side is still hotter, you can cover if you would like, but keep your eyes on the pie.

I rotate the pie every minute or so because we use a thinner style crust and rotating constantly prevents charring. So once that pie is on, don't walk away from the cooker too long. When cheese is melted and the crust is golden to your satisfaction….it is done.
Smoked Pizza
Smoking pizza is much different. In this case you'll add a pizza stone (this is key to preventing the dough from falling through the grates, and also to help it cook evenly) to your smoker as you are pre-heating to 400 degrees (you want the stone hot when the pizza goes on).  In our case we used a pellet smoker to get the heat high, then reduce to the lower temp when the pizza is on.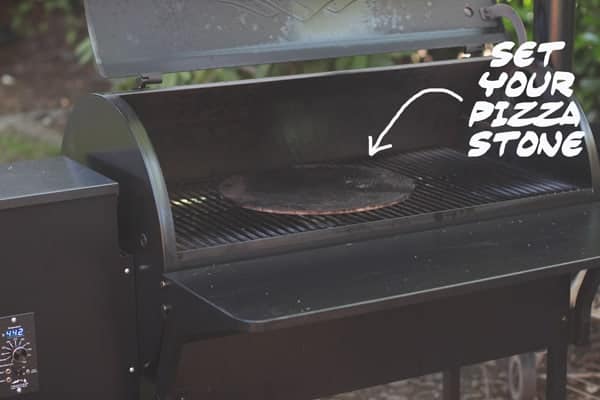 Then place the pie on the smoker and get temperature down to about 250 – 300 degrees. No real need to rotate with a smoker since the heat is so much lower, but if you find a hot spot, feel free to rotate.

After approximately 25 minutes (give or take), the pie should be done. But you know when to pull when the crust is to your liking (your call here!). Unlike grilling at a high heat, the dough will have less of a crispy texture and instead take on a lush and softer crust. It will be crispy but slightly soft because you are likely cooking less than 300 degrees.
It is possible to jack up your smoker to a higher heat and cook for less time, but we find that the quicker you cook the less smoke influence you get (at least on a pellet smoker like we have).
The more difficult thing to manage will the the people lining up to taste your pies!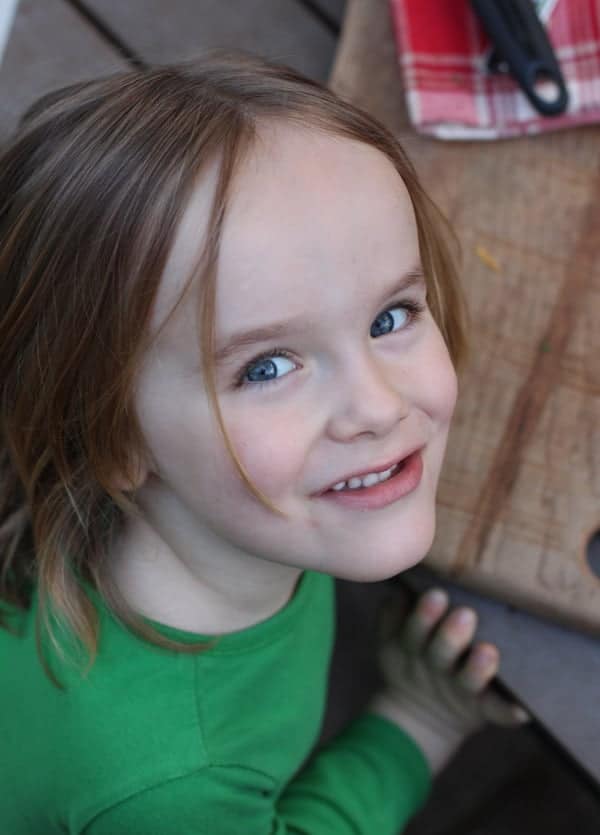 Someone's seriously excited for some pizza!
The only other tool that is a must have is a pizza peel. Now let's get to the details.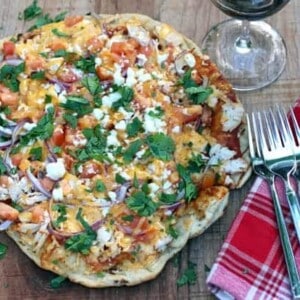 BBQ Chicken Pizza (Smoked & Grilled)
Two techniques for grilling BBQ Chicken Pizza outdoors -- one on a smoker, and one on a hot charcoal grill. (The recipe below is for 1 pizza. If you would like to do the smoked vs. grilled pizza challenge, like we did, then double the recipe to make 2 separate pizzas)
Print
Rate
Ingredients
Pizza dough

your favorite homemade dough, or store-bought

¼

cup

bbq sauce

your favorite homemade or store-bought (I use this homemade sauce for this recipe)

¼

cup

pizza sauce

or tomato sauce

1

cup

leftover smoked chicken

shredded, or the equivalent of 1 full chicken breast grilled and shredded

½

medium red onion

sliced into thin strips

1

medium tomato

diced (about ½ cup worth)

½

cup

shredded cheese

my favorite combo is ½ cheddar, ½ smoked cheddar, more or less depending on your cheesy preferences

¼

cup

feta or cojita cheese

Diced scallions

for garnish

Diced cilantro

for garnish
Instructions
Slice and prep all of your ingredients in advance, either in your kitchen, or in the great outdoors (aka your backyard)
For the smoked pizza (cooked on a pellet smoker)
Place pizza stone on smoker and bring to a high heat (400 degrees) to warm up pizza stone.

Mix the bbq sauce and tomato sauce in a small bowl.

Roll out the pizza dough very thin (about ¼ -1/2 inch thick), on a slid-able pizza peel.

Layer the dough with the bbq/pizza sauce mixture, shredded chicken, onion, tomato, and cheeses.

Slide onto pizza stone, reduce heat to 300 degrees and cover. Cook until the crust is where you want it (about 25-25 minutes). See instructions above for further guidance. Cooking on a lower temp will garner different results than high heat, but will infuse with nice smoked flavor.

Garnish with chopped cilantro and scallions.
For the grilled pizza (cooked on a hot charcoal grill)
Pre-heat your outdoor grill to medium heat.

Mix the bbq sauce and tomato sauce in a small bowl.

Roll out the pizza dough very thin (about ¼ -1/2 inch thick).

Brush the dough lightly on both sides with olive oil.

Grill the dough on both sides for about 1 minute (or less) per side (just long enough to make light grill marks on the dough, but not to cook it completely).

Remove the dough from grill and begin to add your ingredients. Start with your sauce, then layer with chicken, onion, tomato, and cheeses.

Slide back onto the grill. Cook for approximately 8 minutes (see instructions above for the method).

When the dough is crusty and cheese is melted remove from heat.

Garnish with chopped cilantro and scallions.

Slice and enjoy the heck out of this pizza!
WINE PAIRING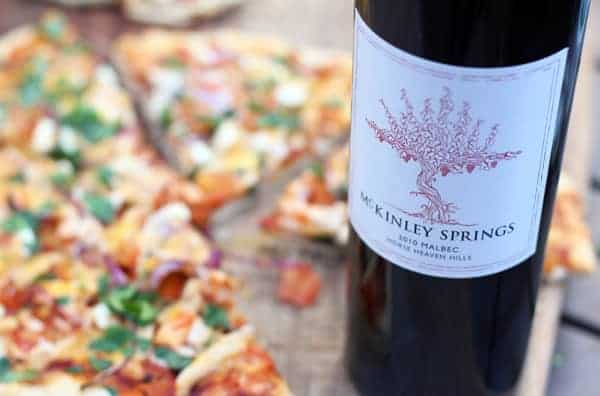 With BBQ Chicken Pizza you have lots of options. What you're paying most attention to here is the sweet sauce and smoked crust. We find a BBQ Chicken Pizza that is made with just BBQ sauce comes out too sweet and the sauce has so much sugar that it can burn easily when cooking. That's why we use 1/2 BBQ sauce, 1/2 pizza sauce. We use a similar technique for this Smoked Buffalo Chicken Pizza with the sauce. The 1/2 and 1/2 method helps to balance out the sauce so it's not too sweet, yet you still get that BBQ sauce flavor. It also adds some acidity to the sauce, making it more flexible with wine. I like a fruity red for this. Zinfandel, Merlot, even Syrah or Grenache work well. But we opted for Malbec because of it's great fruit flavors and nice structure.
The McKinley Springs 2010 Malbec (Horse Heaven Hills, Washington) worked great. It reminded me of a raspberry chocolate milkshake at first whiff. Not that it was sweet, it just had those lovely raspberry fruit meets chocolate aromas. It also had some nice dark berry fruit and baking spice in the mouth.  Stood up great to the smoky crispy crust and delicious toppings. 14.5% abv  |  $24 (media sample)
Whether you opt for wine or milk (like these guys below), the pizza will go fast.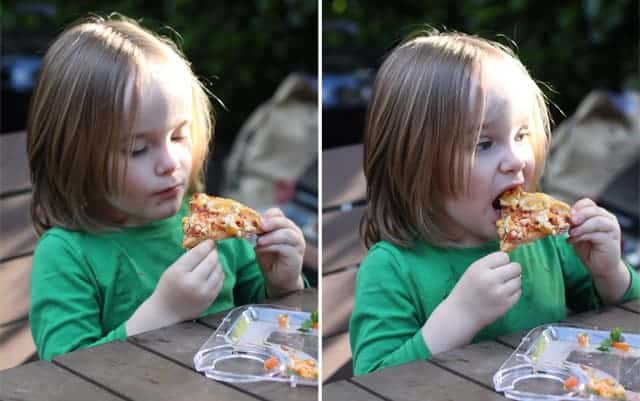 Kid approved pizza! But then again, what pizza isn't kid approved?