It should come as no surprise that many of us have some of our best wine experiences while traveling, myself included.  Personally, I am often inspired by a wine when I taste it at the source — the actual winery.  The next best thing is tasting it in the region it comes from paired with the local cuisine over lunch or dinner.  Loving wine as much as my husband and I do we therefore tend to plan our vacations around wine related destinations in order to discover new gems.
One such trip was in 2008 when we traveled to France for two weeks spending time in Burgundy, Bordeaux, and a brief stint in Champagne.  Burgundy was my choice, being a pinot noir fanatic, and Bordeaux was hubby's choice since his first wine crush was on cabernet sauvignon (one of the major grapes grown in the region).  I didn't care much for Bordeaux wines at the time. Needless to say my opinion has changed immensely since then.
What I discovered is that not only is Bordeaux (the city) one of the coolest and most beautiful cities I've traveled to with its beautiful architecture and incredible restaurants, but wines from the region are incredibly versatile.  Many think of Bordeaux for its most expensive and sought after red wines — you know, the ones that can sell for thousands of dollars for a single bottle — but these wines account for less than 5% of the regions total production.  The wines that don't get much attention are the everyday great values (wines retailing between $8-$25), which account for over 80% of wines produced in the region.  These are the wines I remember drinking everyday with lunch and dinners during our visit.
If you ask me to recite the specific wines we drank while dining at restaurants in Bordeaux I couldn't tell you.  Back then I didn't own a smart phone and wasn't taking pictures of all the wines we drank, or the food we ate, so I don't remember the specific producers we had while there nor was I taking copious notes in my little black book (I was simply enjoying my vacation).  What I do remember is never being disappointed.  With each meal came a new surprise.  Some of the best surprises were the incredible values we found, in both the white and red wines.
I was reminded of this while participating in two recent Bordeaux tastings on twitter, both sponsored by Planet Bordeaux.  The first of which focused on white and rosé wines; all priced under $12.  I wrote a piece about a similar tasting I participated in over a year ago and I was curious to see how my impressions have changed (if any) from the last time I tried these wines.  What I concluded echoed last years tasting — there are some incredible values to be found in Bordeaux.
Whites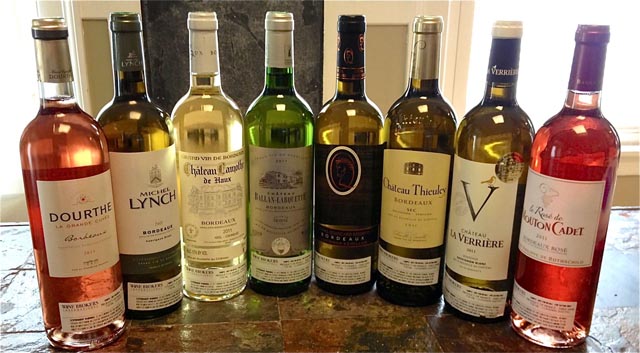 The white wines, mostly sauvignon blanc, were crisp, zesty and bright with lots of fresh lemon notes.  These would all be great summer sippers or with a variety of light foods — from goat cheese appetizers, salads with vinegar based dressings, to loads of fish dishes (from shellfish to grilled trout).  The wines I'd personally seek out are
Château Ballan Larquette 2011 Bordeaux Blanc ($7), the Château Lamothe de Haux 2011 Bordeaux Blanc ($9), and the Michel Lynch Bordeaux Blanc 2011 ($11).
As far as the rosé's, I was most impressed by the Le Rosé de Mouton Cadet Bordeaux Rosé 2011 for it's light and fresh red berry flavors, not to mention its price.  For an easy drinking, bright and fresh rosé for just $10 you really can't go wrong.  I can see this one being a year round pizza wine and I might just have to buy a few bottles to have on hand for that very purpose.
Reds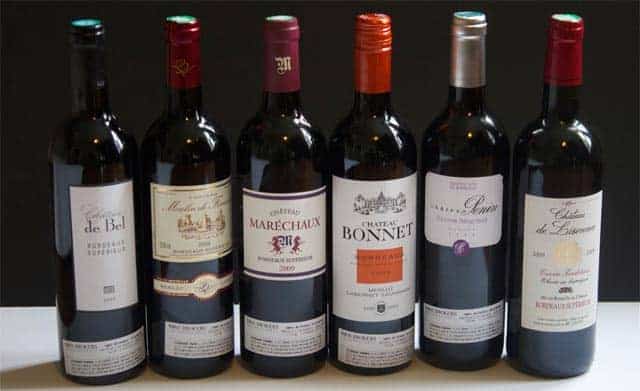 A few weeks later I participated in an all red Bordeaux twitter tasting with wines priced under $20 and all from the hailed 2009 vintage.  All blends of primarily merlot, cabernet sauvignon, and cabernet franc, I was impressed by how varied these wines were in style and flavor, not to mention how much I enjoyed most of them.  In style they range from more modern dark berry fruit forward style to a more traditional earthy characteristic with less dominant dark fruit.  All of these are meant for and enhanced by food — think slow cooked rich earthy dishes like beef stew.  On the other hand they are also great with a simple pizza with red sauce, which is what we ate while sipping on the wines the day after the tasting.
For a more modern dark berry fruit forward style, I recommend the Château de Bel 2009 Supérieur ($20) and the Château de Lisennes "Cuvée Tradition" 2009 Bordeaux Supérieur (which was also one of my favorites at only $12!).
If you are like my husband and are more into an earthy style Bordeaux look for the Château Penin Grande Selection 2009 Bordeaux Supérieur ($20) or Château Maréchaux 2009 Bordeaux Supérieur ($16), which my husband appreciated for its velvety mouthfeel and how much it reminded him of France.
All of these wines should be widely available throughout the US.  Just ask your local wine shop.  And if they don't have any of the wines mentioned above, I am not too concerned – they will probably have something similar for the same general price point.  Go out and explore.
Cheers
If you are interested to learn more about Bordeaux, I encourage you to check out my three part series: