Tri-Tip Fajitas are a delicious, quick, and festive meal. Start by grilling the Tri-Tip at the same time as the peppers for ease and then slice it thinly for incredible, tender, smoky, and savory steak fajitas. Give this recipe a try next time you're craving fajitas!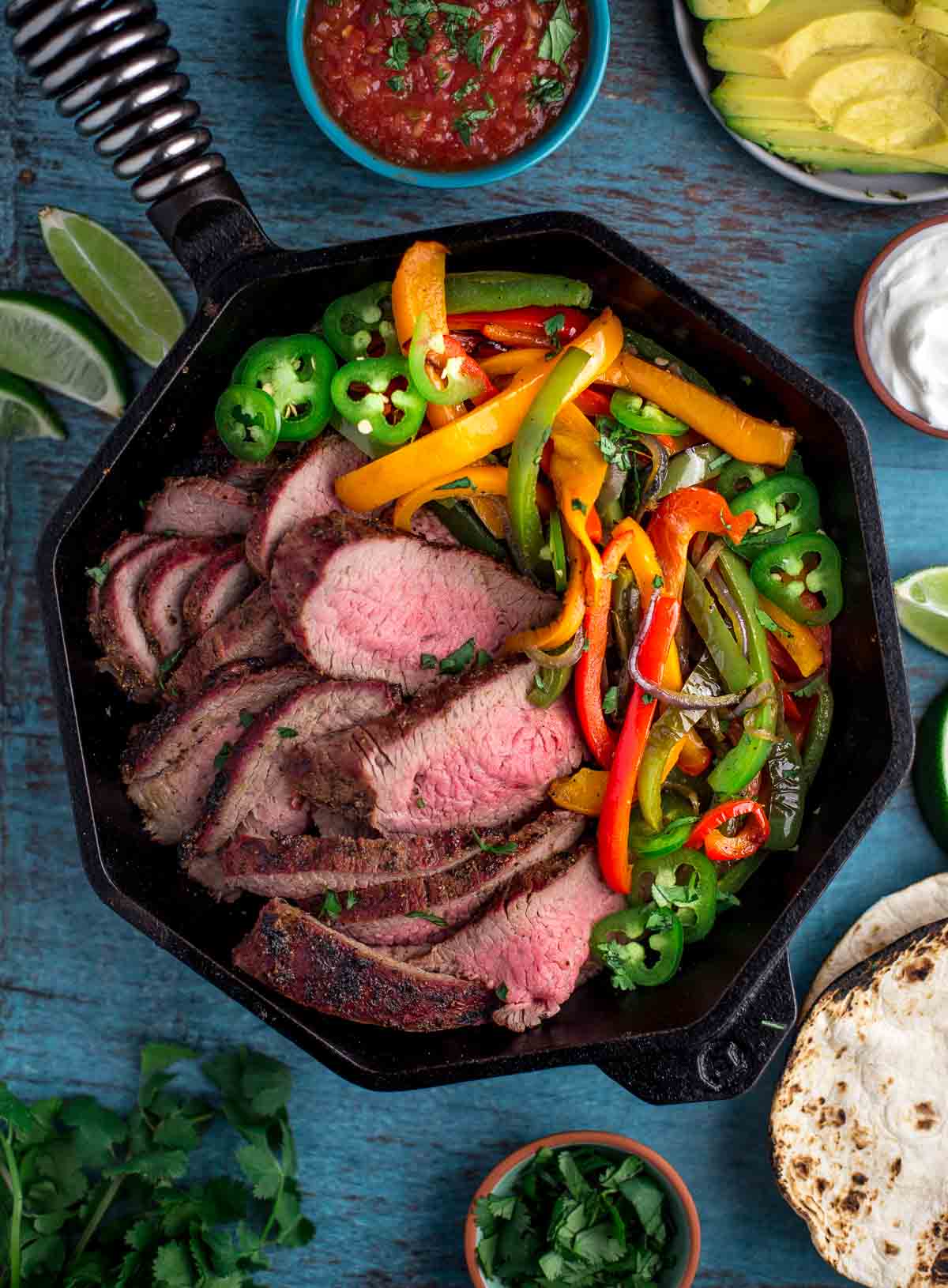 Recipe Highlights
We follow our Grilled Tri-Tip recipe for added live-fire flavor to the meat.
Tri-Tip makes a great steak fajita ingredient because it's well marbled while still tender and cooks fast. It's also a great way to stretch your budget with this larger cut of beef. But you can substitute any steak cut.
You can add any additional ingredients you like to the fajitas filling making this easy to modify and a great leftover steak recipe.
I think it's safe to say Tri-Tip is one of the most popular cuts of beef we cook around our home and for catering events. It has surpassed brisket, beef ribs, ribeye, and NY-strip. It's the most common thing we make at events because it's tender, full of beefy flavor and cooks in less than 30 minutes. So if you are looking for a creative fajita recipe, consider grilling Tri-Tip as your protein of choice.
Jump to:
Grilled Tri-Tip cooks long enough to give you that incredible smoky flavor from the charcoal but also remains tender, savory, and delicious. It's also quick enough for a weeknight meal.
Now you can easily grill up a single Tri-Tip for the sole purpose of making these succulent and festive fajitas, which would be my choice. Or you can use any leftovers, because Tri-Tip reheats like a charm.
Fajita Ingredients
Fajitas are traditionally made with a thin cut, like skirt steak, and grilled hot and fast after sitting in a marinade, but skirt steak isn't always the best option when looking for thicker cuts of beef. Tri-Tip is an excellent alternative for fajitas.
Tri-Tip: Tri-Tip is from the sirloin primal cut from beef cattle and is uniquely marbled and tender at the same time. It's shaped like a triangle because it's cut from three separate muscles. It's a beefy flavor and is becoming more common to find from butchers throughout the world.
Seasoning: We use good olive oil, and our savory beef seasoning for the beef. You can use any beef seasoning you like, but try to avoid anything with sugar. Or if you want simple try our SPG rub (salt, pepper, garlic).
Flour Tortillas: For the classic Tex-Mex experience, a good flour tortilla is important.
Onion: We prefer red onion for the more pronounced flavor but yellow and sweet white onions work well too in the same portions.
Peppers: Mixing green, red, and orange bell peppers adds a sweet flavor blend. For optional heat you can add jalapeños.
---
Related Article: Choice versus Prime – What's the difference in steak quality when grilling or smoking meat?
---
Preparation
Trim off any excess fat and silver skin with a good filet knife.
Coat the Tri-Tip roast with olive oil and seasoning.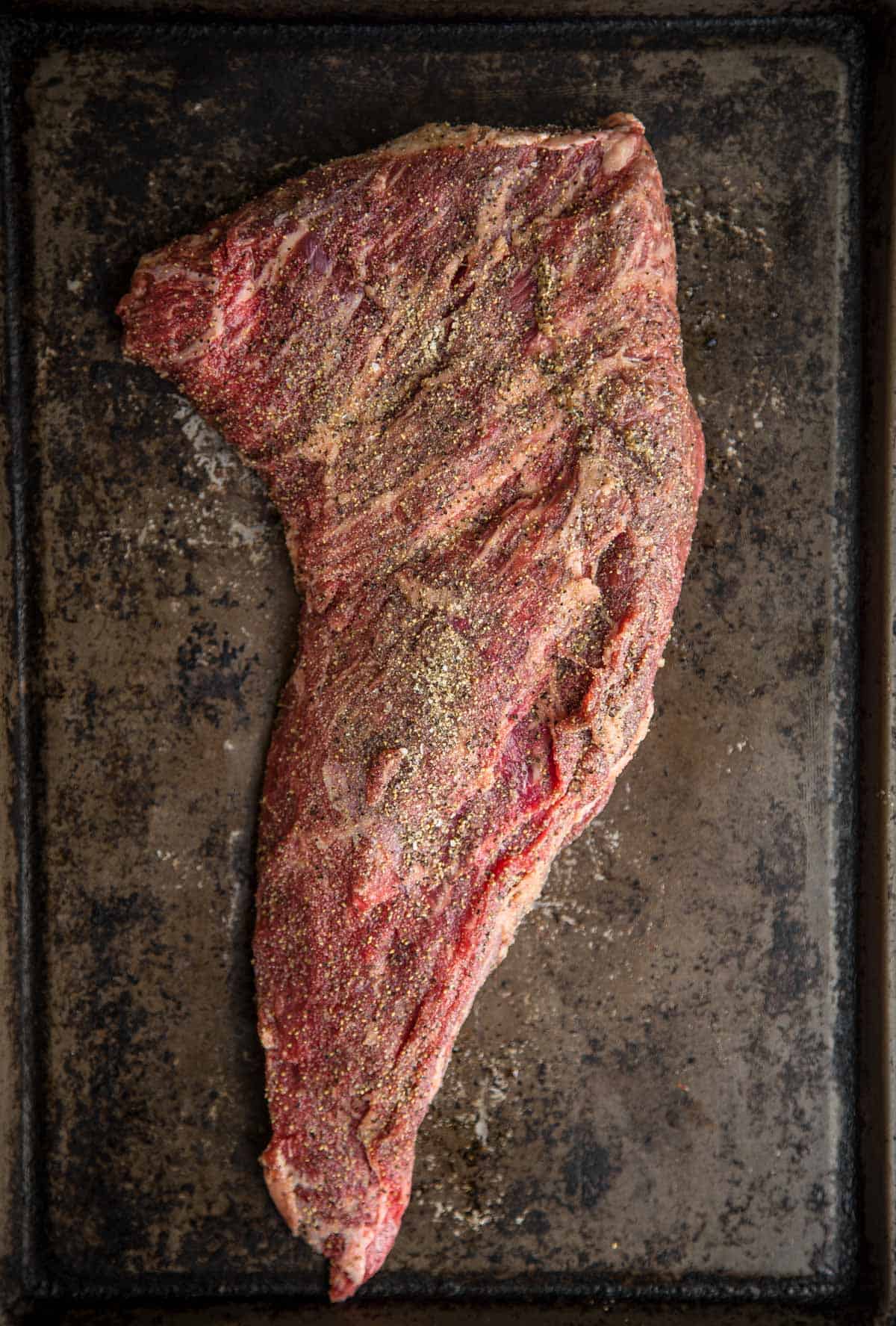 We also recommend prepping all the fajita ingredients prior to grilling. And then as the Tri-Tip grills cook the peppers and onions in a cast iron pan.
Grilling Tri-Tip
Prepare the grill for two-zone grilling, targeting 450 degrees Fahrenheit in the cooking chamber. We recommend lump charcoal for the best flavor.
Place the Tri-Tip on the grill grates over direct heat and grill direct for 5 minutes or until you see a nice crust form. Then flip and grill the other side for 5 additional minutes until a nice crust forms. Then move the Tri-Tip to indirect for additional 10 – 12 minutes or until the internal temperature reaches 130 degrees F.
Remove when it reaches 130 (or your desired internal temperature) remove and let rest for 10 minutes. Then slice and serve with your fajitas.
Tools: We use the Thermoworks Thermapen One for best results as it reads the temperature instantly for no overcooked meat.
See our recipe for how to grill Tri-Tip in more detail for reference.
Gas Grill Modification: If using a gas grill use the same method. Run two burners at medium temperature for the sear on both sides and then move the Tri-Tip to the indirect side to finish. You can also reduce the heat and keep it direct but you still run the risk of burning the outside of the meat.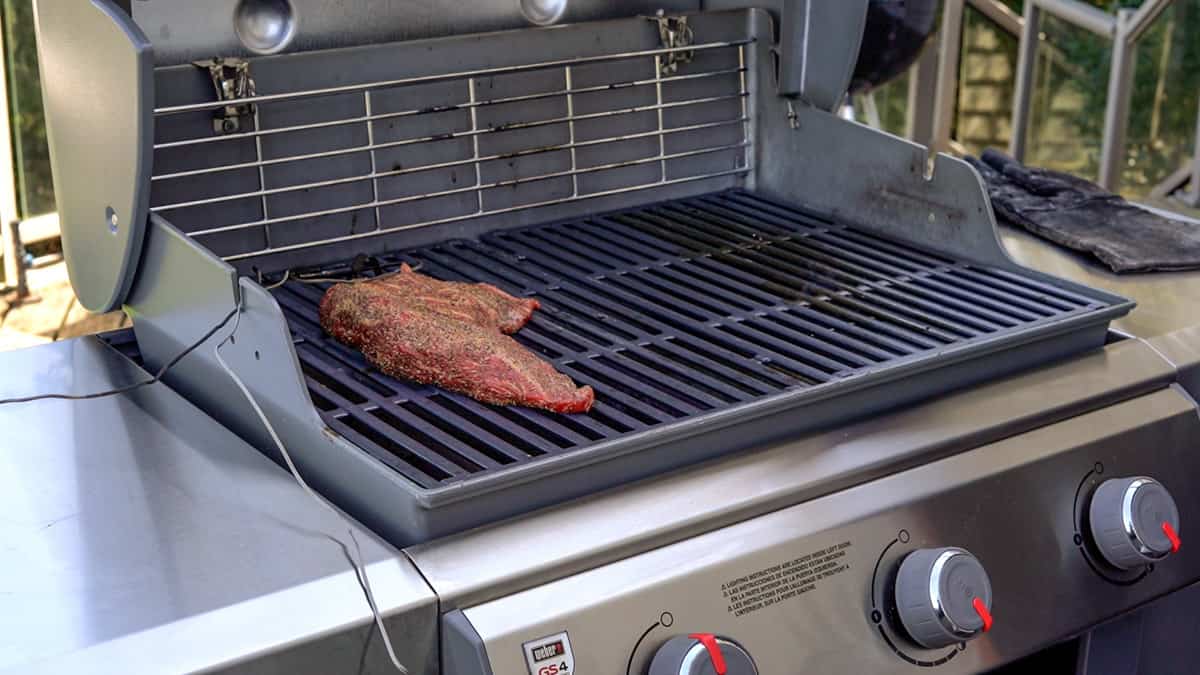 Slicing Tri-Tip
When slicing any steak you slice against (or perpendicular) to the grains. Because of Tri-Tip's location on the sirloin it will have two directions. So cut the Tri-Tip in half and then slice against the grains.
Sauté Onions and Peppers
Tools Recommended: Cast Iron skillets retain heat so well giving our onion and peppers the right sauté. We use a 10-inch Finex or Lodge Cast Iron Pan.
While the meat is resting or almost done, you can prepare your veggies. Go with a rainbow of peppers (red, orange, yellow, or a mix) and an onion, cut into strips (though not too thin).
You can cook them inside on your stovetop, or outside on your grill if you have a durable pan like cast iron.
Place large cast iron pan over medium heat with olive oil. Add onions and peppers and sauté for 10 minutes or until softened.
If using your grill: Pre-warm the cast iron for 15 minutes over direct heat then add the oil, onions, and peppers. Stir for 10 minutes or until soft.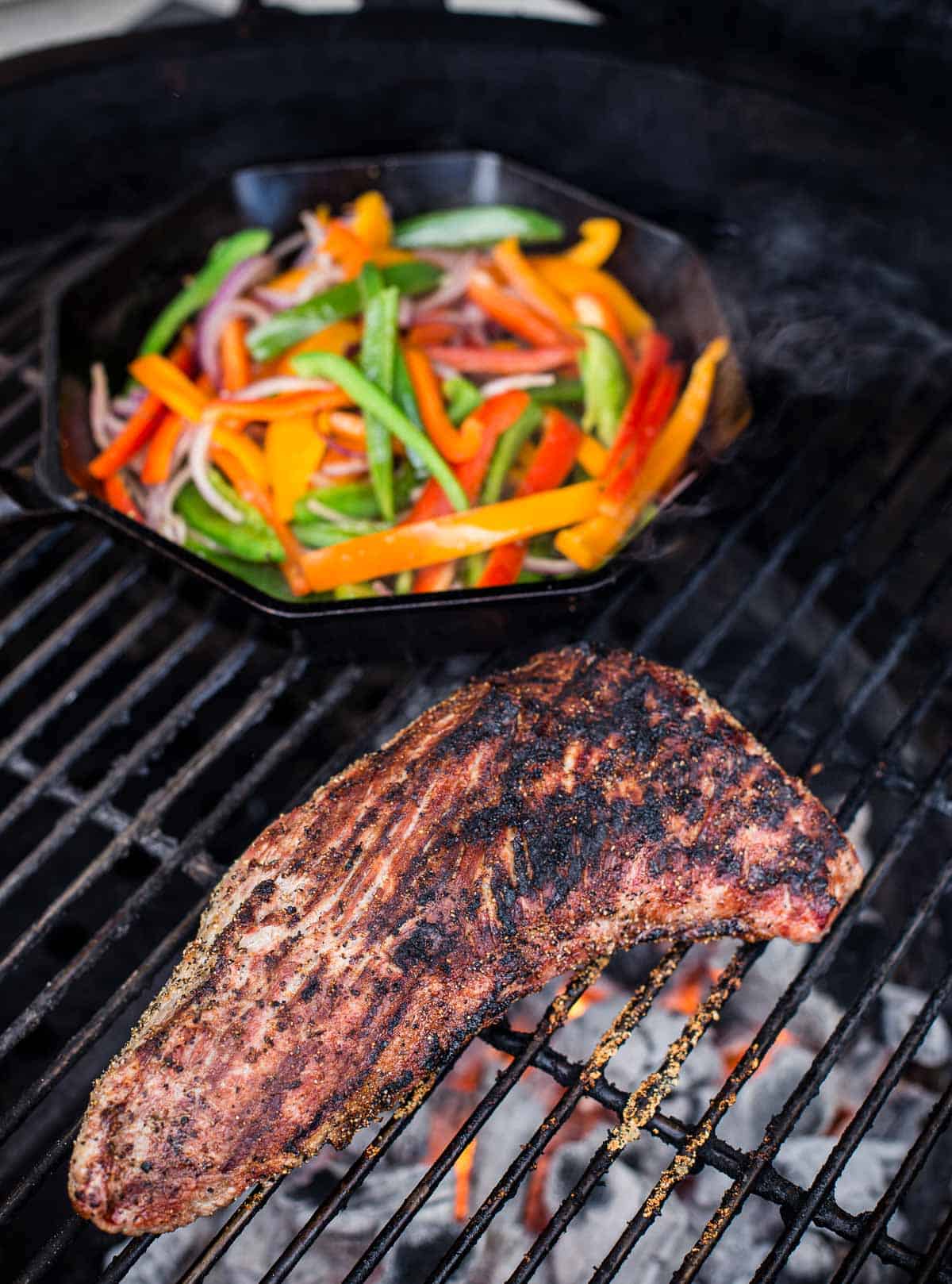 Tip For Warming Up Tortillas
Option One: Wrap the tortillas as a stack in aluminum foil, then add to the smoker to warm up. This is best if serving them quickly after smoking the meat.
Option Two: Warm them over stove top over medium heat until slightly charred. Best if you have a gas stove. We do not recommend this with induction or electric stoves.
Option Three: Wrap the tortilla stack in wet paper towels. Then microwave for one minute to steam. This is easiest for a crowd.
Tri-Tip Fajita Topping Ideas
Now that the Tri-Tip is sliced and the onions and peppers are softened it's time to make the fajitas. In the warmed tortilla add the sliced Tri-Tip and some of the onion and pepper mix. From there it's all about your favorite toppings including a list of our favorites.
When your veggies are done and your meat has rested and sliced all you have to do now is decide what to drink with dinner. Dilemmas, dilemmas.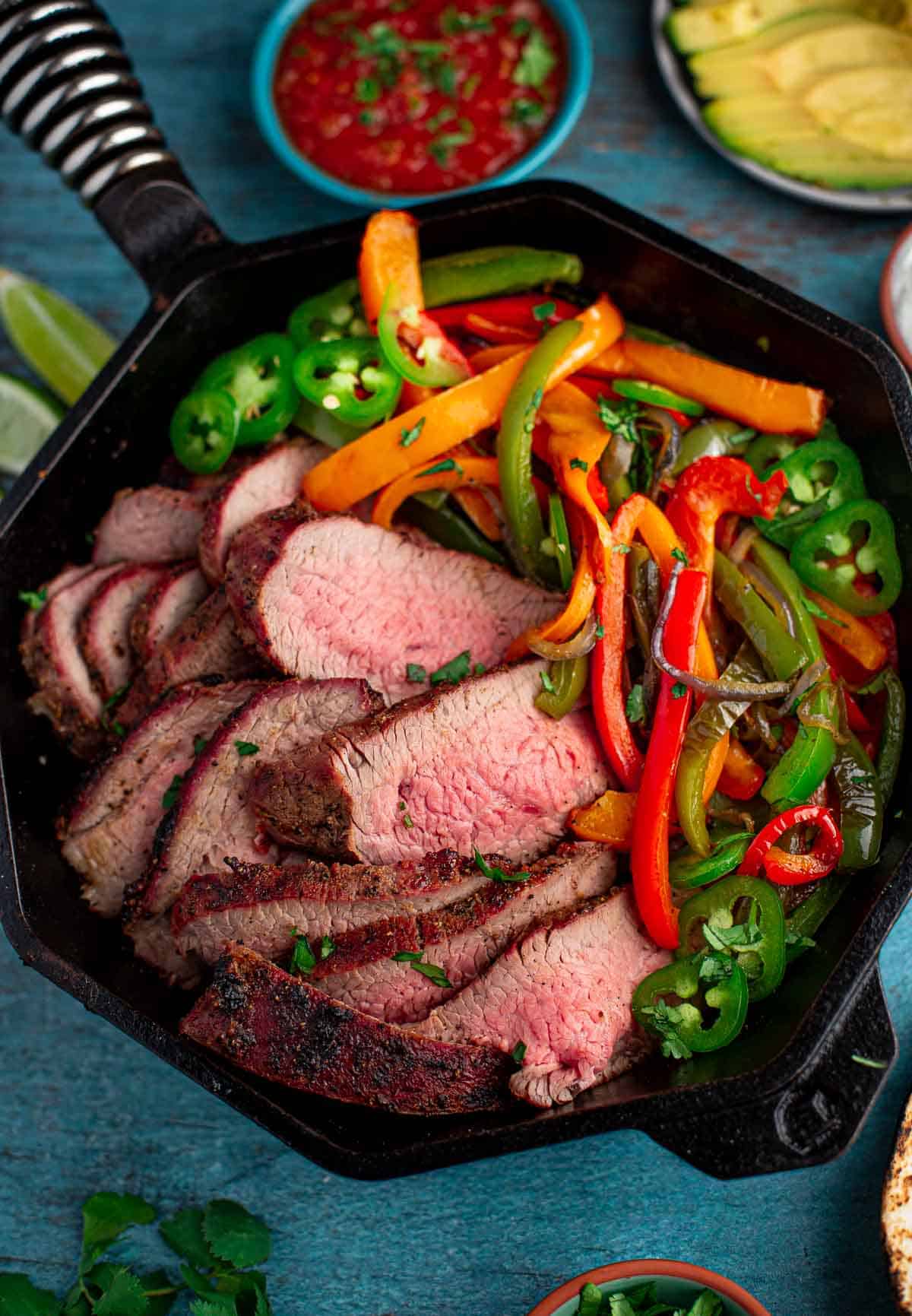 Other Fajita Ideas
We also have an amazing Tequila Marinated Flank Steak Fajita recipe as well as our Grilled Chicken Fajitas with a smoky chipotle marinade.
Sides
We love serving this with a basic rice or refried beans. A nice balance to the rich steak is also our Black Bean Salad.
Wine Pairing for Tri-Tip Fajitas
We've got a range of flavors here from the tender smoky meat to the vibrant and slightly sweet peppers and onions, and the creamy guacamole and fresh salsa. The meat isn't the main flavor we're pairing with, but something that can stand up to all of these flavors in unison. I'm sticking with red here, though a fuller-bodied fruity rosé would be pretty awesome also, especially if it's a warm and sunny day.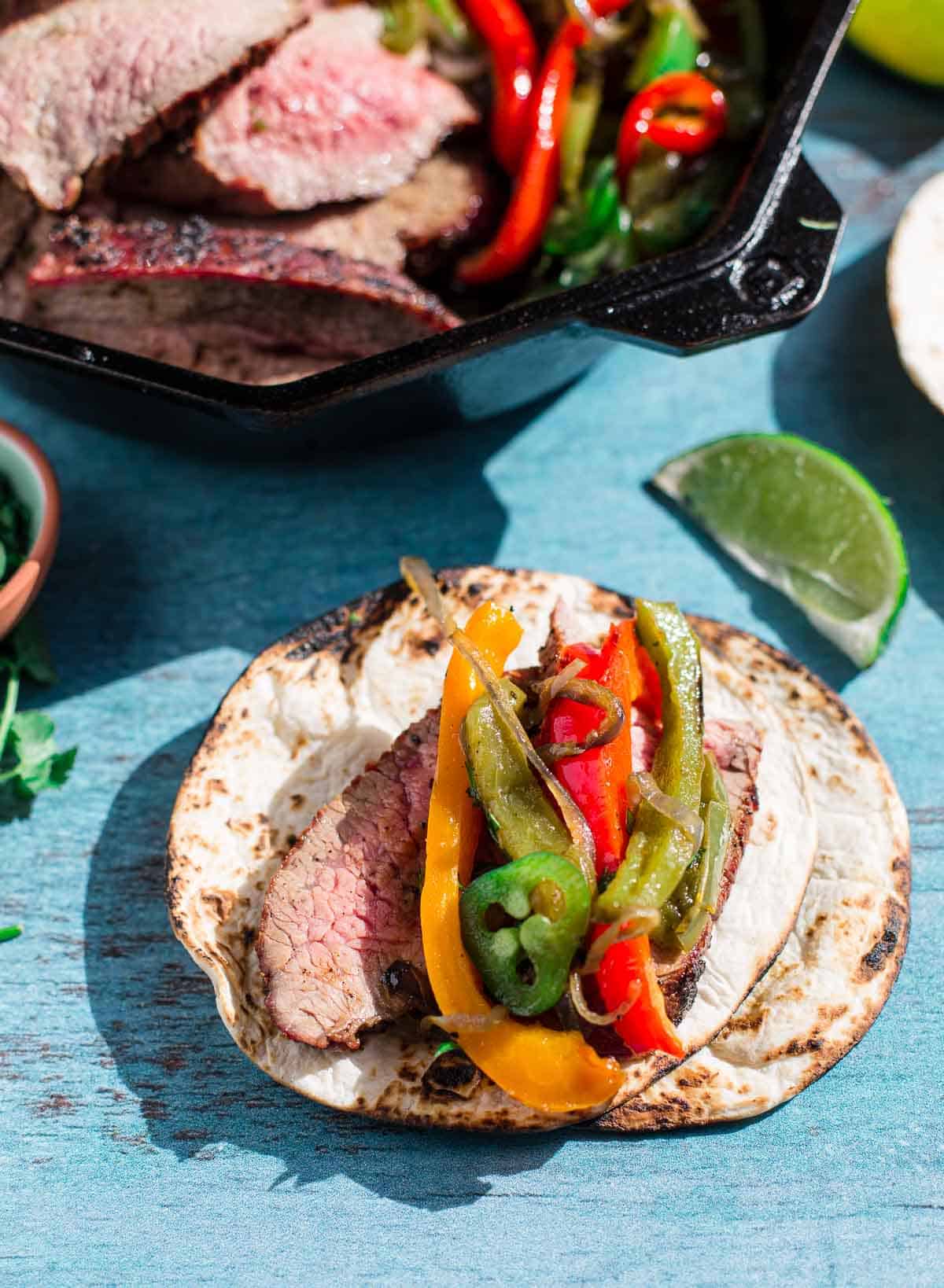 I like a medium to full-bodied fruity red, like Malbec for this. Though some other great options would be Grenache, Carmenere, Merlot, or even Zinfandel. If you opt for something like a Cabernet Sauvignon make sure it's not a rich or heavily tannic style. Those tannins would clash with all of the flavors here.
Explore wines from the Vindulge Wine Market.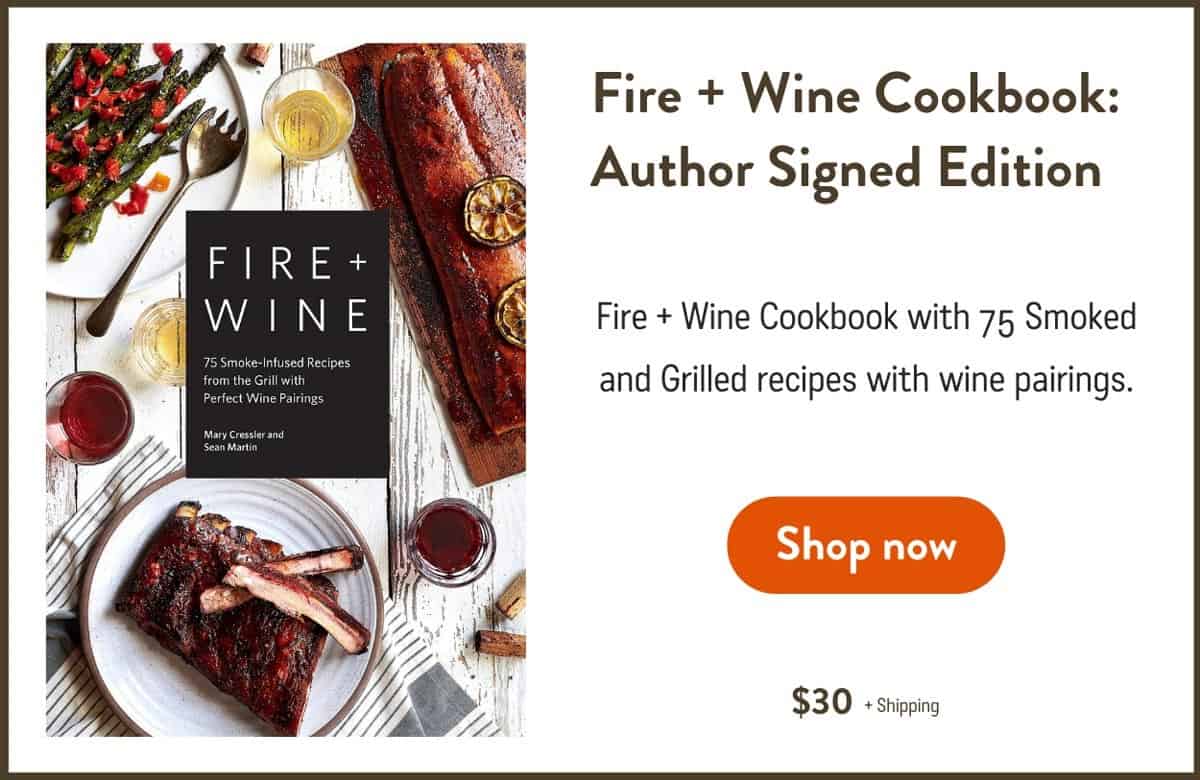 ---
This post was originally published in October of 2016 and updated to include more recipe directions and details on the ingredients. Photos were also updated.
Mary (a certified sommelier and recipe developer) and Sean (backyard pitmaster) are co-authors of the critically acclaimed cookbook, Fire + Wine, and have been creating content for the IACP nominated website Vindulge since 2009. They live in Oregon on a farm just outside Portland.
Tried this recipe? Give us a star rating and we would love to see! Mention @vindulge or use the hashtag #vindulge on all the social media handles. And consider subscribing to our newsletter where we drop all our favorite ideas and inspirations every week.
This post may contain affiliate links. This means if you click on the link, we may receive a small commission if you purchase through the link. We partner with brands we know and love and use and it helps keep the blog going!