Smoked Tri Tip is an easy, quick, and affordable alternative to brisket. Learn the secrets for perfect Smoked Tri Tip Recipe from a professional BBQ caterer.
We've said it once, and we'll say it again. We absolutely love Smoked Tri Tip around these parts!
It's the #1 requested meat we cook at Ember and Vine catering events. And that is because it's a much more affordable option to brisket, both in price and the time it takes to cook. Smoked Tri Tip averages around 60-90 minutes to cook, whereas brisket can take you 10+ hours. That's a serious commitment! So this is a great option that is tender and delicious and done in a fraction of the time.
What is Tri Tip?
Tri Tip is beef and comes from the backside of the cow, specifically the sirloin. It is where separate areas of muscle come together within the bottom sirloin and why you have three points to the cut. Thus "tri tip". When you buy it, it should typically be trimmed and almost ready for grilling or smoking.
It's a lean cut, but there is still some marbling so selecting the right tri tip roast is important.
Marbling is key so you get the most flavor as the fat renders out while smoking. We use at least choice or its local rancher equivalent. If you cut in half a select grade tri tip you quickly realize why you want to maximize the marbling in an otherwise lean cut of meat.
Consider a Snake River Farms American Wagyu or even the Double R Ranch option (Double R is our go to for any catering event).
What Size Tri Tip to Smoke
You'll find them range from 1 ½ to 3 pounds. We like them somewhere around the 2 pound range. Because it's so lean it's important to not overcook it. We see a lot of Tri-Tip recipes where folks will smoke it for several hours. In our experience we've found that is not necessary because the intramuscular tissue is not dense like brisket nor does it need hours to render large fat pockets.
How long to Smoke Tri Tip
The average 2 pound roast should take no more than 60 minutes for rare, or 90 minutes for medium rare when smoking. As a reminder, always cook to temperature, not time for best results.
How To Smoke Tri Tip
Trim – Using a sharp knife, trim off the silver skin and fat pockets. Some cuts may have a thick sinewy layer of fat on the base (or thicker side). Remove that as it won't render and when cooking will have a chewy texture.
Season – A light coating of extra virgin olive oil will help the rub to stick. Then apply equal parts kosher salt and coarse ground pepper.
Smoke – Smoke at 225 degrees Fahrenheit. Fruit wood is great, or oak, because it cooks so quickly. Smoked tri tip temp is ideal when the thickest part of the meat is registering 125 degrees F with an instant-read digital thermometer like a Thermoworks Thermapen for rare. 135 degrees F for medium rare.
Rest – After you hit your target temperature, wrap in foil and let rest for 15 minutes, then remove the foil and slice.
Slice – Slice against the grain into thin slices and serve.
Chef's Tip – If the roast is done earlier than you want to slice and serve, take the wrapped tri tip and put into a small cooler with no ice. It will stay warm for up to two hours if you don't open the cooler. Then slice and serve when ready.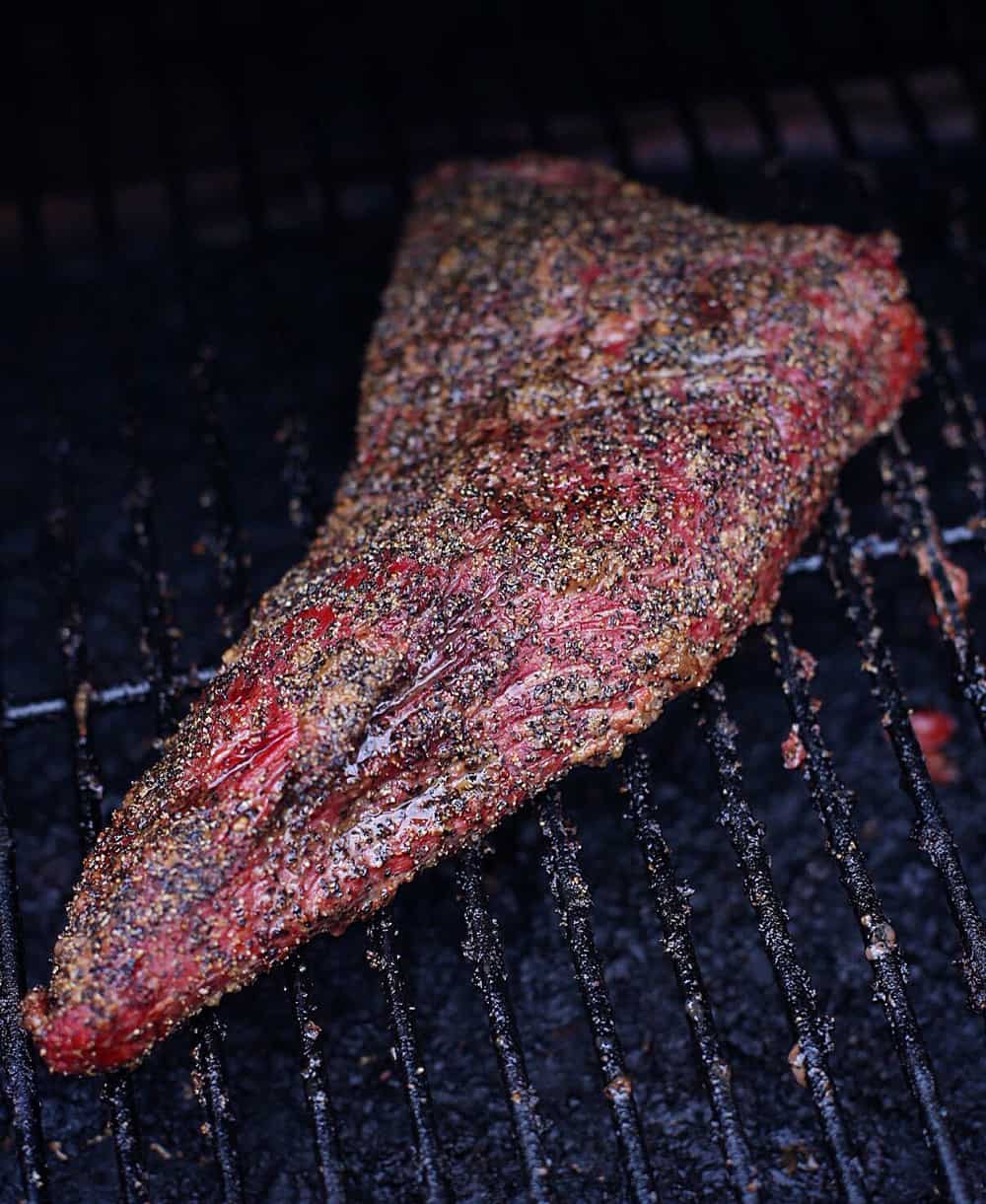 How To Slice Tri Tip
Tri tip will have two directions for the grains due to where it is butchered. Following the rule of slicing against the grain, start slicing the thin tail end. Then as you get closer to the thicker side, rotate the tri tip 90 degrees and continue slicing.
Slicing against the grain is important to keep the cellular connectivity which in turn helps keep the tender texture and moisture. If you slice with the grain, the taste will be slightly chewy.
Beef Temperature Cooking Chart
Rare: 120-125 degrees F
Medium Rare: 130-135 degrees F
Medium: 135-145 degrees F
Medium Well: 145-155 degrees F
Well Done: 160 degrees F
You can marinate or use your favorite dry rub to season your Tri Tip if you wish, but we like to keep it simple and go with a liberal amount of salt and pepper. That's it! This is exactly how we cook this for events, and we've always received high praise for this smoky deliciousness.
Easy Smoked Tri Tip Recipe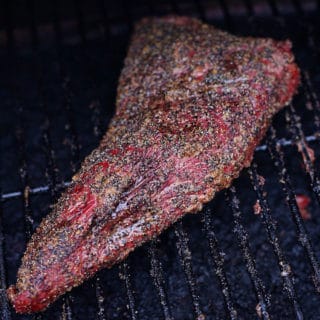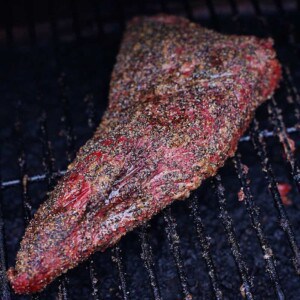 Smoked Tri Tip Recipe
A simple recipe for smoked Tri Tip. Tri Tip is an easy and affordable alternative to smoked brisket.
Print
Pin
Rate
Instructions
Preheat Smoker: Preheat smoker to 225 degrees using a fruit wood like apple or consider oak.

Season: Cover the tri-tip in olive oil. Combine the salt and pepper and sprinkle over tri tip liberally. Don't be afraid to get a nice crust on there with a liberal coating of the rub.

Smoke: Place tri-tip on smoker unwrapped for 60-90 minutes. Cook until internal temperature reaches 125 – 130 degrees F for rare and remove.

Wrap tri-tip in foil and let rest for 15 minutes. Optional: place in a cooler (with NO ice) to keep warm for anywhere from 30-60 minutes. This will continue the cooking process another 5 degrees. Further I have found that it makes the cut extremely tender as the juices slowly redistribute into the meat.

Cut across the grains in thin strips and serve with favorite sides, like smoked collard greens, or top with chimichurri sauce. See notes for slicing.
Notes
Trimming Tri-Tip: There may be some silver skin that needs to be removed with a sharp filet or boning knife. That will help with texture when it is done.
Slicing: When slicing any cut of beef, it's important to slice against or perpendicular to the grains. This helps keep the structure of the beef intact for good texture. Look at the lines of the cut. Start with the thin end and cut. As you get to the thicker side, rotate roughly 45 degrees and finish slicing. You will have thin small slices from the thinner and and longer slices for the thicker side. That is normal.
Internal Temperature of Beef: Cook to your desired internal temperature, we like rare at 125, but adjust the time of the smoking process if you want to go higher. If you do hold in the cooler if it's done early or to wait for people coming over, know that it will continue to cook, so take into consideration the additional 5 degrees the roast will cook as it rests.
Nutrition
Calories:
261
kcal
|
Carbohydrates:
1
g
|
Protein:
31
g
|
Fat:
14
g
|
Saturated Fat:
5
g
|
Cholesterol:
98
mg
|
Sodium:
1243
mg
|
Potassium:
499
mg
|
Fiber:
1
g
|
Sugar:
1
g
|
Vitamin A:
5
IU
|
Calcium:
41
mg
|
Iron:
2
mg
*Serve Tri Tip with these smoked collard greens or top with this chimichurri sauce.
Wine Pairing for Tri Tip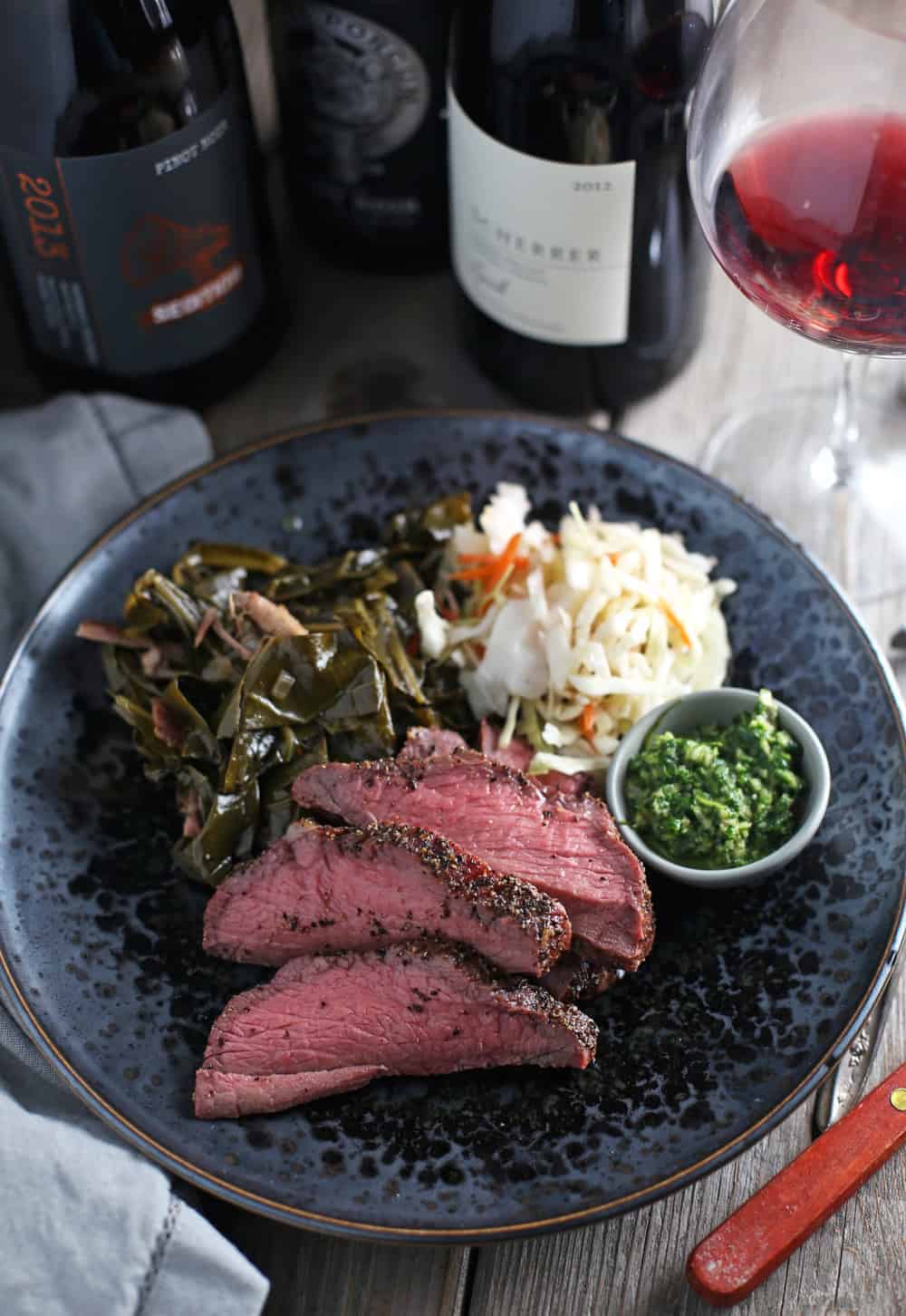 One of my favorite things about Tri-Tip is its versatility with wine! One of the reasons I think it's so popular at our events is that it's fan-friggin-tastic with a full-bodied style Pinot Noir (and we do most of our events in Oregon wine country, aka Pinot country). Most folks just associate Pinot with pork or salmon, but it can totally work with beef, especially this cut. Again, this is because it's lean, and therefore doesn't need some big tannic wine that will work with a fatty cut. It also takes on some great savory characteristics from the smoke and rub (or salt and pepper), which are to die for with the savoriness of Pinot. Juicy, lean, tender, and delicious.
You can totally pair this with something bigger, like Syrah, Merlot, Malbec, Tempranillo, but don't be afraid to try it with Pinot Noir (especially a bigger style Pinot).
---
More Great Smoked Beef Recipes
---
If you like this recipe we'd truly appreciate it if you would give this recipe a star review! And if you share any of your pics on Instagram use the hashtag #vindulge. We LOVE to see it when you cook our recipes.