How to add another element of great flavor to a Classic All-American Cheeseburger.
There's something fun about an over the top gigantic burger with a million additions, but there's something comforting about a classic. We're doing a reverse sear method using a grill and wood chunks to give your burgers incredible smoked flavor and that perfect char to finish.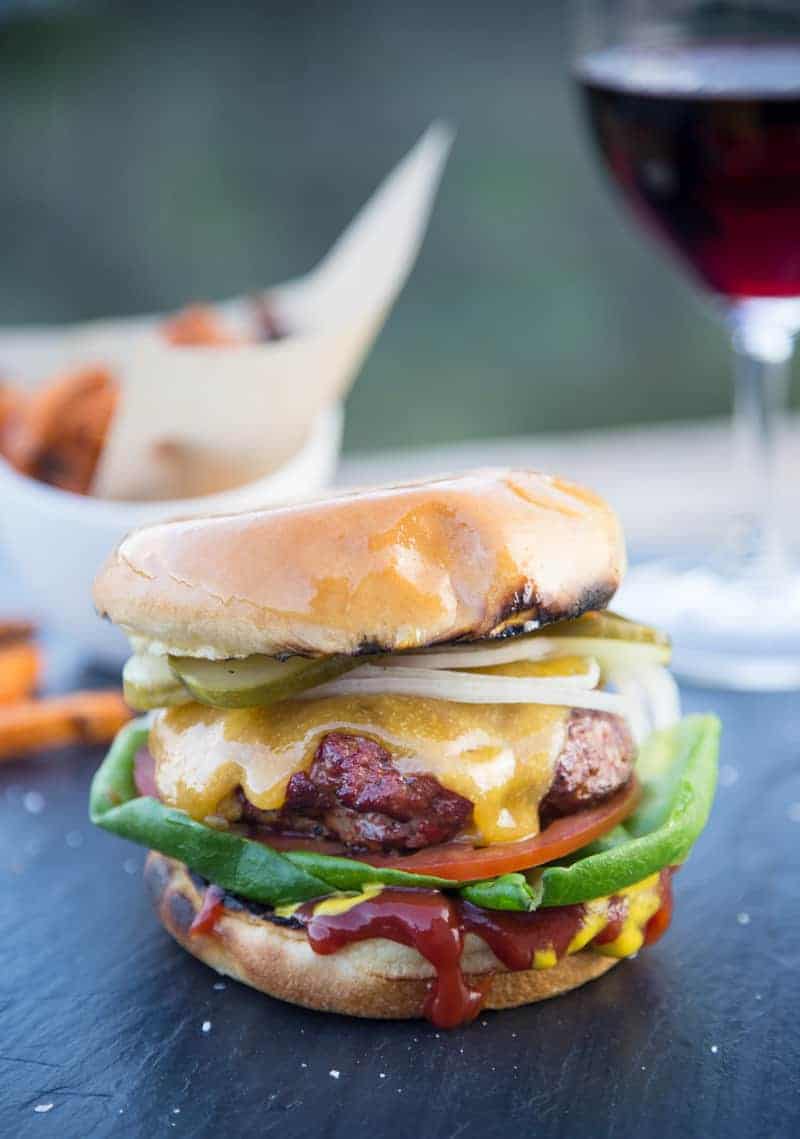 I love going to a restaurant and seeing a broad menu of burger options. We have a restaurant near us with over 15 burger choices. I can pretty much guarantee some burger flavor combination that will fit my mood. But sometimes, what I really crave, is that classic All-American burger that focuses on a simple but great quality ground beef, fresh veggies like white onion, fresh crunchy lettuce, tomato, and a bun. The flavor takes me back to back yard BBQs with family in the summer and that scent of charcoal burning.
---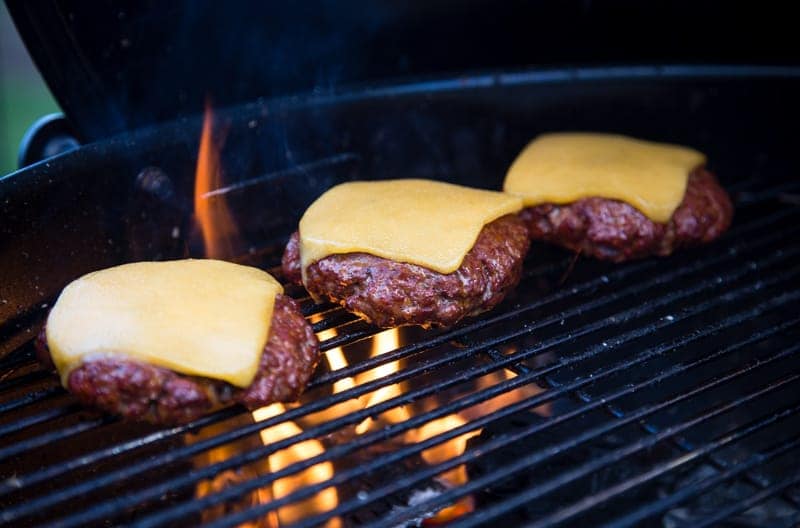 So we thought, why not give a nod to that classic burger recipe but add a slight twist. A smoky twist, and follow a sort-of reverse sear style method to our meat to give an extra layer of flavor — a smoked kick.
The Cut
Ground beef of course. And while you can do it yourself, it requires a grinder and a lot of people don't have one. So you have to rely on your butcher or grocery store. With ground beef you can expect it to come from various parts of the cow, but commonly it's ground chuck. Sometimes a butcher will grind up a brisket, because it has a great fat to meat ratio. And no matter where the beef is ground from, you want to be sure you have a good fat to lean ratio. You will see ground beef in the case with a label, like 80/20 or 85/15. This refers to how much meat vs. fat you are getting in the cut. Fat adds flavor and moisture to a burger, and that is why we are going with one of those two ratios. If you go lean like 97/3 you will run into the burger overcooking quickly.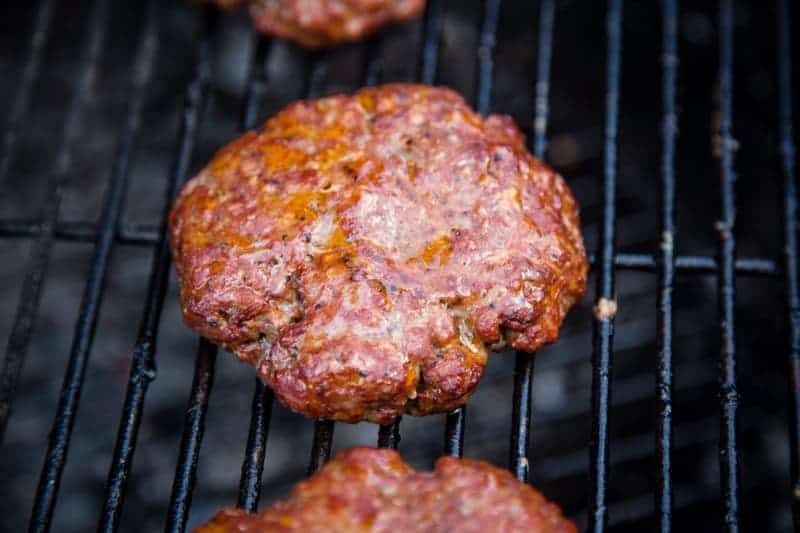 The Cook
We are going to reverse sear this one on our Weber Kettle. We'll start on a smoky and low heat setting like 225 degrees F, and will place in an indirect cooking setup. In order to get the lower heat, you only fill your charcoal starter a quarter of the way, otherwise it'll burn too hot. When coal ready, place in an indirect set up and add a couple of wood chunks, add meat when you see the cooker a couple of minutes at your desired temperature. Add more charcoal when you are done with the smoke and then get the fire to its hottest again.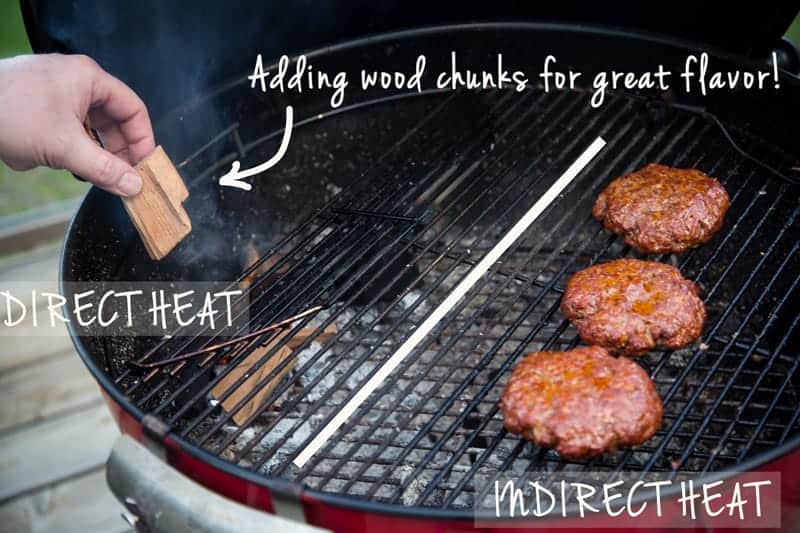 The Burger
When the fire is ready, smoke the burger for about an hour, and then pull it off and finish over a high heat until the internal temperature is at your desired doneness. If you know where the meat is coming from you can cook to a medium rare, if you don't know the meat, consider it all the way to 160 (meaning if you know your meat has been freshly ground from a trusted butcher you can cook to med-rare. Otherwise, if you are unsure the quality or when it was ground its safer to cook to 160 to avoid food borne illness).
Add cheese closer to your desired doneness.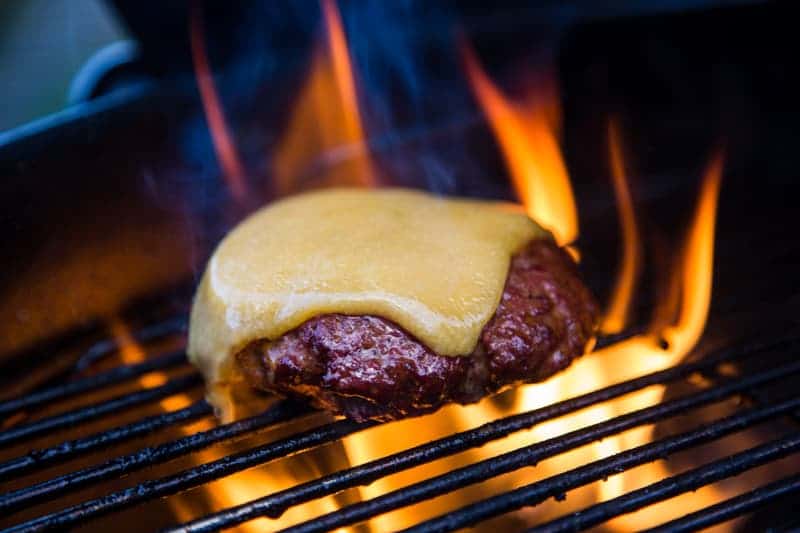 Build it and they will come. But first make sure to Instagram the heck out of those burgers!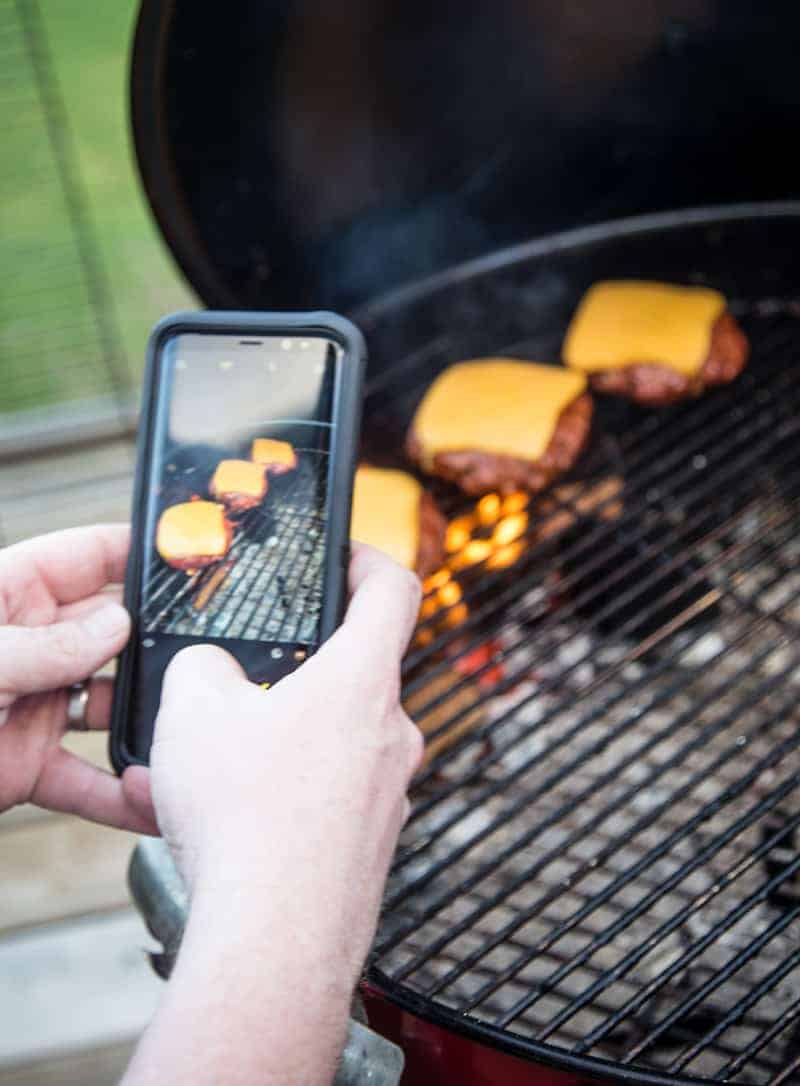 Add your favorite fresh ingredients, condiments, and dig in with a side of fries an a glass of wine.
It really is that easy, and that extra smoke will add a great flavor.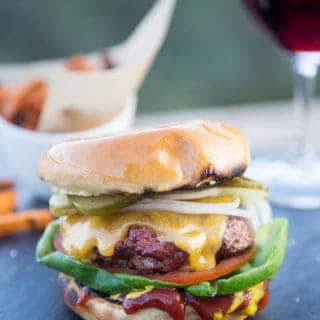 Classic All American Grilled Cheeseburger with a Twist -- Smoked Reverse Seared
A Classic All-American Cheeseburger with a twist. These are reverse seared on a Weber Kettle grill with smoke chunks giving it great smoke flavor, then finished hot for the perfect char.
Print
Rate
Cook Time:
1
hour
10
minutes
Total Time:
1
hour
20
minutes
Ingredients
1

pound

ground beef,

we use 80/20 lean

2

tablespoons

your favorite dry rub,

we like a combination of salt/pepper/garlic powder

1

tablespoon

Worcestershire sauce

½

white onion,

sliced

1

large tomato,

sliced

4

slices

mild cheddar cheese

butter lettuce

1

dill pickle

4

hamburger buns
Instructions
Preheat grill and prep for indirect cooking.

Combine rub and Worcestershire with the ground beef and form into 4 patties.

When grill at desired temperature (we go for 225) place the burger on the indirect side of the grill.

Pull burger when it reaches 125 degrees F and then stoke fire or add more charcoal to get heat. Let the charcoal re-ignite to get a hot fire on the direct side of the grill.

Place burger over direct side of grill. Cook four minutes per side and continue to flip until you get closer to your completed temperature. Add cheese when you have roughly 5 minutes left in the cook.

Construct your burger and then enjoy with your favorite wine or beer
Wine Recommendations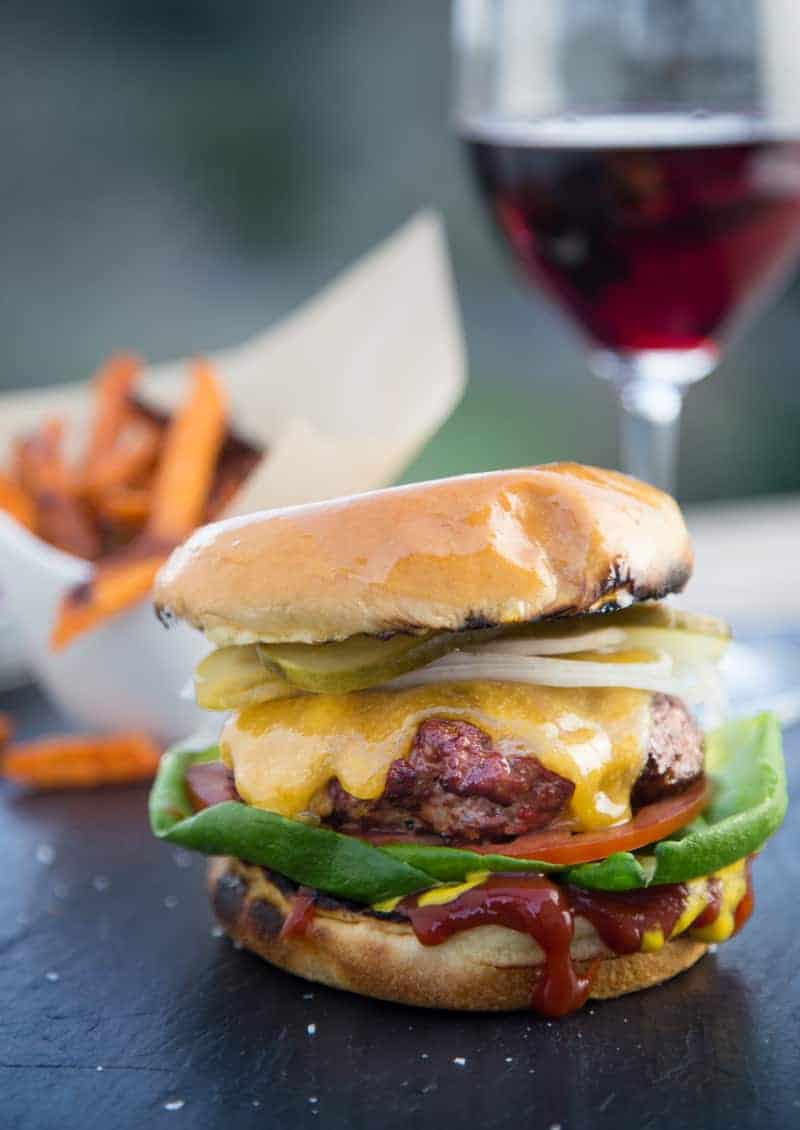 I've written before on what it means to be a good "burger wine". When it comes to pairing wine with burgers, the options are equally endless.  I would argue that there is probably a burger for every single bottle of wine out there, and vice versa.  It boils down to what kind of burger. Meat or veggie burger. Toppings and condiments.  How it's cooked and prepared.
For these Classic All American Reverse Seared Cheeseburgers, they have a great smoked element, combined with the savory meat, and a variety of toppings. I like to play with the smoke elements to enhance that great flavor. Grenache or Syrah from the Rhone region of France are excellent bets. Tempranillo, either from Spain, or even some local Oregon versions are awesome too. You can even go for Malbec from Argentina. I wouldn't recommend anything too overly tannic though (like Cabernet Sauvignon). Let's keep them fruity, spicy, and smoky for this burger.
What would you pair?
---
 Want More Burger Recipes?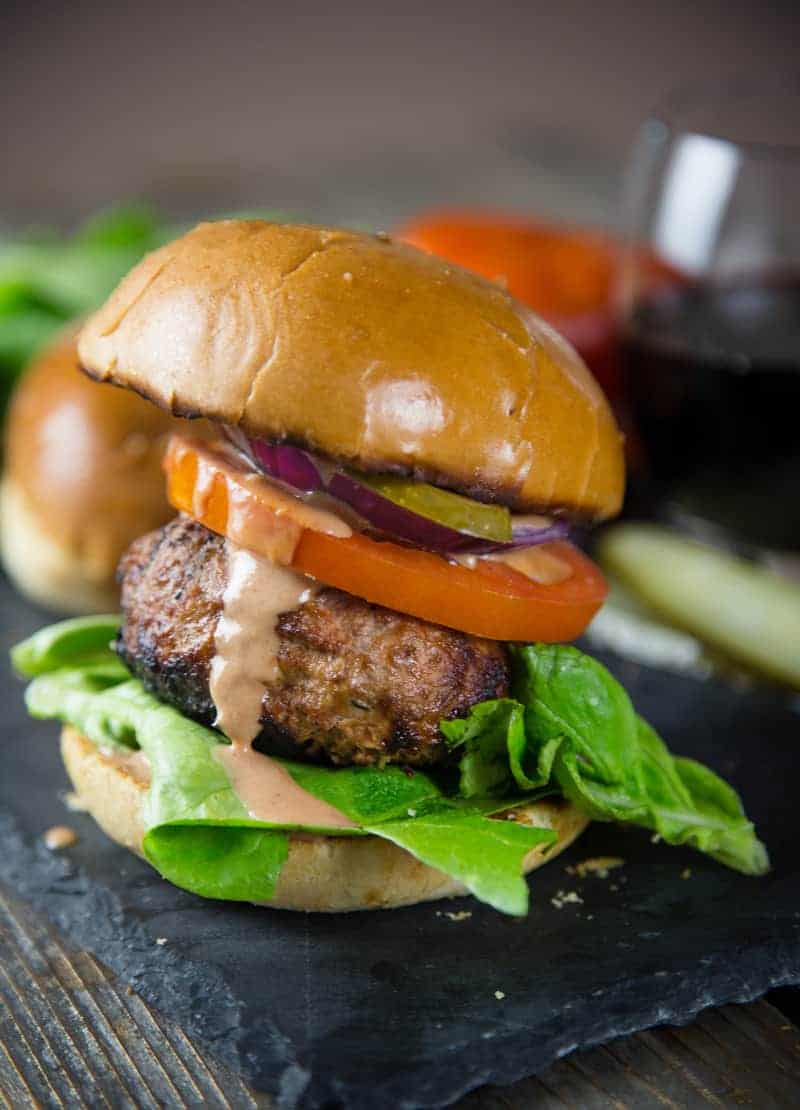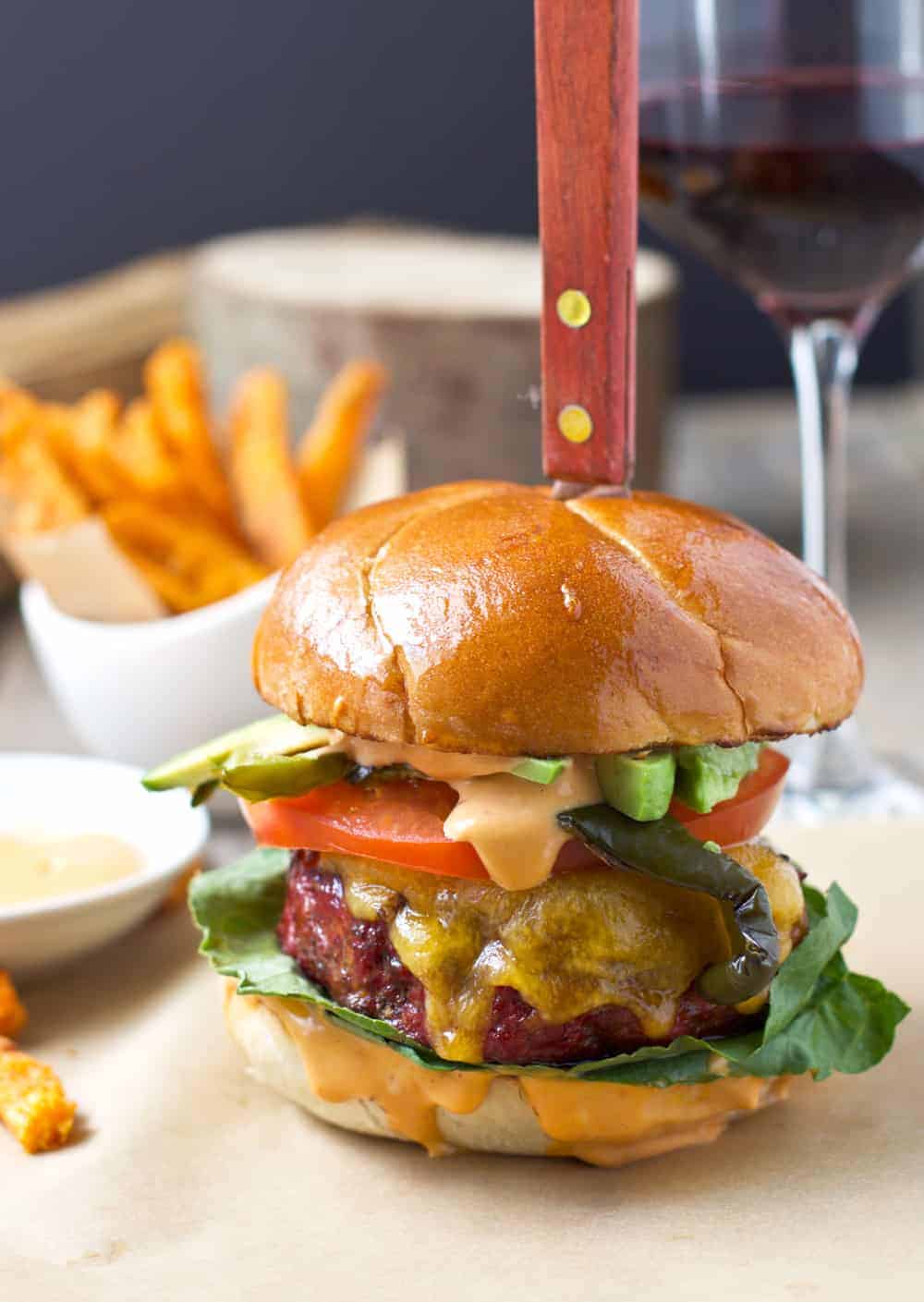 ---
For more tasty recipes, BBQ tips and tricks, check out the Recipe Index.
If you like this recipe we'd truly appreciate it if you would give this recipe a star review! And if you share any of your pics on Instagram use the hashtag #vindulge. We LOVE to see it when you cook our recipes.
---