This guide will walk through how to grill a perfect steak every time. One of the most common questions we get as caterers is How to Grill a Steak to perfection. The answer is, it's easy! Learn how.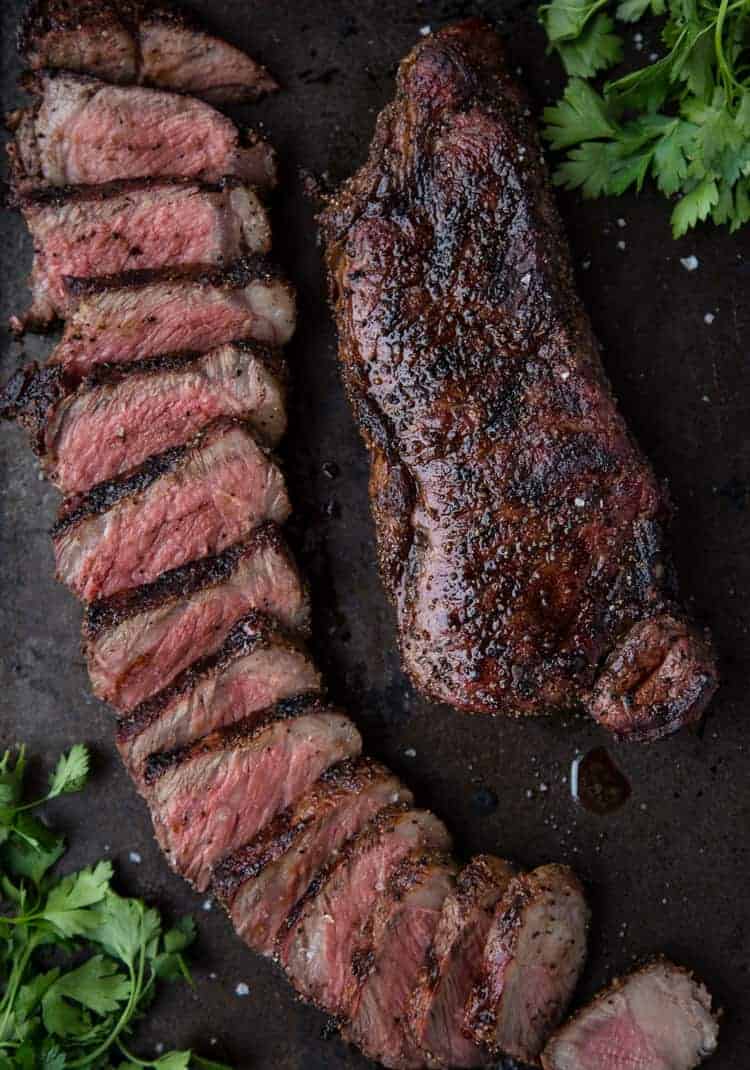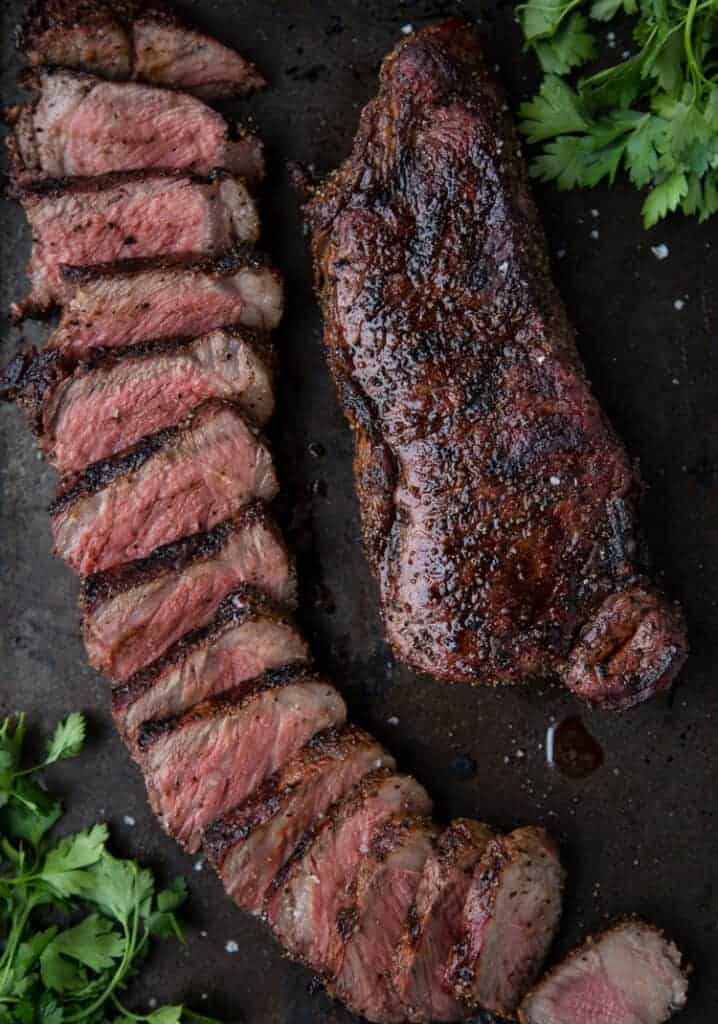 As an event caterer, we often set up an interactive grill station so people can see how we are working our smokers and grills and so we can talk to our customers and provide them with tips and tricks they can take home with them. Everyone seems to want to know foolproof ways to cook a great steak. Below is what we tell our guests.
What is Grilling?
Grilling is cooking protein over high heat to sear the outside and bring the internal temperature up to your desired finishing temperature. Temperature ranges are typically 400 – 600 degrees Fahrenheit (F).
Through a high heat sear, a crust is formed while the interior retains moisture and tender using Maillard Reaction. Maillard reaction is a chemical reaction that browns food (whether using a grill or a cast iron pan). The best way to get the browning is with high heat, and a dry or minimally oiled protein.
Smoking is cooking with lower heat, typically under 300 degrees F. Another great method for steak is reverse sear which combines smoking at a low heat and then grilling it at the end to finish it off with a sear. You can read more about the reverse sear method here.
Tools Needed for Perfect Grilled Steak
Charcoal or Gas Grill that can get hot for the initial sear.
Instant read digital thermometer, like the Thermoworks Thermapen, to monitor the internal temperature of the meat and avoid overcooking.
Long tongs to be able to move the steak and avoid flare ups that burn the steak.
Grilling on pellet grills – If you have a pellet grill it's still possible to sear the steak. The best method is to get the pellet grill as hot as it will go. Use infrared grill grates or a cast iron pan that warms up as the grill warms up to get the sear quickly and avoid overcooking.
Best Steak Cuts for the Grill
Lean Cuts – These have less intramuscular fat and are not as prone to flare ups (i.e. flames that are triggered by fat dropping on the charcoal). They also cook faster, so attention to the internal temperature of the steak is important.
Filet Mignon
Top Sirloin Filet
Petite Sirloin
Marbled Cuts – These have more intramuscular fat and have amazing texture and flavor from the marbling. These cuts are also more prone to flare ups, so be aware of that potential when grilling these cuts.
Ribeye
New York Strip, or Striploin
T-Bone
Porterhouse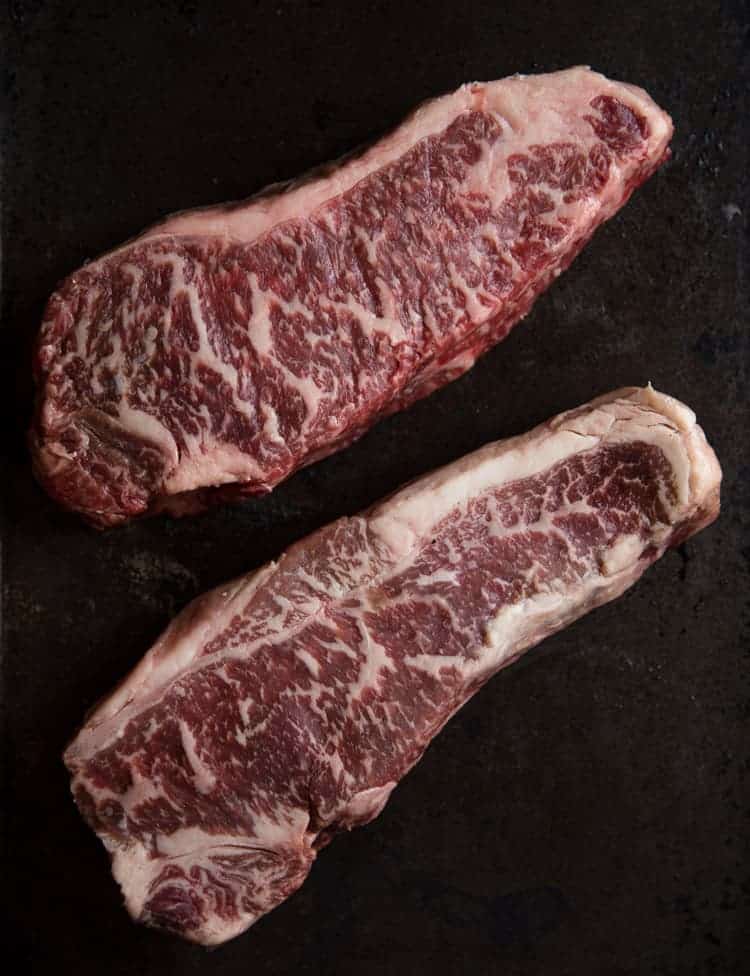 Chef's Tip – Buy a thick cut steak (or a steak that is greater than 1 ½ inches thick) for best results. A thin steak can easily overcook, and having the thicker cut will make it easier to keep the interior tender. You can see more great grilling cuts here.
Portion Sizes
We like to plan ¾ pound of steak per person, pre-cook weight, for a dinner portion. Which means we'll look at 3 pounds of steak for four people and after slicing add the slices to the plate.
Looking for a great steak purveyor? Consider Snake River Farms for amazing Northwest American Wagyu or Double R Ranch for their Northwest Prime and Choice. The flavor is amazing!
How to Grill A Perfect Steak
Preheat the grill. If using a charcoal grill, use a two-zone method or direct/indirect. This allows the steak sear to occur and then finish the steak over indirect heat and avoid burning.
Trim excess fat if needed and pat dry before seasoning. The dry steak makes the browning or sear much easier and is key to a perfect grilled steak.
Lightly oil the steak with olive oil and season simply with kosher salt and coarse ground pepper.
Place the steak for 3 – 4 minutes over the direct heat to sear and then flip. Continue cooking the other side an additional 3 – 4 minutes to sear.
Move the steak to the indirect side to finish cooking for an additional 8 – 12 minutes depending on how done you like your steak.
Remove steak from heat and let the steak rest 10 minutes. The resting is important because the cells of the meat have expanded due to the grilling. As the cells cool, they contract and pull back in the juices and keep the steak moist and tender after slicing.
Slice against the grains depending on the steak and serve.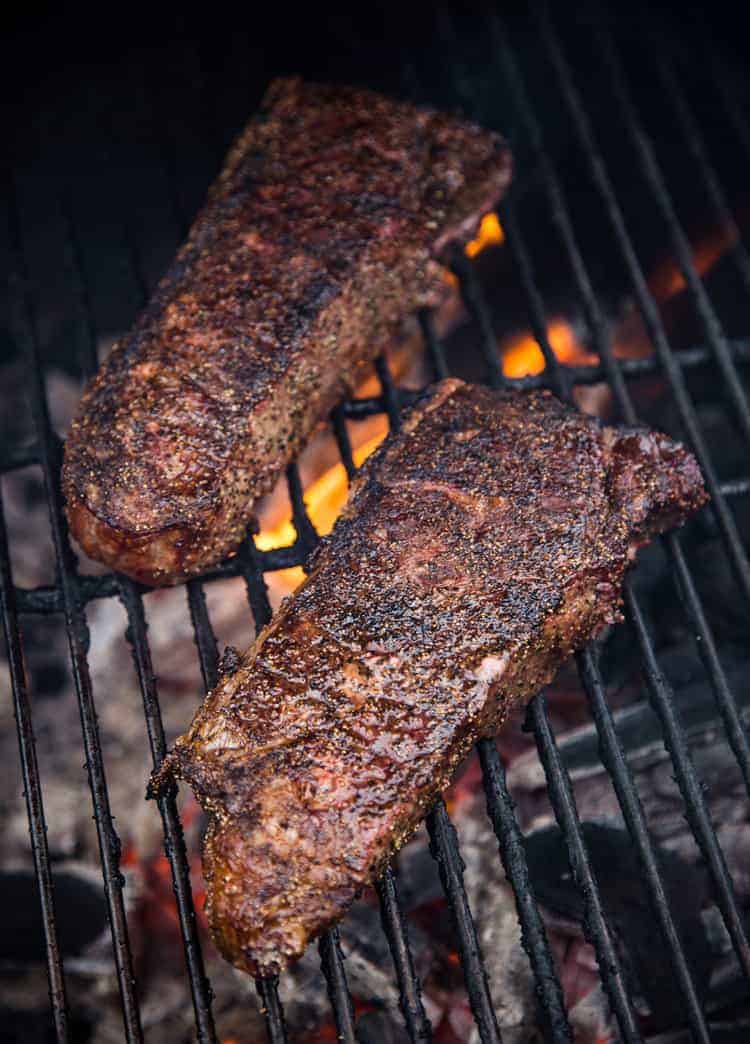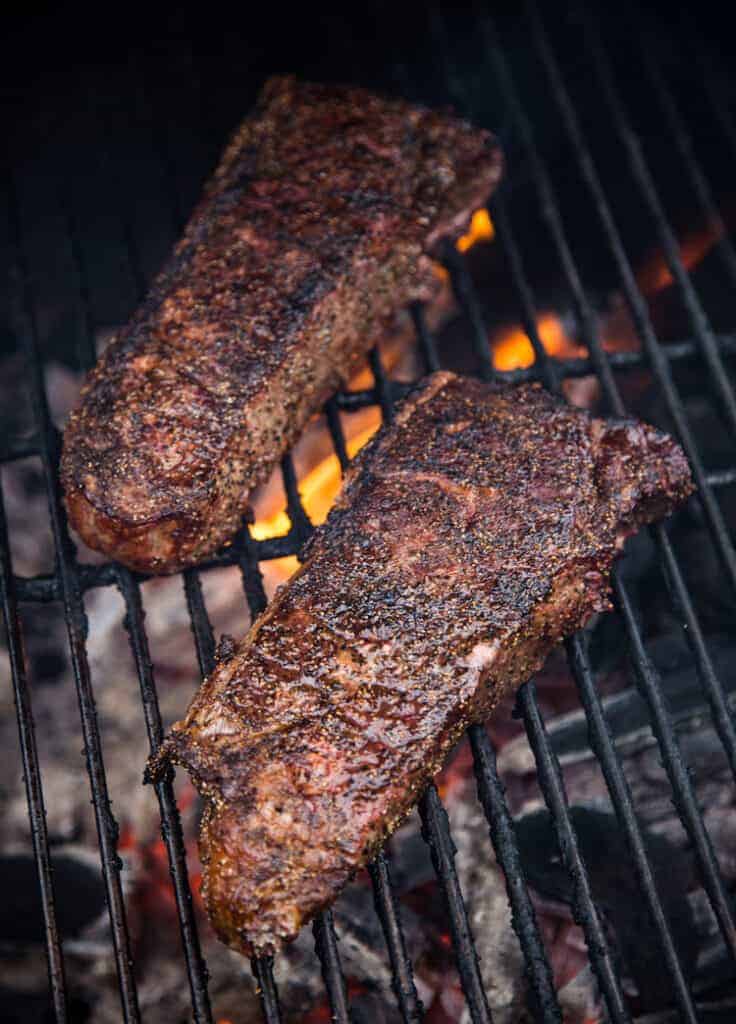 Taking Temperature
Using an instant read thermometer like a Thermoworks MK4 Thermapen, take the temperature by inserting the probe into the center of the cut and move the probe around. Remove the steak when the center of the cut or the coolest area you find is at the desired finishing temperature.
When Is Steak Done
Rare: 120-130 degrees F
Medium Rare: 130-140 degrees F
Medium: 140-150 degrees F
Medium Well: 150-160 degrees F
Well Done: 160 degrees F (and not recommended)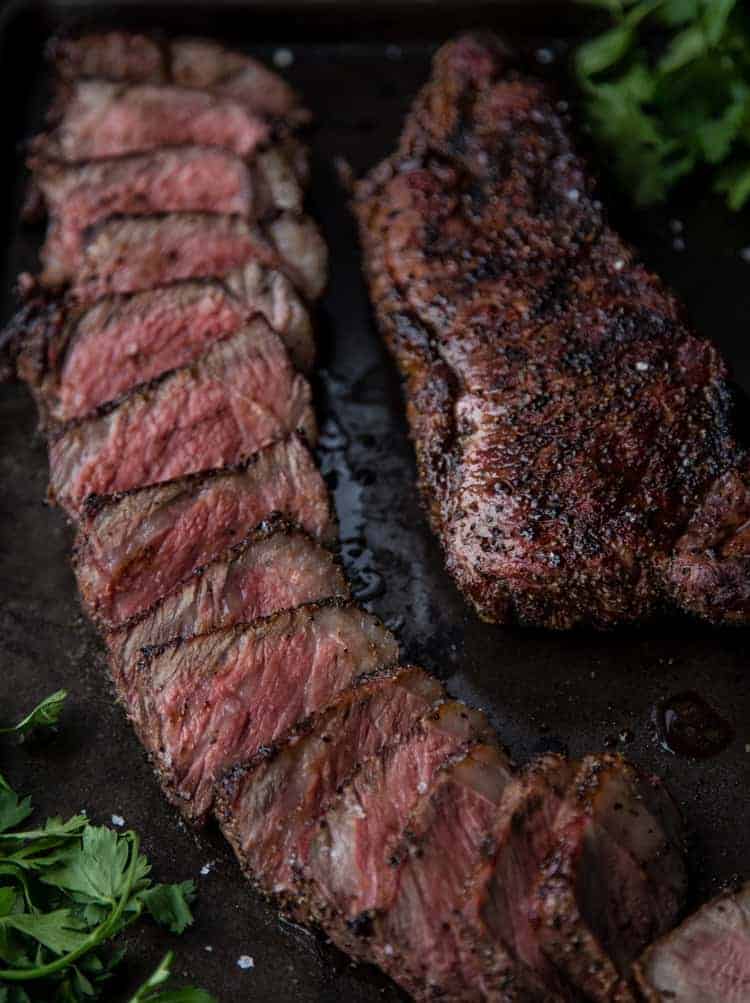 Recipe for Perfect Grilled Steak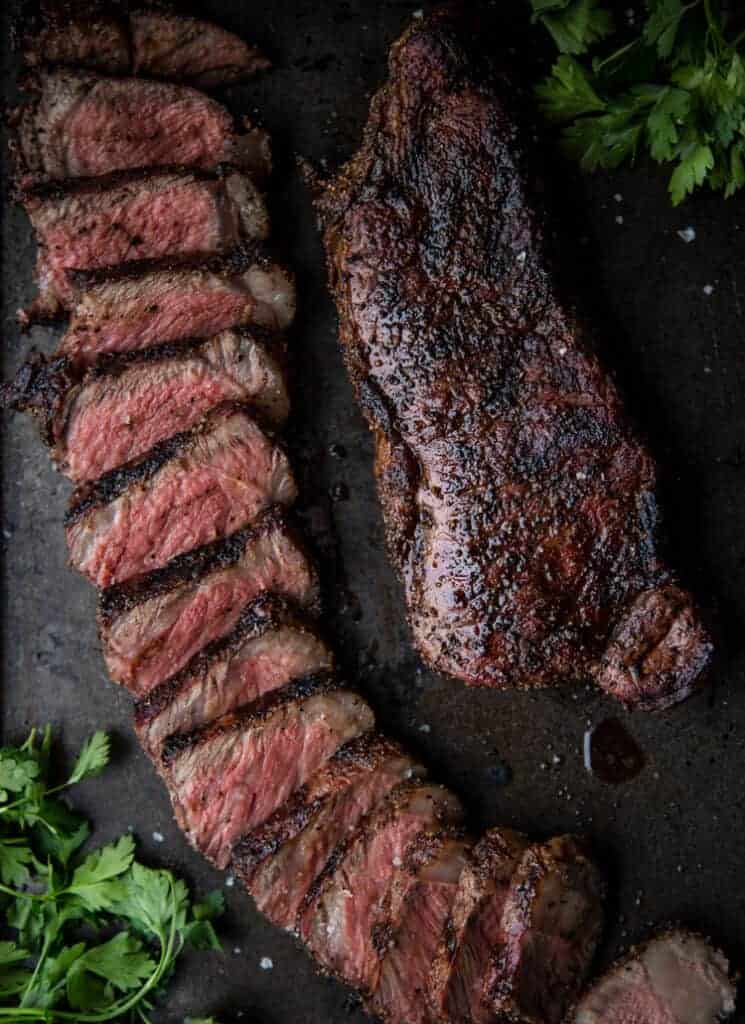 Other Great Grilled Steak Recipe Ideas
Side Dish Ideas
This post may contain affiliate links. This means if you click on the link, we may receive a small commission if you purchase through the link. We partner with brands we know and love and use and it helps keep the blog going!