A complete how-to guide on smoking a lamb shoulder, and its many uses… including these smoked lamb pitas.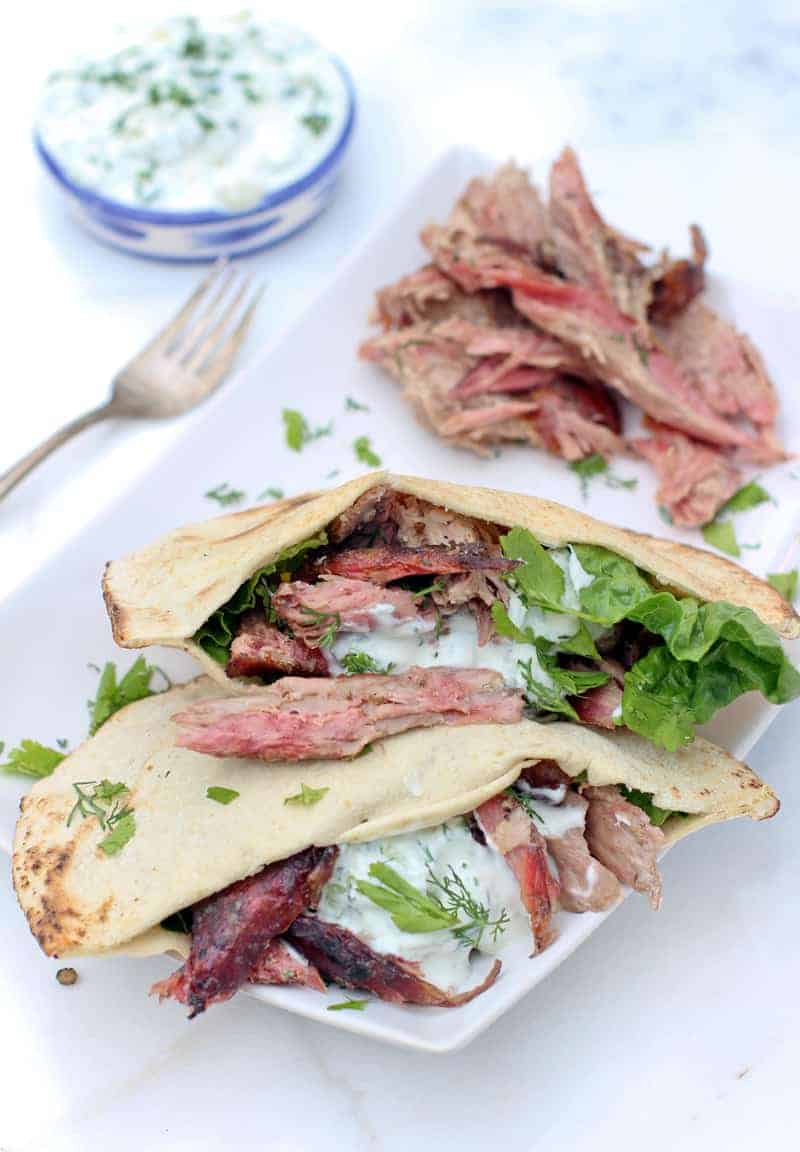 I've mentioned this before; I wasn't raised on lamb. I'm pretty sure the first time I even had lamb was when I was a full-blown adult. And I know that many people fall into two categories: They either love it or hate it… Or they're a vegetarian and don't do it at all… or they're a vegan and enjoy writing negative comments on your instagram account when you post a photo of cooked lamb (true story).
But I'm currently on team lamb. It's a little gamey, sure, but I find it just gamey enough for my tastes, and definitely not overboard at all like venison. At least how we like to cook it. We've posted a few awesome lamb recipes here in the past like these smoked lamb burgers, smoked lamb meatballs, smoked pulled lamb sliders, smoked lamb chops, or these lamb lollipops.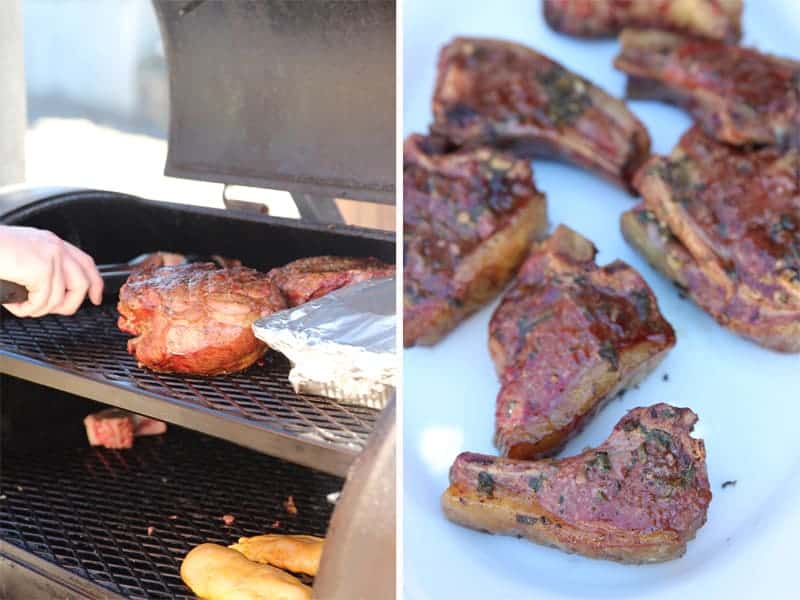 Smoked Lamb Shoulder
And after having the opportunity to smoke an entire lamb last summer per the request of a friend who had received one at an auction, we've become curious about other parts besides the chops or rack. Most recently we've been experimenting with the shoulder.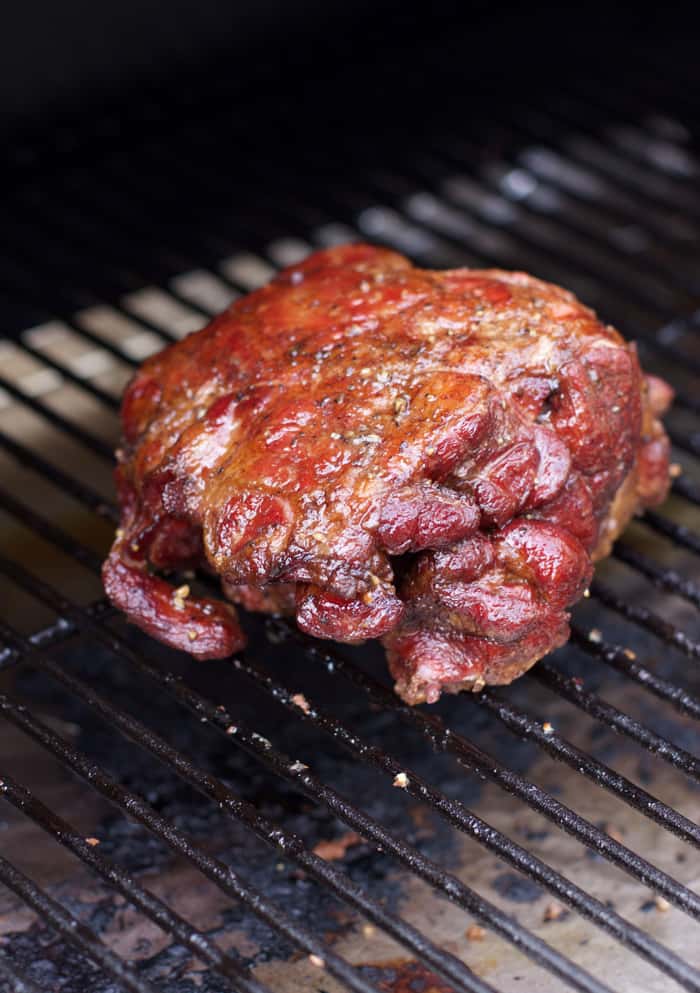 Like the pork shoulder (aka pork butt), it's an area of the animal that gets a lot of work as it moves, so that means the meat has a lot of muscle and tissue running through it.
It's pretty tough. It therefore requires more low and slow cooking time to get it tender. Many folks braise lamb shoulder, so I thought, why not try the same technique on a lamb shoulder as you would on a pork shoulder. That should give us that great pulled texture and flavor.
Another thing about lamb, it's not a super cheap protein. A rack of lamb can run you about $20, and serves barely 3-4 people. The shoulder is a bit less expensive per pound, and if you shred it, like we did, you can use it for several purposes, thus stretching your dollar pretty far.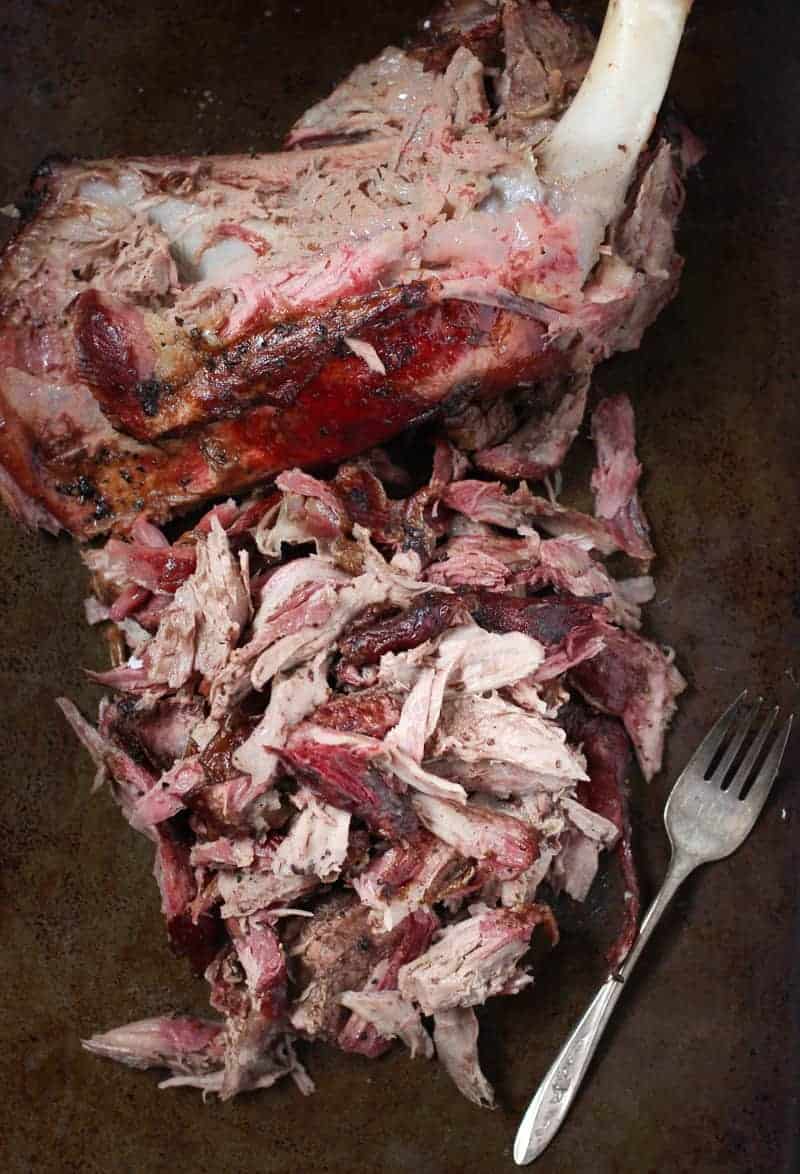 We've got a few ideas of what to do with pulled lamb at the end of the post but first let's talk prep.
Bone-in or Boneless Lamb Shoulder?
You can buy your lamb shoulder bone-in or boneless.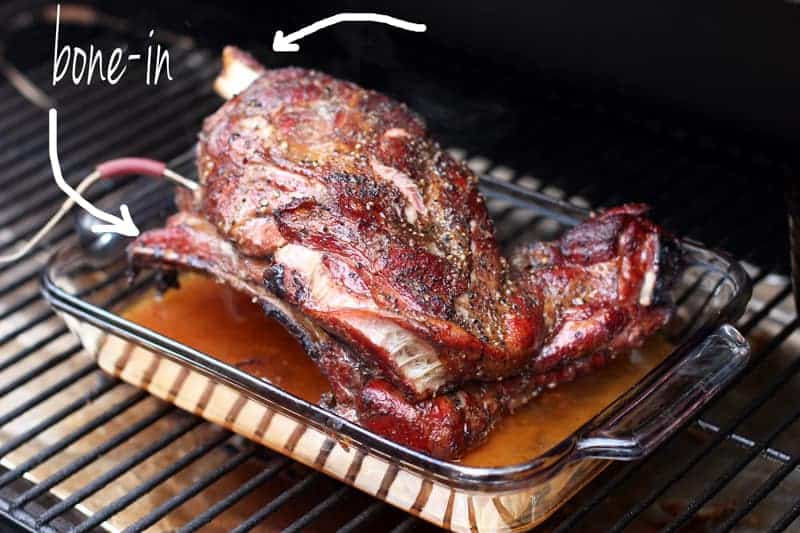 After some trial and error, I lean toward the boneless cut. Why? It's just plain easier to cook and shred. Because you are not likely getting an 8-pound shoulder (most I see are under 5 pounds), the bone takes up a lot of that meat real estate and when you are pulling can get in the way. So why not let the butcher cut it up for you?
Likely with boneless you'll see it wrapped in butcher twine or a net. You'll cook it this way also.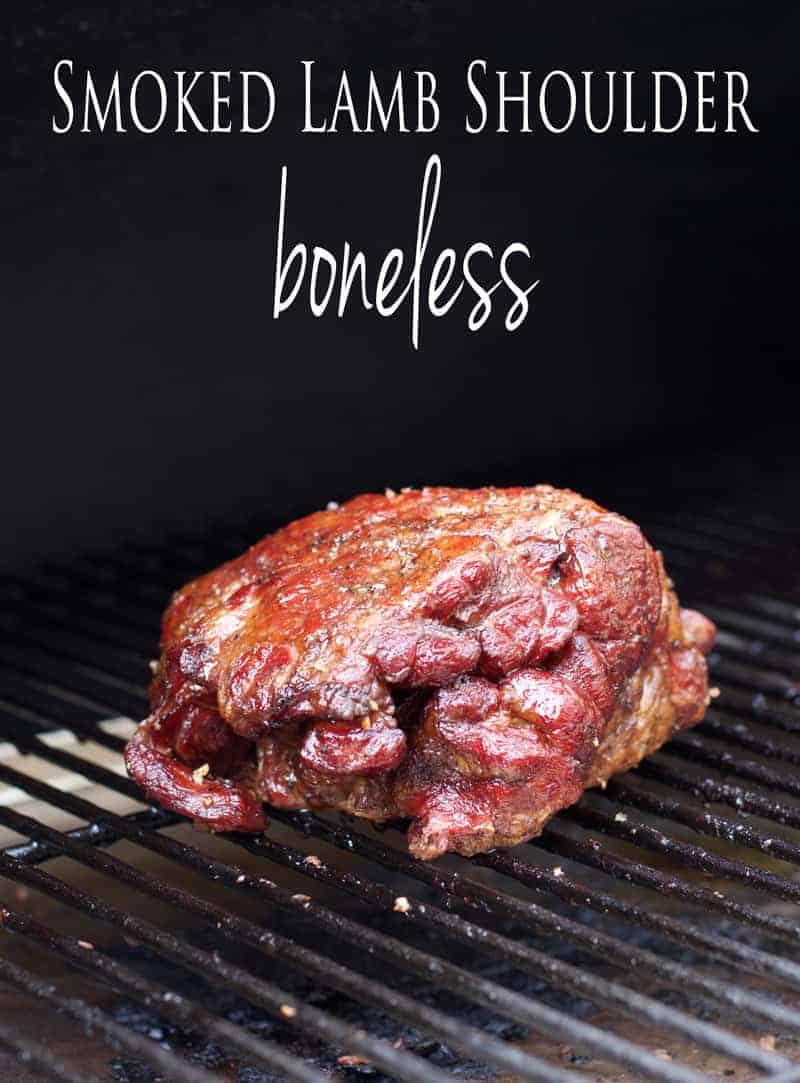 How to Smoke a Lamb Shoulder
Begin like you would prepare any meat, you want to trim excess fat off. So take the time to untie it (if it came that way) while you season it to get all the inner and outer areas for flavor.
Next, inject. We used apple cider vinegar. Why? We found the acid really blends well as the fat renders taming the potential gamey flavor folks tend to worry about with the lamb.
Lastly after you've trimmed and injected, rub the meat with your favorite rub. We used olive oil, kosher salt, freshly cracked pepper and dried rosemary. But use anything you like.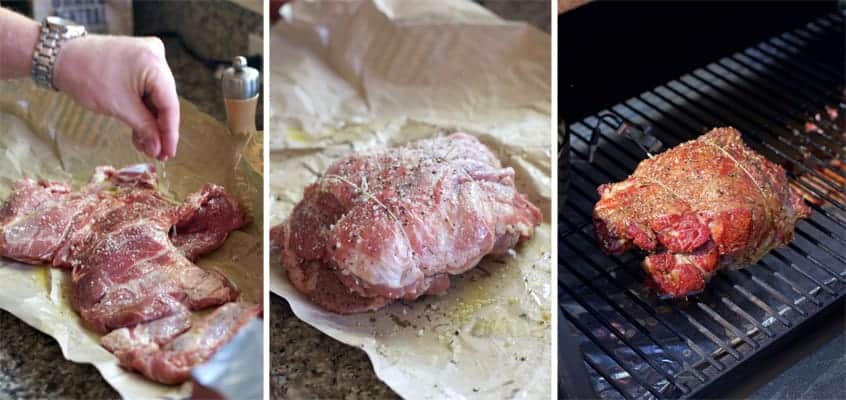 In both cases it is important to spritz throughout the first half of the smoke to keep the meat moist. For lamb we like to use equal parts apple cider vinegar and apple juice for the spritz in a food safe spray bottle (in our example we used 1 cup of each).
Feel free to get the kids involved.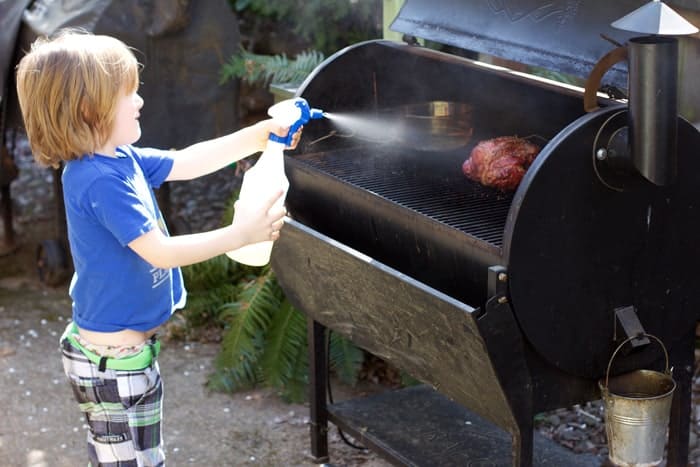 Try making some fun sound effects too while shooting off your spritz. And make sure to wear your best Pink Floyd shirt for full effect.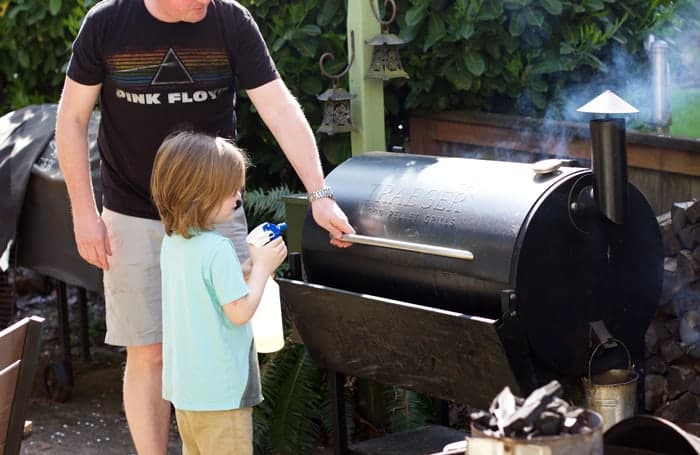 After the meat reaches 165 degrees Fahrenheit wrap your meat. Again, we're treating this like pork shoulder here, so we wrapped in order to get that moisture locked into the meat. Wrapping helps to essentially baste the meat from the inside out after enough time to get a bark or flavor crust on the exterior.

Then cook another three hours until the internal temperature runs around 195 degrees. As you put the meat thermometer into the shoulder, it should slide right in and out… like butter.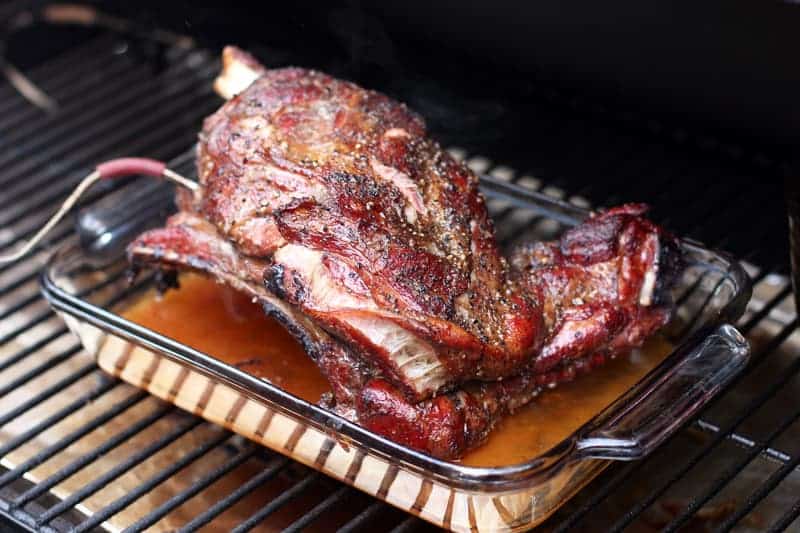 In the case of the bone-in shoulder we placed it in a large glass pan to catch the drippings just prior to wrapping. This helped to steam the meat during those last couple hours. 
Once removed from the smoker let it sit, wrapped in a cooler without ice for at least an hour to let juices redistribute. The cooler just acts as a warmer and allows it to cool down much slower (than the countertop) giving it a more flavorful and juicy cut of meat. This is a critical step, to let the juices SLOWLY redistribute.
Then shred that bad boy!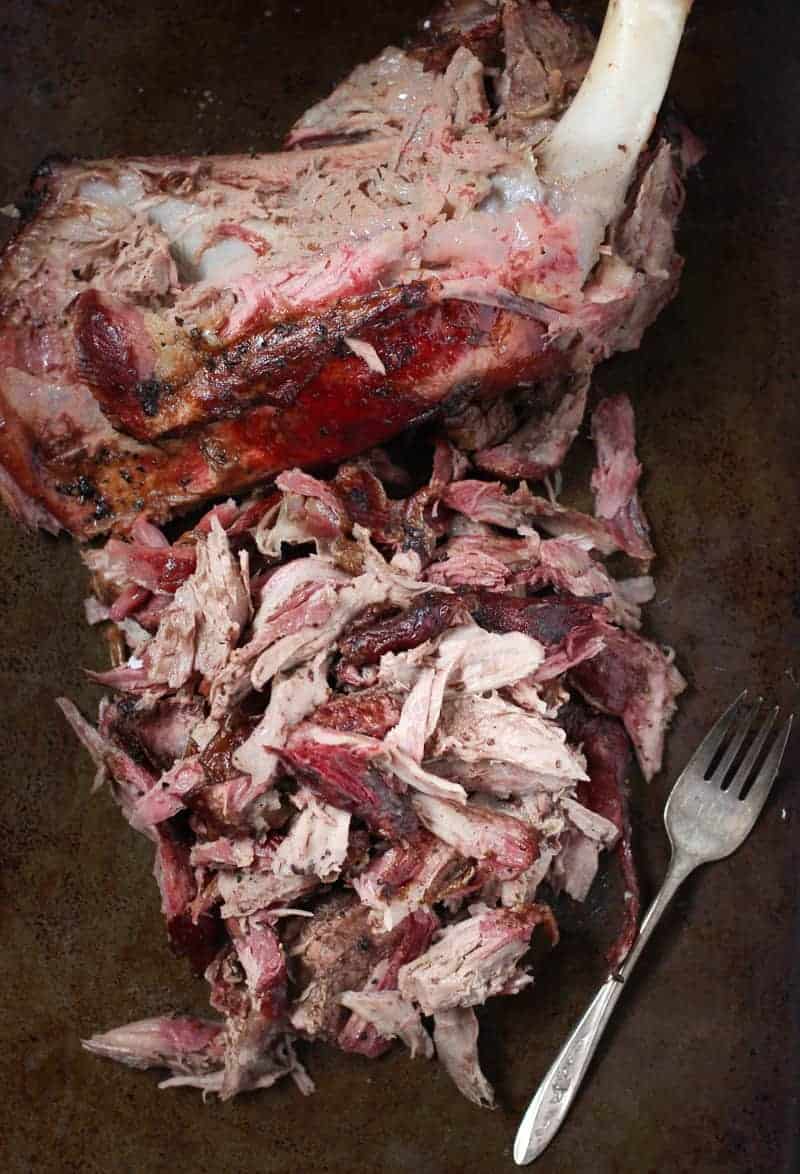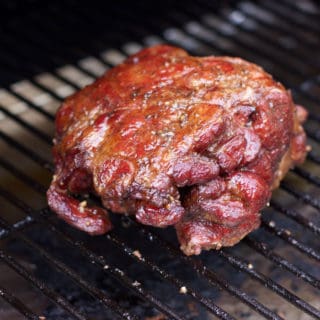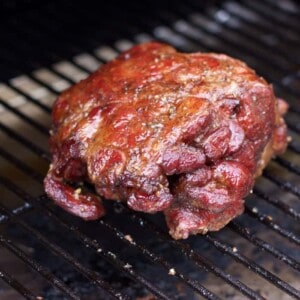 Smoked Lamb Shoulder
How to smoke a lamb shoulder and what to do with it after it's cooked.
Print
Pin
Rate
Ingredients
For the Smoked Lamb Shoulder:
5

lb

boneless lamb shoulder

2

tablespoons

kosher salt

2

tablespoons

freshly ground black pepper

1

tablespoon

dried rosemary
For the Injection:
1

cup

apple cider vinegar
For the Spritz:
1

cup

apple cider vinegar

1

cup

apple juice

mix both together in a food safe spray bottle
Instructions
Preheat smoker to 225 degrees Fahrenheit with a water pan for moisture placed in the smoker.

Prep lamb by trimming excess fat, rinse in cold water, and pat dry. Inject lamb with apple cider vinegar; it's normal to see the lamb swell slightly. For a five pound lamb you'll use roughly one cup (you don't need much).

Pat dry and then rub all over with olive oil, salt, pepper and rosemary. Tie tightly with kitchen twine.

Place uncovered on smoker for an hour. After the first hour spritz every 15 minutes until the internal temperature reads 165 degrees. This may be roughly three hours. Go by temperature not time.

At 165 degrees wrap the lamb in foil tightly and place back on smoker until the internal temperature reads 195 degrees or the consistency as you insert the thermometer is like butter (gliding in and out smoothly).

Remove from smoker and place in a clean cooler (with no ice) and let rest for at least an hour. Then remove and shred for your favorite dish.
What to do with Smoked Lamb Shoulder
To stretch your dollar you can serve it as an appetizer and place on a crostini, similar to this brisket crostini recipe. You can also use it for a pizza or sliders.
But one of our favorite uses is to serve it in pita bread with a little bit of tzatziki sauce. The smoky and super tender meat is nicely balanced by the fresh and cooling tzatziki. Just buy some pitas, and fill with some crunchy greens, a hefty amount of the pulled lamb, and top with your favorite tzatziki recipe.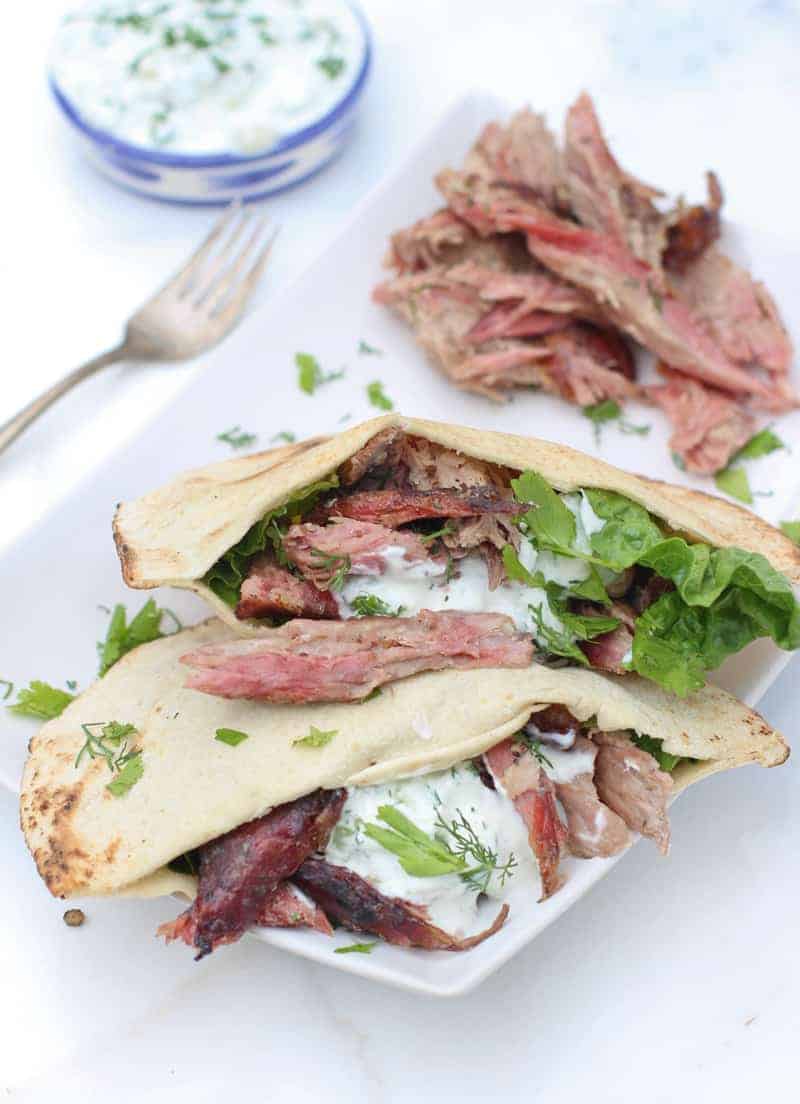 Wine Pairing for Lamb Shoulder
For the lamb alone I loved it with a nice Pinot Noir (I vote Oregon Pinot for the balance of earthy and fruity flavors). But with these pitas, smothered in that bright citrusy and herbal tzatziki sauce, it worked surprisingly well with a bright and fruity rosé.
More Smoked Lamb Recipes
---
If you like this recipe we'd truly appreciate it if you would give this recipe a star review! And if you share any of your pics on Instagram use the hashtag #vindulge. We LOVE to see it when you cook our recipes.
---